Have a Night In With Your Friends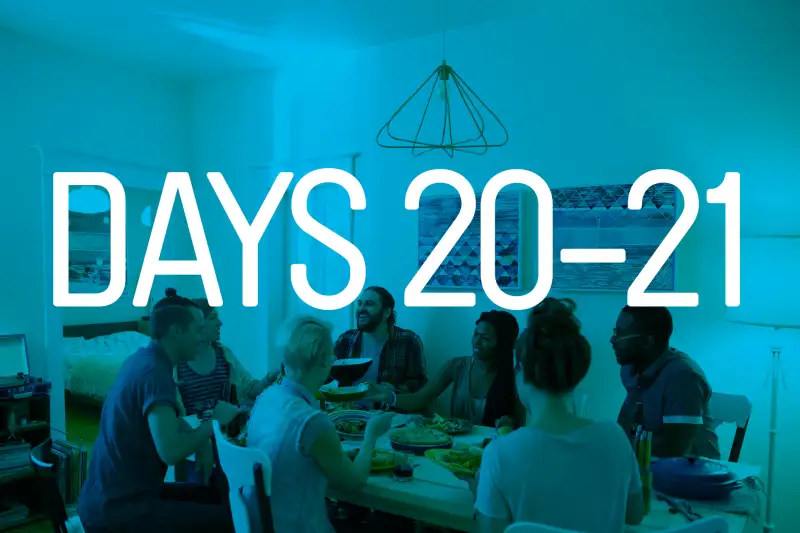 This is the Day 20 & 21 challenge in the #Money30, a month-long bootcamp for personal finance novices. You can read more about the challenge here, and follow along with us on Twitter, Instagram, or email us at feedback@moneymail.com.
TIME BUDGET: 5 MINUTES
---
On Day 12 of the #Money30 challenge, you committed to putting an amount equal to what you spent on one monthly happy hour into your savings account—a sort of personal matching grant, if you will. Now save even more by nixing an entire night out.
You might be surprised by how much you're able to pocket just by forgoing the cash you'd normally blow on food and drinks in one weekend. That's because overspending on the weekends happens to even the most prudent savers.
Picture this: It's a Saturday night, you're trying out a new restaurant, and you decide to order that extra appetizer or splurge on a bottle of wine. Or you want to be the generous friend at Friday evening happy hour and buy your group a round of drinks at the bar. Before you know it, a reasonably priced evening has snowballed way above your budget. (What's that you say? You don't have a budget? Here's some help getting started.)
While the weekends tend to be the most fun time of the week, Saturday and Sunday (and Friday evening) are also the days on which we typically lay down cash on some of our most hefty unplanned expenses. Indeed, a 2009 Gallup survey found that consumers spend more on Fridays and Saturdays than on the other days of the week (an average of about $75, compared with about $54 the rest of the week). So this weekend, we challenge you to plan an evening in with your friends instead of opening up your wallet and hitting the town.
Choosing not to go out doesn't mean that you won't have fun (In fact, staying in on weekends may be the new going out , according to no less an authority than the New York Times). Invite your friends over for board game night, movie night, or a group potluck dinner. Being the host doesn't mean you have to foot the whole bill for the party. Ask everyone to bring something to the get-together, whether it's chips and salsa or an inexpensive bottle of wine. That way everyone saves money and still leaves the gathering just as full and happy as they would have been if the group had gone out. (Here's BuzzFeed's list of the best board games for grownups.)
You might discover that you don't need to leave the house to have a good time. That's because spending time with the people you care about—regardless of what you're doing—increases your happiness. A 2008 study from the University of London found that seeing friends and family regularly is worth an income bump of more than $97,000 each year, measured in terms of life satisfaction, while improving your social life is worth more than $131,000 extra each year. Actual increases in income, however, don't significantly to add to the happiness, the research found.
If you want to save even more money this weekend, consider taking alcohol off the menu. Even moderate drinkers can spend thousands of dollars each year on booze, whether they're drinking at home or at a bar. And if saving by teetotaling sounds appealing to you, take a look at Money's calculations of how much you'd save if you quit drinking all together. Then, when you're ready to take your saving to the next level, try an entire spending-free weekend.
—Kerry Close
Have a question, comment, or suggestion? Email us at feedback@moneymail.com.