Welcome to the #Money30 Challenge!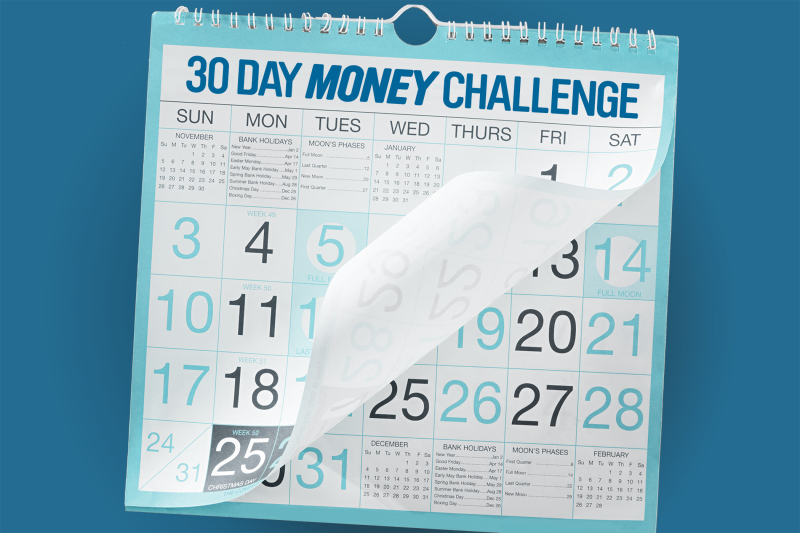 For all the time we devote to earning, worrying, spending, glorifying, and talking about money, many of us spend hardly any time learning about it. Understanding interest rates, building credit, making friends with the stock market—all of these are critical to our long-term financial well-being, yet just 57% of U.S. adults are 'financially literate,' according to Standard & Poor's 2015 Global Financial Literacy Survey. The problem starts early: Fewer than half of states require high school students to take a personal finance class.
On the upside, the data does indicate that young people want to learn more about how to manage their finances. According to a BlackRock survey of over 30,000 people worldwide, generation Y is more likely than any other age group to be planning new investments, as well as thinking seriously about retirement planning.
At the same time, 75% find keeping up with bills and still saving enough for the future is difficult, what with the high cost of living, entry-level paychecks, debt, and student loans. More than 60% say they are "concerned about outliving (their) savings in retirement," and 54% find retirement planning confusing. According to BlackRock's Global Investor Pulse, just 28% of millennials learned how to create a household budget from their parents.
Which is why, in honor of Financial Literacy Month, we're launching the 30-Day Money Challenge for personal finance novices. Starting today, we'll present a different personal finance task every day for a month. None will take more than hour to complete—and more likely than not it will take less than 15 minutes.
We hope you'll consider it time well spent. After all, as Bridget Casey, founder of the popular personal finance blog Money After Graduation, argues, you work too hard not to care about your money. "If you're going to work so hard for your paycheck," she says, "the least you can do is make sure you're using your paycheck effectively."
Some ground rules: We've created this for young people who are just starting their independent financial life, so if you've been around the block a few times this probably isn't for you (but please, do share it with someone you think would benefit from it!). Nor is it one size fits all; we recognize that not every 20-something has a steady paycheck or can afford to contribute a sizable amount to a retirement account.
Finally, there are many issues that deserve more in-depth treatment but don't fit easily into this challenge format (mortgages and student loan debt spring to mind). Our hope is that you will find some inspiration in each challenge to increase your overall financial awareness.
We know it's not possible to learn everything about finance in a single month. But we do want to make sure that you end the challenge with a new awareness of your spending habits and goals, and that you'll be further on your way to total financial fitness by this time next month. Maintaining a healthy financial life isn't a sprint, it's a marathon. You can think of this challenge as your first 5k.
Along the way, be sure to tweet at us, comment on our daily Instagram posts, or email us at feedback@moneymail.com to let us know how you're doing or ask questions. Those who tell us about their progress could end up in the next issue of Money Magazine!
Good luck, and let's get started.
The Challenges
Day 1: Declare Your Intention to Do the #Money30
Day 2: Check Your Free Credit Report
Day 3: Find One Easy Tax Deduction You May Have Missed
Day 4: Learn How to Read Your Pay Stub
Day 5: Set Up an Automated $10 Weekly Transfer
Day 6 & 7: Track Your Spending Over the Weekend (and Beyond)
Day 8: Cut One Thing From Your Weekend Spending
Day 9: Check Your LinkedIn Profile for These Simple Mistakes
Day 10: Cut Your Cellphone Bill by $10 or More
Day 11: Sign Up for a Personal Finance Newsletter
Day 12: Turn Beer Money into Money in the Bank
Day 13 & 14: Pack Your Lunch for the Week
Day 15: Make Friends With the Stock Market
Day 16: Negotiate Your Bills
Day 17: Understand Your Retirement Saving Options
Day 18: Get a Handle on Your Debts
Day 19: Figure Out How Much to Put in Your Emergency Fund
Day 20 & 21: Have a Night In With Your Friends
Day 22: Get the Free Medical Care You're Entitled To
Day 23: Take a Step Toward Building Your Network
Day 24: Figure Out What Type of Investor You Are
Day 25: Cut Out These Ridiculous Fees
Day 26: Prepare for a Card-Less Weekend
Day 27 & 28: Use Only Cash This Weekend
Day 29: Make a Savings Plan for the Rest of the Year
Day 30: Keep Your Money Momentum Going
Reporting for the #Money30 done by Alicia Adamczyk, Kara Brandeisky, Kerry Close, Alexandra Mondalek, Kaitlin Mulhere, Ian Salisbury, Taylor Tepper, and Ethan Wolff-Mann.