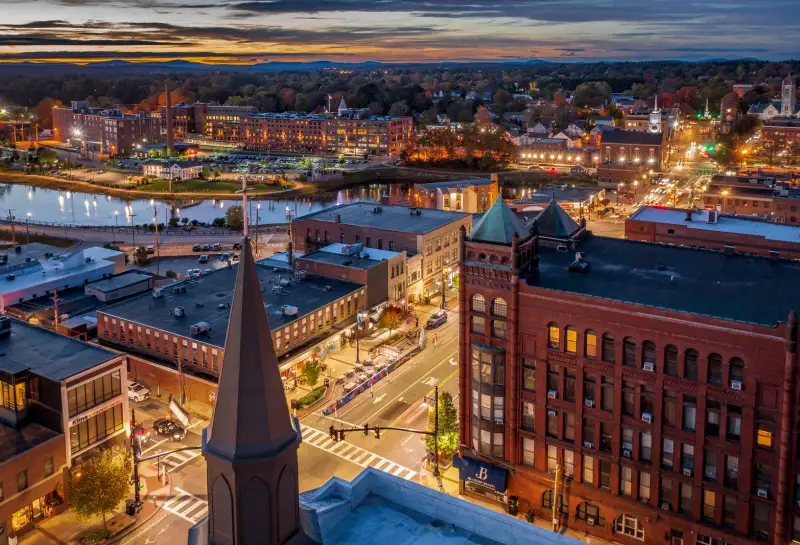 County: Hillsborough
Nearest big city: Boston, Mass.
On the Saturday after Thanksgiving each year, some 40,000 people convene in Downtown Nashua for the Winter Holiday Stroll. The festival's centerpiece is a candlelit procession from City Hall (built in 1939) to Library Hill (1903), where a tree is lit for the season.
Nearby, you can pop into Martha's Exchange, a town staple since 1936. Originally a candy shop, today it's a brewery and restaurant, serving up classic American fare. During happy hour, a second draft or house drink costs only a penny.
If you can't tell already, tradition is treasured in Nashua.
Yet Nashua looks to the future, too. More housing and retail spaces are coming via the Bridge Street Waterfront and Downtown Nashua Riverfront development projects, and opening soon on Main Street is the Nashua Center for the Arts, a 750-seat venue.
Currently, unemployment is among the lowest on our list at 2.3%. There's also no sales or income tax in New Hampshire, reducing costs. However, homeowners do pay one of the highest property tax rates in the U.S. — around 2% — and the median home in Nashua costs $368,733 today. The state has a property tax relief program, though, for low and moderate-income homeowners.
Additionally, those property taxes help fund Nashua's public schools, where there are 12 students to every teacher, a ratio more favorable than the national average. — Jhoni Jackson
[money-bpl-stats population="92,175" income="$81,922" home-price="$368,733" unemployment="1.9%" location="Nashua, New Hampshire"]