The Best Place in the World for You to Retire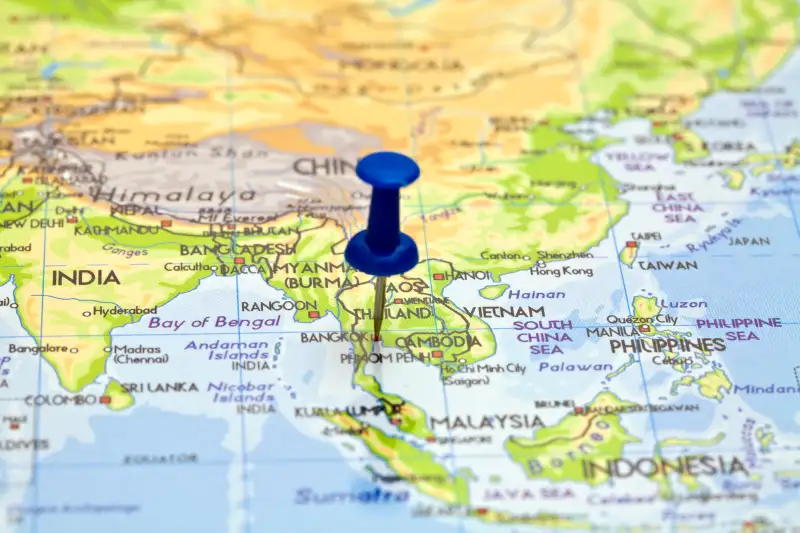 In part one of our four-part series on retiring abroad, we helped you determine whether you're a candidate for retiring out of the country. Today, we point you in the direction of your ideal destination. In future posts, we'll tell you what you need to know before you go and get you started thinking about the logistics, such as managing health care costs overseas.
So you think you might be well-suited for an expat retirement adventure. Armed with your list of priorities, you're ready to start scoping out potential locations. Stick to that list, though. "There is sometimes a tendency to fall in love with a place that doesn't meet your criteria—you tell yourself you'll make it work," warns Kathleen Peddicord, author of How to Retire Overseas. "But you won't. Don't compromise on your highest priorities."
Here's how to find your perfect place.
Travel from your tablet. The websites InternationalLiving.com and LiveandInvestOverseas.com have insights on dozens of destinations that Americans might want to consider. ExpatInfoDesk.com also offers country-specific content, though on fewer places. The most effective research, however, will come from Googling any country or area that sounds promising, and including the terms "retire abroad," "expat retiree," or "expat blog."
Look for a clean bill of health. While everyone's priorities will be different, health care is a universal concern, as aches, pains, and ailments typically increase with age. So while vetting the medical offerings won't be as sexy as looking at beachfront real estate listings, you'll want to dig into this topic early on.
The good news is that quality care is available in many larger cities across the world. For example, Johns Hopkins Medicine International has affiliations with hospitals in many Latin American countries, including Chile, Mexico, and Peru.
International living rates countries in its index on health care cost and quality based on the experiences of its correspondents. Also, you can read thumbnail descriptions of the health care systems for 60 countries at worldhospitalsearch.org. The site's hospital search tool shows whether a facility has obtained Joint Commission International accreditation, which focuses on quality and safety of care.
Run the números. To get a sense of living costs in any destinations you have in mind, visit Expatistan.com and Numbeo.com, which provide crowdsourced data on global prices. Be as realistic as you can about how you'll live; if you'd like to have at least three bedrooms so that you can easily entice stateside friends to visit, pencil that into the budget. And don't forget to figure in health insurance premiums, which could be one of your biggest expenses. (We'll address health insurance specifically in Thursday's installment.)
Finally, if part of the allure of a foreign retirement is to stretch your nest egg—something you may not be able to do if you're set on living in, say, Zurich—make sure you factor into your expenses the costs of retaining ties to the U.S. Estimate the number of trips back you'll make per year (do you want to be there for every grandkid's birthday?) and what they'll cost.
Also think about what you'll do with your house. If you intend to keep your home in the States, are you are going to eat the carrying costs or rent it out? If the latter, talk to a realtor to see if you'd be able to do so at a price that will cover your expenses, including hiring a property manager if you don't have family or friends willing to be a de facto local landlord. (The typical cost for a single-family home is 10% of rent.)
Plan scouting trips. While you're still working, use vacation time to start checking out destinations that make your final cut. The goal is to live like a local. So skip the resorts and rent a home or apartment away from the vacation strip. The websites Vrbo.com and Airbnb.com list global rentals.
Plan on cooking; shopping for dinner is a lot different from picking up noshes to have on your hotel veranda. Also, window-shop for basics like shampoo and toothpaste. Stick your nose into the bank and hospital. And if all the locals are on bike or moped, give that a try. "After a few weeks of grocery shopping, getting a haircut, and dealing with the currency difference, plenty of people end up realizing, 'Thank you very much, this isn't what I want,'" says Bryan Hancock, founder of Timberchase Financial, a wealth management firm in Birmingham, Ala., with many clients living abroad.
When you think you've found your "This is it" spot, be sure to schedule an off-season visit before you make a final commitment. If your plan is to live someplace fulltime, you'll want to see it at its least compelling.
Previously in The Guide to Retiring Abroad:
The Secret to Retiring Richer Than You Actually Are
The 10 Best Places to Retire Abroad
Tomorrow: What to Know Before You Go