Strategy 2: Shoot for Cash Back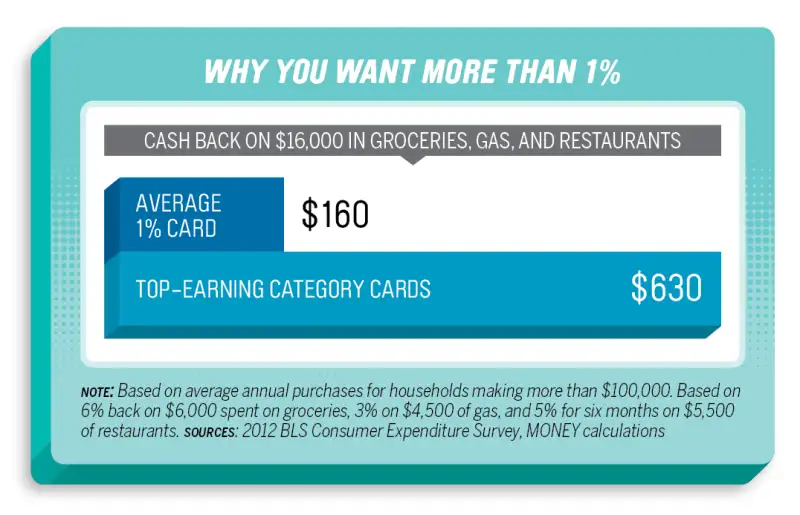 How the masters do it: Rewards zealots tend to focus on either travel rewards or cash rewards. Those who choose the latter argue that money is more efficient than miles, which are subject to deflation when airlines hike the number needed to buy a flight. "I used to have miles cards, but frankly, frequent-flier programs are starting to stink," says Shaun Eli to explain why he's on Team Cash.
To get his juicy return, Eli juggles six pieces of plastic. The typical earn rate on cash cards is about 1%, but some pay more for certain types of purchases. Eli uses his cards strategically to get over 1¢ per $1 spent as often as he can.
One way he does this is through a subset of cash cards that offer a whopping 5% on categories that rotate throughout the year (and 1% on everything else). Eli has three of these, improving his odds of getting a big rebate wherever he spends. Through June, for example, he earns 5% at Home Depot with Citi­bank Dividend Platinum Select, Bed Bath & Beyond via Discover It, and any restaurant through Chase Freedom.
How you can too: Want cash? Start with this three-card portfolio:
American Express Blue Cash Preferred. This card offers high earn rates on some of the average household's biggest expenses: an unheard-of fixed 6% on up to $6,000 of groceries and an unlimited 3% on gas and at select department stores. Use it for groceries definitely, for the others when you can't do better with a card from No. 2 below. You'll recoup the $75 fee if you spend $1,250 on groceries annually.
A 5% rotating-categories card. The no-fee U.S. Bank Cash Plus is a Money favorite: It allows you to choose your 5% categories from a list—cellphone bill to gym—and change your selection every three months. Pick the category accounting for the biggest portion of your spending after groceries. (Once you're used to juggling three cards, you could add any of the other 5% ones Eli holds, all of which are fee-free.)
A cash card that pays a fixed rate over 1% on everything. Examples include the fee-free Fidelity American Express and Capital One Quicksilver, which rebate 2% and 1.5%, respectively. (Caveat: Earnings on the former have to go into a Fidelity account.) Use this card for expenses that aren't in high-paying categories on cards from buckets 1 and 2.
Not sure how you'll keep track of multiple categories on multiple cards? Eli simply puts a sticky note on each card saying where to use it. But if you'd prefer a system less dependent on adhesive, download the free Wallaby or Reward Summit app that tracks categories and tells you which card to use at the store you're in.