Believe It Or Not, American Families Spent Less On College Last Year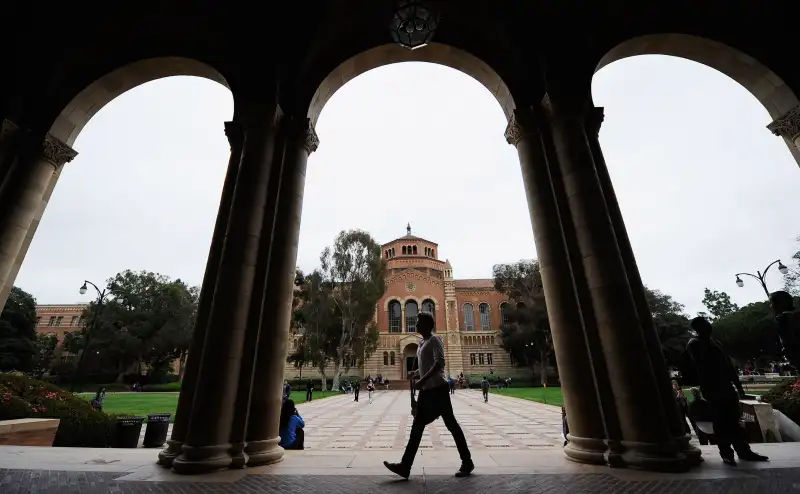 Kevork Djansezian—Getty Images
There is some good news for American parents terrified about the rising costs of college outstripping inflation and their investments: The average amount families spent on college actually went down last year.
In the "How America Pays for College 2016," a report from student lender Sallie Mae released on Tuesday, the average American family paid $23,688 for college in the 2015-16 school year, down slightly from $24,164 in 2014-15.
What stands out most in the Sallie Mae report is the difference in cost between four-year-private colleges, which average $41,7562 a year, and four-year public schools, at $23,289. Two-year public community college programs are the most economical at $9,840 a year on average.
"It's a world apart," said Julia Clark, senior vice president at Ipsos Public Affairs, who co-authored the study.
How much families earn and how they finance tuition and other expenses like travel is vastly different in these spheres. Private college families take about $2,150 more in loans per year, and spend about $5,700 more from out-of-pocket cash. But private institutions also kick in a much larger portion of scholarships and aid, which covers the rest of the cost differential.
College funding expert Mark Kantrowitz, publisher of the free student resource website Cappex.com, said this contrast should lead parents to make an early calculus about which route they want to follow.
"You have to ask the question: is the return on investment of sending a child to a four-year private worth it?" he said.
Families can get information on prospective earnings for different majors or degree programs at websites such as payscale.com and do the math, he added.
Head vs. heart decision
Given that college pricing is a complicated calculus, average prices might not have that much relevance to individual families, but that does not mean that parents do not see the numbers and react.
"It changes people's behavior even if you don't know what numbers are relevant," said Lisa Heffernan, co-editor of Grown and Flown, a blog for parents with kids ages 15-25.
Heffernan said even if families decide early on that they want to save money and send their kids to public colleges, their final choices depend on where they live.
"States are so different in quality. And in some like California and Texas, the demand is so high, you can't guarantee your kid will get in," Heffernan said.
Parents in her community start to ask broad questions about pricing when their kids are in middle school, and then closer to senior year, they begin to focus on cost-saving measures, Heffernan said.
Sallie Mae found that 98% of families took some kind of action to make college more affordable, with student jobs topping the list, along with cutting spending, living at home and speeding up their degree.
Kantrowitz had one other suggestion - do not visit a tempting school that is deemed too expensive during the selection process. He had one client whose daughter was considering Occidental College, a private school which has a beautiful campus in Los Angeles, California, and a sticker price of $65,530 a year.
"I said: 'Don't let her visit Occidental.' She visited. And she went to Occidental," he said.