Why College Tuition Cuts Can Actually Lead to Higher Bills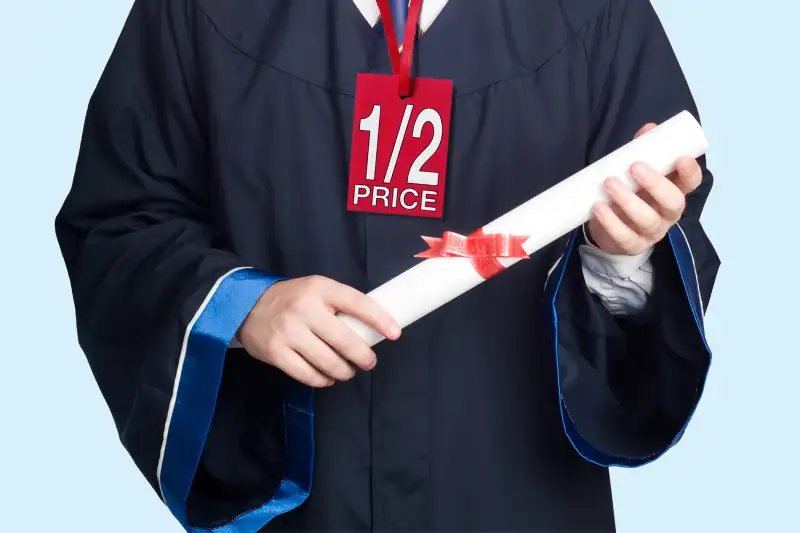 Money (photo illustration)—Shutterstock (1); Getty Images (
As Americans agonize over spiraling tuition costs, Converse College seemed a beacon of hope when it slashed its advertised tuition by a whopping 43%.
The private college in Spartanburg, S.C., cut its "sticker price" last year to $16,500 from $29,124. It was one of several higher-education institutions that won accolades for seemingly bucking the tide of rising costs.
So senior Tibitha Ferrell was surprised to see her total bill go down by only about $800.
"We thought it would save us thousands," Ferrell said. "But for a lot of students, their tuition stayed exactly the same." They were, she said, "a little confused."
In fact, because of the confounding and largely invisible system that governs what colleges actually charge, and to whom, the new tuition alone at Converse came out to only about $1,300 less than what the average student paid in total—including room and board—the year before, federal data show.
Related: Facing Growing Scrutiny, Colleges Set Out to Prove Their Value
Converse, whose 718 undergraduates are all women, made sure a combination of the price cut and financial aid lowered the cost of attendance to some extent for all students, said Trevor Pittman, the college's associate vice president for enrollment management and services.
But if people thought students would save nearly $13,000 a year on tuition, as the price cut made it seem, they were wrong.
Most saw savings of around $1,100, Pittman said.
Converse is an example of what actually happened at the several colleges and universities that got lots of positive press for announcing they were lowering tuition, and it illuminates the bafflingly complex way these institutions describe the financial picture to prospective and current students.
Meanwhile, some schools that trumpeted price cuts in the last few years—often to reverse enrollment declines—have since quietly raised tuition back to almost what it had been before, or even higher.
At those and other institutions, the reductions in many cases were much less than publicly suggested. That's because few students at any school pay the price that's listed in the catalog or on the website.
"Oftentimes they do it with the best intentions, but I do think they have to be careful," said Karen McCarthy, a senior policy analyst with the National Association of Student Financial Aid Administrators, speaking of colleges that lower tuition.
Among other reasons, she said, lowering the sticker price to a number closer to the average of what students already pay risks hurting the lowest-income students. That's because they already pay less than the average, thanks to financial aid subsidized by higher-paying classmates.
Low-income students are already seeing their net price rise faster than wealthier ones, according to federal data, and as a result are increasingly opting for lower-cost institutions, such as community colleges and regional public universities with fewer resources and comparatively poor success rates.
"You have to make sure you're pulling those people in," McCarthy said.
For the neediest families in particular, rather than providing a break from rising college costs, cutting the tuition price can actually end up making things worse, while few others benefit as much as they expect.

At half of eight schools studied last year by economist Lucie Lapovsky, tuition cuts were followed by declines in the number of low-income students.
The tuition reductions loudly publicized by schools like Converse can also be misleading. That's because they don't take into account the other costs of college. At Converse, for example, the tuition cut the school said came to 43% was actually 29% when room, board, books, and all other costs were taken into account, federal figures show.
"Schools tend to be more focused on tuition price than the total cost of attendance," said Debbie Cochrane, research director at the California-based Institute for College Access and Success.
The University of Charleston lowered its advertised tuition in 2012, to $19,500 from $25,000, to help reverse an enrollment slide. But the average price students actually paid didn't fall, federal data shows. It rose. For families with annual incomes of $30,000 or less, the cost increased 39%.
Enrollment went up nonetheless. And the university, which declined through a spokeswoman to answer questions, hiked tuition this year by nearly 18%, to $23,200. The price will rise again by nearly 25% next year, to $28,900.
At least two private colleges, Utica in New York and Rosemont in Pennsylvania, have announced dramatic tuition reductions to take effect next fall. In addition to Converse and the University of Charleston, Concordia University in Minnesota, and the University of the South in Tennessee already have cut their list prices.
Related: How One College Bucked a Trend to Take More Poor and Nonwhite Applicants
The University of the South, also known as Sewanee, cut its total price in 2011 from $46,100 to $41,500. That has drifted back up since then, and is now $49,700, though the university has added a promise that students will pay the same amount they're charged as freshmen every year until they graduate.
Ohio's Muskingum University in 1996 was among the first to lower its tuition—a "tuition reset," as many schools have termed it. The university saw a 36% increase in the number of applications the first year, and enrollment grew from 1,091 in 1995 to a high of 1,606 in 2002; it has since fallen to just under 1,400.
Tuition increased at the usual rate—4 to 5% per year—after the reset.
Muskingum provided enough money in financial aid to ensure that no student spent more than he or she had before the tuition cut, said Jeff Zellers, vice president of enrollment. Schools attempting similar cuts now need to do that, too, he said.
"If your goal is to maximize revenue [by cutting financial aid], then it doesn't help the neediest students that much," Zellers said.
At Utica College, where more than half the students are eligible for federal need-based Pell Grants, President Todd Hutton said he wanted to make sure the 42% price cut didn't end up hurting needy students. The school expects to lose $2 million in revenue during the first year of the new tuition as it tries to continue providing enough financial aid, he said, and Utica will "tighten up" its spending.

NEWSLETTER: COLLEGE_PLANNERSign up for COLLEGE_PLANNER and more View Sample
"The key is that all students need to save money," said Hutton, who spoke with leaders of other colleges about their tuition cuts before making the decision. "We wanted to guarantee students would save money, especially given the nature of our student body."
For many colleges, the tuition cuts are an attempt to provide families a more realistic price tag. Steep discounts are standard practice, so eliminating some of those discounts and being more transparent about what students actually pay can help give families a more accurate picture of college costs.
At places like Utica and Muskingum, where local economic problems have hurt incomes, the new price tags have been used to show middle-class families in nearby areas that they don't have to seek cheaper education options elsewhere.
This new focus on transparency is a good thing, Lapovsky said.
"How do you explain to people your price is $50,000 but nobody pays it?" she said. "Why should you know about the academic programs and the school, but you don't know the price you pay until after you're accepted?"
Most of the institutions making these changes are small private colleges whose budgets can be dramatically affected by even small enrollment declines.
Like the University of Charleston, many have seen their applications increase after they've announced tuition cuts.
Concordia, for example, worried that it wouldn't be able to attract enough students if it kept raising prices every year, said Kristin Vogel, the school's undergraduate admissions director.
After it announced in 2012 that it would lower its price, the 1,400-student school's enrollment went up 17%. And while Concordia cut back dramatically on scholarships when tuition was cut, nearly 80% of the remaining financial aid is based on need.
"We felt like there needed to be a market correction in higher education," Vogel said. "The idea of increasing tuition every year and increasing aid wasn't sustainable, we felt."
This story was produced by The Hechinger Report, a nonprofit, independent news organization focused on inequality and innovation in education. Read more about higher education.