Here's How Much Comcast Data Caps Cost One Customer Every Month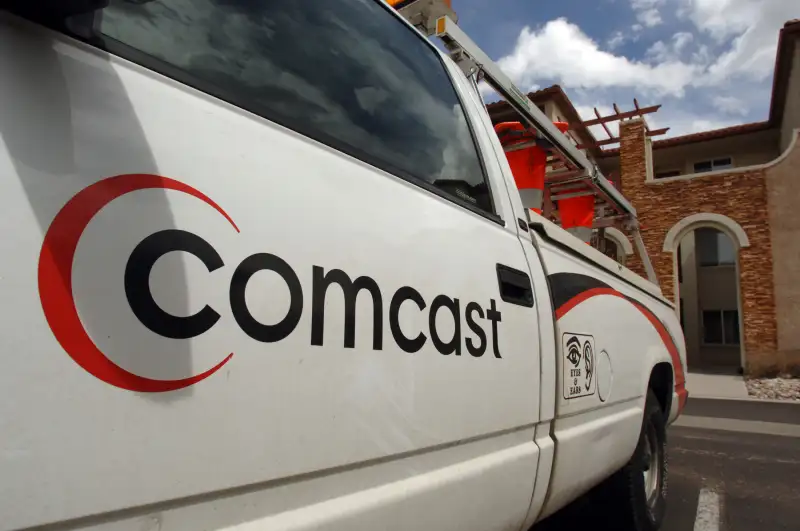 Bloomberg via Getty Images
While Comcast moves ahead with its plan to add cell-phone-like data usage fees to home Internet service, consumers like Kimberly Richardson are feeling the pain. And if you are a heavy user and part of Comcast's new fee trial, expect your bills to go up in January.
Richardson, who lives in Atlanta, regularly exceeds Comcast's 300 GB usage cap. In July, she was charged $70 for overages. In August, $90. Meanwhile, warnings that her family is about to exceed its allotment seem to come earlier and earlier each month.
"Today, December 7th, I just got a notice that we have already used our 300 GB of data for the entire month of December!!!! What?? It's only 7 days into the billing cycle!!!" she wrote to me recently. "This seems ridiculous since we have only been home TWO of these days!!! We will probably be billed an extra $100 to $140 in overage costs just for this month. I spoke with three different people, including management, and got no help."
More from Credit.com: 5 Easy Steps to Get Control of Your Finances
Even more frustrating, said Richardson: There's no way to know if Comcast is accurately counting data usage. While Comcast offers some usage information on its website, it is sparse on details. "There is no data meter showing the hours of data usage or what was downloaded either, which is suspect. They only provide the totals of data, but this isn't helpful or specific," she said.
Comcast announced it was going to expand its existing trial of cap-and-charge-excess-fees back in September. (Trials in Richardson's area had started earlier.) Not surprisingly, consumers strongly dislike the move. The website CutCableToday.com reported this week that 13,000 complaints related to the data caps were filed with the Federal Communications Commission.
Comcast sent notices in September that gave consumers a three-month courtesy period to get used to the caps. It expires in January.
More from Credit.com: What's a Credit Privacy Number?
When I contacted Comcast spokesman Charlie Douglas to discuss Richardson's complaint, he repeated what he told me in September — that 92% of users would not be impacted by the 300 GB limit. Customer service agents contacted Richardson and walked her through tools designed to help consumers understand their usage patterns, he said.
While Douglas said he couldn't discuss Richardson's account for privacy reasons, he said there are situations where family members use websites or applications that require a lot of data — even when they aren't in the house — and families should have discussions about data usage. "We've created FAQs about our plans. We have a data usage calculator on our website so consumers can estimate how much data they'll need," he said. A data usage meter available to account holders shows a three-month history, he added.
When asked if Comcast plans to offer more granular tools for examining usage patterns — routinely offered with smartphones — Douglas said Comcast was taking feedback from customers on the issue. "People are learning how to manage data usage from their wireless experiences and we'll continue to study it," he said.
More from Credit.com: Painless Penny Pinching: How to Save Big Without Feeling Deprived
Richardson wasn't happy with Comcast's explanation, however. "Basically, nothing was resolved," she said. "We have a better understanding on what could be using up our data each month, but there isn't anything we can do about it. We weren't able to get a refund on the data charges or regulate our data usage without getting rid of devices. We still don't have any proof that we are actually using that amount of data, and there isn't a specific data meter going forward telling us what we are using."
Other consumers who chimed in on my original story about the caps have the same complaint. "I know for a fact that I have not used 300 GB," wrote one. "I live with my two young children. On weekdays, they go to school and I go to work. We get home between 5:30 and 6:00. They are not allowed TV or electronic use during the week. They are gone out of the home every other weekend, and so am I. And yet when I asked for proof of this usage, I was not able to access such proof because it does not exist."
UPDATE (12/17/15 at 5:15 ET): Comcast says it uses outside auditors to verify the accuracy of its usage metering technology. Consumers can read about the audits here.
Richardson did sign up for a new plan Comcast will offer in Atlanta starting in January. For an extra $35 each month, her family will once again enjoy unlimited data.
This article originally appeared on Credit.com.