What Actually Happens if You Don't Pay Your Student Loan Bills?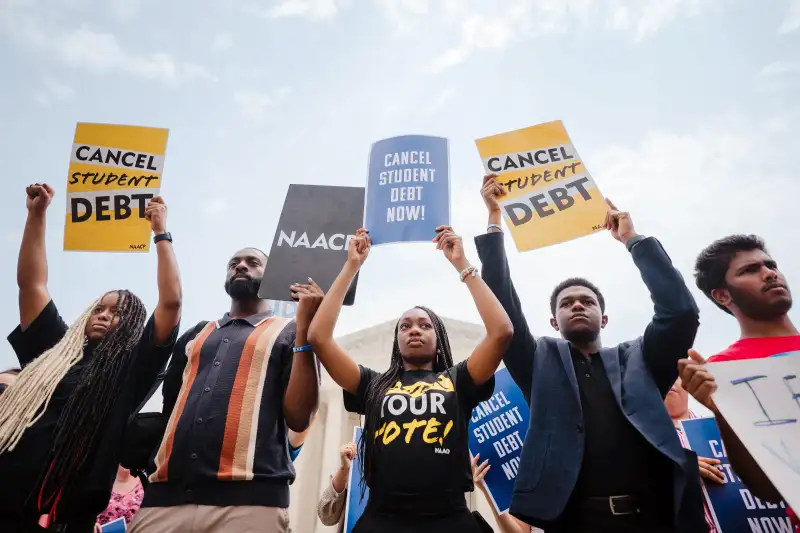 Starting next month, about 40 million Americans will have to start making payments on their federal student loans after a pause of 3.5 years.
As the due date looms, many borrowers are feeling frustrated and betrayed — especially after President Joe Biden's student loan forgiveness plan was struck down by the U.S. Supreme Court this summer. On social media sites like Reddit and X, the platform formerly known as Twitter, several people have been floating the idea of simply not paying their bills, and in some cases, rallying others to do the same in order to spark a national student debt strike.
Whether out of necessity or solidarity, the impending deadline has many asking what will happen if they don't pay back their student loans.
Ultimately, experts say, the financial consequences could be devastating.
"Every once in a while I get the borrower who says, 'It's just not worth it. I'm not paying my debt,''' says Betsy Mayotte, the founder and president of The Institute of Student Loan Advisors, a nonprofit organization that provides free advice to borrowers.
"What I usually end up telling them," Mayotte says, "is that refusing to pay ends up being more expensive than managing the loan."
At first, some leniency…
To help borrowers readjust to student loan payments after several years without them, the Biden administration has laid out what it calls a 12-month "on-ramp," which runs from Oct. 1 to Sept. 30, 2024.
During this period, the worst financial consequences of missing student loan payments are blunted. The Department of Education won't place the loans of borrowers who miss payments into default nor consider the loans delinquent. The department also said it won't report any missed payments during this period to the credit bureaus or debt collection agencies.
In other words, missing federal student loan payments through September 2024 will have "no negative impact to credit scores," Barry Coleman, a vice president at the nonprofit National Foundation for Credit Counseling, previously told Money.
Because of that leniency, the Debt Collective, a nonprofit debtors' union that has called for a debt strike, has pointed to the on-ramp as a "safe way" to go on strike and skip your payments.
However, a lot of folks misunderstand the on-ramp, says Abby Shafroth, the director of the National Consumer Law Center's student loan borrower assistance project.
"The on-ramp is different from the pause," she says, noting that there are still consequences for missing payments during this time.
Namely, experts say those consequences are that — unlike during the student loan pause — interest on the loans is already accruing, meaning that balances will begin to balloon if payments that do not cover at least the interest aren't being made.
For example, if you're a borrower with $38,000 of student debt (the average balance for federal loans) with 4.5% interest rate and you decide not to pay for 12 months during the on-ramp, about $1,700 worth of interest will accrue. When you start making payments again, the Education Department says none of your payment will go toward your principal balance (the $38,000 part) until you've paid off all of the outstanding interest (the $1,700 part).

Secondly, borrowers who don't make payments will miss out on progress toward student loan forgiveness through income-driven repayment plans.
How these plans essentially work is that a borrower signs up, receives a monthly bill that is based on an ideally affordable percentage of their income, and after 10 to 25 years of on-time payments, any remaining balance is forgiven. Under Biden's new SAVE repayment plan, some loans could be forgiven in as little as 10 years, counting past payment history. And, in some cases, borrowers could qualify for a "payment" of as little as $0 per month.
In effect, not making payments during the on-ramp could mean the borrower gets stuck with a loan that could have been forgiven sooner.
Then 'the hammer really comes down'
After the 12-month on-ramp period, the real consequences of skipping payments will start to kick in.
In addition to growing balances due to interest accrual and losing out on progress toward forgiveness, the Education Department has said it will restart its debt collection efforts in earnest after September 2024.
Mayotte says after 90 days of missed payments, the department will start reporting the delinquency to the credit bureaus, and your credit score will start to drop. After 270 days, or about nine months, that's when your loan goes into default.
And as Shafroth puts it: "At that point, the hammer really comes down."
When federal student loans are in default, the full debt amount owed immediately becomes due — plus collections costs, which could add up to 24% to your balance, Mayotte says. Additionally, the government can seize your tax refunds and garnish your wages and federal benefits like Social Security. Once you've defaulted, you're no longer eligible to participate in repayment plans.
When Mayotte advises that refusing to pay your loans could be more expensive in the long run, what she means is that when the government garnishes your wages, it usually takes 15% of your paycheck. By contrast, borrowers — if they sign up for the new income-driven repayment plan — may only have to pay about 5% of their discretionary income per month.
"If you think you can't afford your payment now," Mayotte says, "you're really not gonna be able to afford it if they start garnishing your wages."
To summarize...
Do I have to pay my student loans during the on-ramp?
In short, yes. The on-ramp period is designed to help people who are struggling ease back into making their student loan payments after a long pause. Missed payments won't ding your credit during this time, but experts strongly advise that you should begin making payments if you can afford them.
Will my wages be garnished if I don't pay my student loans?
It's possible. If you miss a few payments — especially during the on-ramp — you won't have to worry about the government deducting money from you paycheck. However, if you don't pay your loans for 270 days, or about nine months, your loans can be put into default. At that point, your wages could be garnished.
Will my car get repossessed if I don't pay my student loans?
It's highly unlikely, especially if you're cooperating with the Department of Education or the hired collections agency. However, the federal government has been known to get liens on borrowers' assets following a lawsuit, according to NPR. When that happens, the loan debt gets tied to something valuable like a car or a house, and the government could feasibly repossess it or force a sale.
Can I go to jail if I don't pay my student loans?
Not necessarily. Failing to pay your student loans can have devastating financial consequences. Eventually, your student loans will be put into default and you may lose federal loan benefits, have your wages garnished, get barred from federal student aid among other consequences. Your loan holder may sue you, as well. If you ignore the court date or the court's orders — that could land you in jail.
More from Money:
Why Restarting Student Loan Payments Won't Ruin the Economy After All
Trendy Student Loan 'Hack' Backfires on Borrowers After Biden's Forgiveness Plan Fails
Should I Refinance My Student Loans?