The Average American Spends Nearly $30,000 on a Wedding. See How the U.S. Stacks Up to the Rest of the World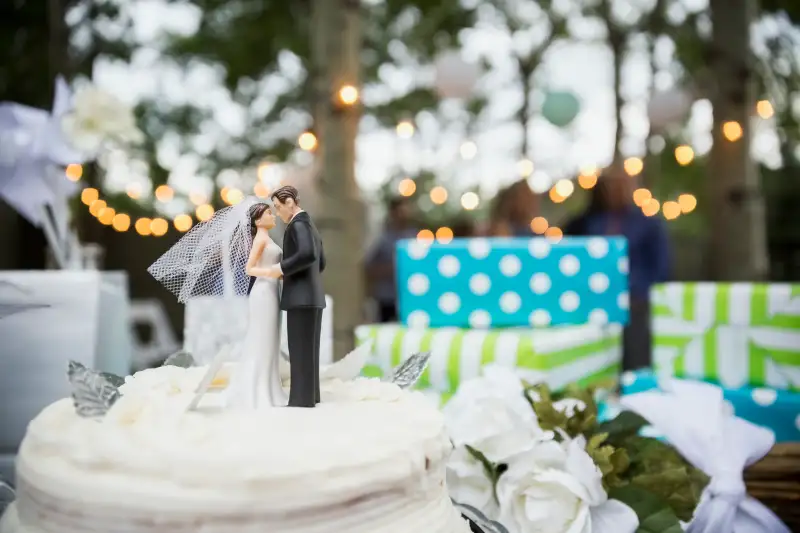 Hero Images—Getty Images/Hero Images
Getting married is wonderful—it's planning a wedding that can be stressful. And by stressful, we mean expensive. It makes sense, though, that in order to pull off a beautiful celebration of your union—complete with great, music, food, décor, and favors (you know, the works)—couples and/or their parents need to shell out a sizable chunk of change. Basically, if you think you're the only one who hears the word "wedding" and just sees dollar signs, think again.
But just how much does a wedding actually cost these days? From the flowers to the food and everything in between, it really does add up, and according to The Knot Worldwide's 2019 Global Wedding Report—a survey of over 20,000 couples in 14 countries, from Canada to India—US wedding spend soars above the rest. The national average cost of a wedding in the US comes in at $29,200—a price tag close to four times the cost of weddings in other countries.
TKWW's survey notes this is likely due to several factors beyond mere spending habits (although American weddings are often decked to the nines). In many South American countries, for instance, the average wedding cost is lower due to lower national average income, while in countries like the UK and France, the lower cost ($19,200 and $17,600, respectively, in US dollars) could be attributed to the smaller average guest count (104 in the UK and 105 in France, compared to an average of 126 guests in the US). Although the ever-rising price of wedding venues and vendors plays an obvious role in raising the overall wedding bill, the number of guests is clearly a major cost factor, influencing everything from invitation spend to party rentals to catering costs.
While trimming the guest list is a great place to start when trying to cut back on wedding expenses, inviting fewer guests isn't always the formula for a cheaper wedding. Based on The Knot World Wide's findings, US couples in 2019 host an average of 126 guests with a total wedding spend of 29,200—that's a price of about $232 a head; whereas 10 years ago, per TKWW, guest count stood at 149 people with a total wedding cost of $28,385—a spend of about $190 per person. It seems like many to-be-weds are now choosing to invite fewer guests but spend more their chosen few for a truly amazing wedding experience.
As for where people are allocating their wedding budgets, looks like it's still all about the venue. While a full cost breakdown wasn't available for 2019, here were a few of priciest wedding details (in the US) in 2018, according to The Knot.
Reception Venue: $15,439
Ceremony Venue: $2,382
Photographer: $2,679
Reception Band: $4,247
Catering (price per person): $70
Wedding/Event Planner: $2,002
Florist/Décor: $2,411
Wedding Dress: $1,631
Wedding Cake: $528
Engagement Ring: $5,680