Here's How Much It Costs to Go to the Indy 500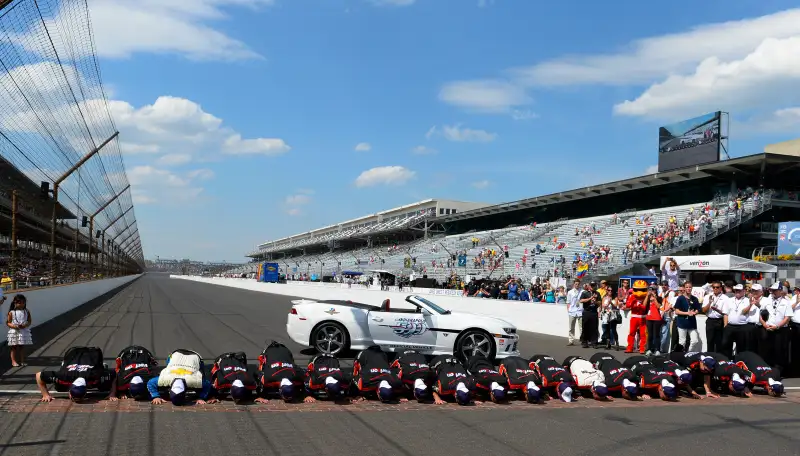 The 2016 Indianapolis 500 will run Sunday, May 29, marking the event's 100th anniversary. Winner of the 2015 Indy 500, Juan Pablo Montoya, defends his championship against 32 challengers. The winner of the 100th Indianapolis 500 will take home the Borg-Warner Trophy and $2.5 million. Find out how to travel on a budget to this year's Indy 500.
How Much Does a Ticket to the Indy 500 Cost?
General admission tickets for race day cost $40. But the Indy 500 race isn't the only event you can attend. Here's a list of all of the Indy 500 events you can attend.
Event Prices
Indy 500 Practice: $15 per day
Indy 500 Qualifying: $20 per day
Thursday Road to Indy Practice/Quals: $10
Miller Light Carb Day on May 27: $30 for general admission. Includes Final Indy 500 Practice, Indy Lights Race, TAG Heuer Pit Stop contest and Miller Lite Carb Day Concert featuring Journey.
Legends Day presented by Firestone: $10
Indy 500 Snake Pit presented by Coors Light on May 29: $25
Total Cost to Attend the Indy 500
How much it costs to attend the Indy 500 depends on a number of factors. If you're an Indianapolis native, you won't have to worry about airfare. Out-of-town fans will have to consider plane tickets and lodging. Here's a breakdown of how much it'll cost you to go to the Indy 500.
Read More: 5 Ways to Think Like a Millionaire
Flights*
Los Angeles to Indianapolis: $741.20 round trip
New York to Indianapolis: $587.70 round trip
Houston to Indianapolis: $931.69 round trip
Miami to Indianapolis: $724.70 round trip
San Francisco to Indianapolis: $964.70 round trip
Seattle to Indianapolis: $761.20 round trip
Parking
Outside the speedway: $40
Outside the speedway, 3-day parking: $50
Turn 4 infield: $50
Turn 3 infield: $75
5th and Hulman: $75
Lakeside: $75
Turn 3 front row: $125
Tent Camping
2-day permit (Saturday and Sunday): $40
4-day permit: $70
RV Camping
Cheapest price for 4-day RV without electricity: $150
Most expensive price for 4-day RV without electricity: $200
Cheapest price for 4-day RV with electricity: $350
Most expensive price for 4-day RV with electricity: $475
Hotel*
2 nights, Saturday to Monday, within 10 miles of speedway: $414.00
3 nights, Friday to Monday, within 10 miles of speedway: $757.13
Average per night, within 10 miles of speedway: $229.69
* Hotel and flight costs from May 9, Expedia.com. Costs for flights were cheapest shown for round trip.
Depending on how far you're traveling for the event, your cost to attend the Indy 500 will vary. If you're driving from downtown Indianapolis, have a three-day parking pass and are not staying at a hotel, your total cost to go to the Indy 500 could be as low as $152.30 after food, gas and general admission, using food and gas estimates from Numbeo.com.
Read More: How Much Are Danica Patrick and Jeff Gordon Worth?
If you're trekking from the coasts, you'll have to accommodate for high airfare and hotel costs in your budget. A round trip flight for Friday, May 27, from Los Angeles to Indianapolis will cost you $741.20, according to data collected by GOBankingRates. If you're flying from New York City, the majority of flights cost between $600 and $1,000, depending on where you book.
If you're flying in from regional centers like San Francisco, Seattle, Houston or Miami, your cheapest, average airfare will cost roughly $845.57. That would make the cost to attend the Indy 500, including three nights at a hotel, the cheapest parking and general admission, a grand total of $1,682.70.
Tips for Saving Money at the Indy 500
Because flight and hotel costs will rise the longer you wait, it's best to buy in sooner. If you're traveling with a group, think about establishing a savings pool with your friends. Each of you can contribute available funds now and worry about IOUs later.
Read More: 7 Ways to Travel like a Millionaire—on a Budget
One way to cut your food and beverage costs is to bring your own. Unlike most sporting events, the Indianapolis Motor Speedway allows spectators to bring their own food and drinks. When compared to other sporting arenas, however, the Indy 500 offers affordable food options, with volunteers manning booths and portions of proceeds supporting local charities.
If you're attending the event with a group of people, use a service like Airbnb to rent a larger space at a lower cost. If you're traveling solo or with just one or two companions, think about using Couchsurfing.net.
This article originally appeared on GoBankingRates.