Here's the Real Reason Costco Will Never Stop Selling $4.99 Rotisserie Chicken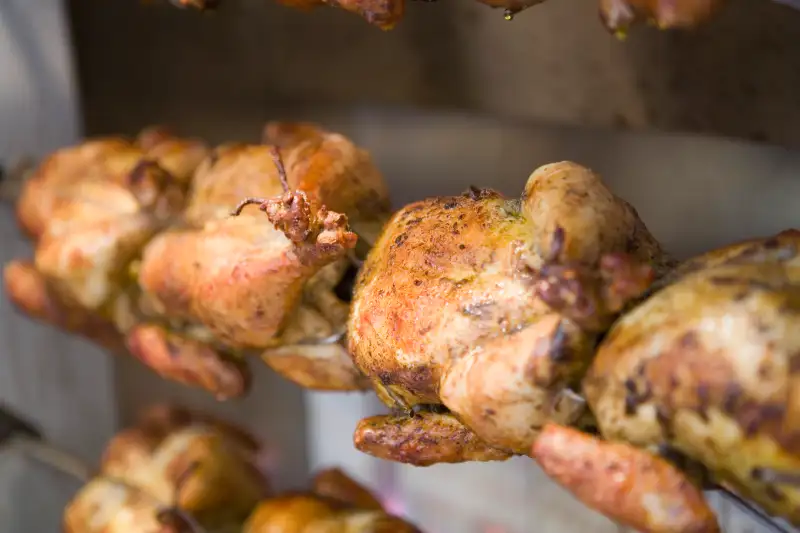 It's no mystery why consumers have a huge appetite for rotisserie chicken deals at Costco and other major supermarket chains.
Costco's beloved seasoned and precooked rotisserie chickens are famously priced at only $4.99 each, giving customers a tasty option that's cheaper and healthier than fast food. In an age when people constantly complain about being too busy to prepare meals and eat as a family, you can feel good about picking up a rotisserie chicken and "cooking"—or at least serving it at home—instead of hitting a restaurant or ordering more takeout.
But why is Costco willing to keep rotisserie chicken prices so cheap? Customers are often puzzled why the price of uncooked chicken breasts is higher than a fully prepared, ready-to-eat chicken. What's more, Costco says it regularly "eats" upwards of $40 million annually in profits because it hasn't raised rotisserie chicken prices in years.
A new Wall Street Journal story sheds some light on just how powerful rotisserie chickens are in the grocery business—and why Costco and supermarkets happily lose money on each sale.
The short answer is that rotisserie chicken is a "loss leader." It's a product that a store sells at minimal or negative profit expressly for the purpose of drawing in legions of customers hoping to take advantage of the deal. The concept works for the retailer in the grand scheme, because when customers come in for their chicken, they're likely to also pick up extras to go along with the meal.
"If they get a chicken, a salad, and maybe they pick up a bottle of wine—now we're really talking," Don Fitzgerald, vice president of merchandising at the Kroger-owned grocery chain Mariano's, explained to the Journal.
At a store like Costco, a customer might find himself buying coffee pods, sneakers, a year's supply of ketchup, or even a new TV during what was supposed to be just a quick visit to pick up a rotisserie chicken for dinner. And the presence of inexpensive, ready-to-eat foods—not only $4.99 rotisserie chickens, but also oversized $1.50 hot dogs that come with a free drink—give customers an excuse to increase their Costco shopping frequency from once or twice a month to once or twice each and every week.
Clearly, Costco has an enormous hit on its hands with the $4.99 rotisserie chicken. The warehouse membership retailer reported sells an estimated 157,000 rotisserie chickens each day, on average, for a total of 87 million sold last year—up from roughly 60 million in 2013. Fans can choose from a huge variety of online recipes that incorporate Costco rotisserie chicken into soups, pastas, and other dishes.
While many supermarkets have a compelling rotisserie chicken deal—generally with prices in the range of $5 to $7—it seems as though Costco can't be matched in terms of providing the best value. As the Journal notes: "Costco's chickens weigh at least 3 pounds cooked, while rivals' usually weigh one-and-a-half to 2 pounds."
The chickens are pretty healthy too. A "Dr. Oz" show from 2016 promised to expose the "Hidden Ingredients" in rotisserie chickens sold by Costco and other retailers. But it turned out that most chickens are simply slathered with spices you'd expect—including salt and sugar. The chickens are typically seasoned in factories before being shipped off to stores like Costco to be cooked, qualifying them as processed foods.
Still, supermarket rotisserie chickens are "one of the healthiest processed foods out there," Dr. Oz said. He recommends "taking off the skin to keep it healthier."