The 5 Highest Paid Country Musicians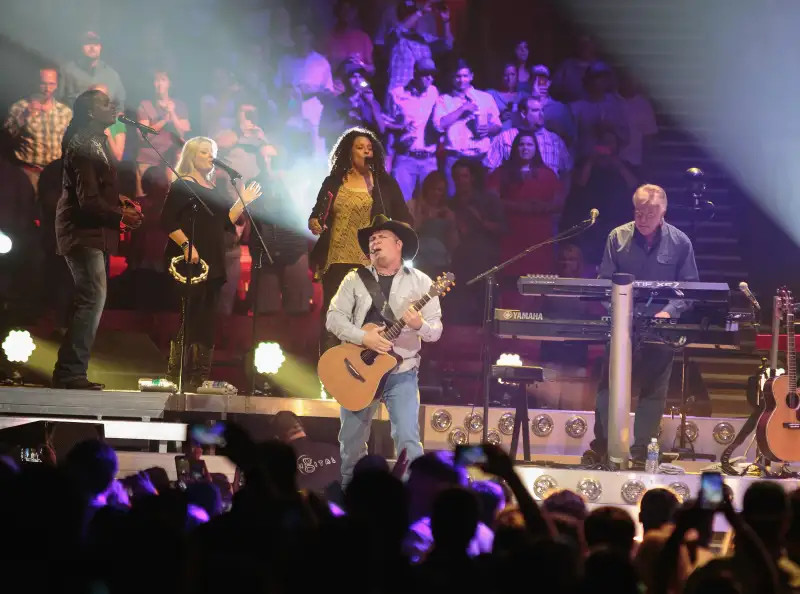 David A. Smith—Getty Images
Country music isn't so much about hardscrabble life and strumming washboards anymore, and it hasn't been for many years. To paraphrase the old David Allan Coe classic, the perfect country and western song does not have to include "trains, trucks, mama, prison, and getting drunk."
There may still be some of those elements, but many of country music's more successful acts today border on good-time pop or rock (and in some cases, have completely crossed over a la Taylor Swift). Many are also blessed with good looks and attractive physiques — not a common trait of the classic country singers.
So in this new era of country, who tops the field as the highest-paid country musician? It's one of the classic artists coming out of semi-retirement. Here is the list of the top-grossing country musicians as compiled by Forbes magazine.
Garth Brooks – Brooks (pictured above) pulled in $90 million over the past twelve-month period, not only topping the 2015 list but also topping the all-time list for a country music artist or group in a single year. He and his wife Trisha Yearwood, a powerful country act in her own right, have teamed up to tour the U.S. and packed arenas wherever they go. Brooks' more traditional country has a broad appeal that can bring in younger fans as well as their parents.
Toby Keith – Keith raked in $53 million in the past year, good enough for second place on the list. His popular songs like "Red Solo Cup" bring him closer to pop than Brooks, but he also has some interesting tangents, including the classic "tribute" to Willie Nelson "I'll Never Smoke Weed With Willie Again," and the powerful "American Soldier," written "for all the times I get to meet the troops on these USO tours." His entrepreneurial efforts include the Show Dog label, Wild Shot mescal, and a large endorsement deal with Ford.
Jason Aldean – Aldean is in third place with a $42.5 million take. Aldean's brand of country can be classified as country rock, and his live shows include pyrotechnics that are worthy of some of classic rock's finest showmen. His music has overseas appeal, given his success with concerts in the United Kingdom, Ireland, and Sweden. Make no mistake — Aldean can and does fill up many arenas in the U.S. as well. On the entrepreneurial side, he's taken part ownership in Jay-Z's Tidal streaming service.
Luke Bryan – Bryan squeaked into fourth place with $42.5 million. Buoyed by songs like "Roller Coaster" and "I See You," he has a definite crossover appeal. Aside from his musical success, Bryan has lucrative deals with Miller Lite and the outdoorsman/sportsman outlet Cabela's.
Kenny Chesney – Chesney made it into the top five by bringing in $42 million. His stadium tour has been extremely lucrative, and his endorsements from Corona beer and Costa sunglasses fit his style perfectly — as does Blue Chair Bay Rum, his own brand. Chesney is teaming up with Aldean for ten shows throughout the rest of 2015, so get the cash registers ready.
Tim McGraw and Florida-Georgia Line are not far behind in earnings — but where are the women on the list? With Taylor Swift reclassified out of country, we find the highest-earning female in ninth place. Miranda Lambert is there with $28.5 million, ironically tied with her soon-to-be-ex-husband Blake Shelton.
If you've never considered country music before, give some of these acts a try. They are gaining a much broader appeal, and after a listen, you might discover why.
Poll: If You Could Make Enough Money to Live, Would You Go Freelance?
More From MoneyTips: