Help! I've Fallen In Love With Someone Who Has Credit Card Debt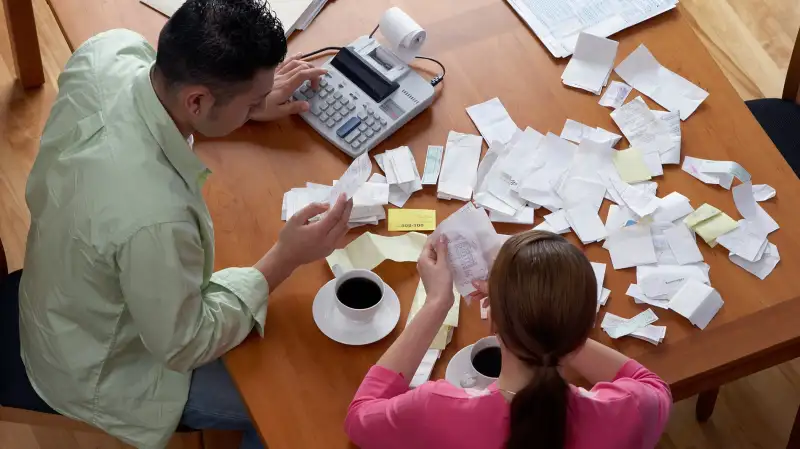 It finally happened. After all the bad dates and heartbreak, at last you've met The One, and you're ready to start down life's road together. Except your new love is carrying one piece of baggage you hadn't counted on: credit card debt.
You're not alone. In a new NerdWallet/Harris Poll survey of more than 2,000 adults, 35% of those who combine at least some part of their finances with a partner brought credit card debt into the relationship. (Men are more likely to do so than women, by the way). Millennials are particularly likely to commingle I.O.U.s and romance, with 45% of those between the ages of 18 and 34 toting a revolving balance. In fact, millennials were more likely to have credit card debt than student loan or car payments.
On average, people entered relationships with $4,100 in credit card debt, and 25% of couples with at least one indebted parter reported experiencing negative consequences. One-sixth of respondents said debt kept them from doing something they planned on, such as buying a home or taking vacation.
The findings dovetail with Money's research into couples and financial harmony. Our recent poll of 1,000 millennials and baby boomers found that two in 10 couples regularly fight about credit card debt. Millennials are more tolerant of debt than older generations, with 40% saying a lot of debt is a romantic turnoff, versus 60% of boomers who said the same.
If you—or someone you've fallen in love with—is struggling with debt, here's how to keep it from ruining your relationship.
Don't hide it. "Being open and transparent about your debt is very important," says NerdWallet credit card expert Sean McQuay. "When you're dating someone and you have the conversation about introducing them to your crazy parents, you also need have the talk about your debt."
By opening up about debt early, you won't cause a fissure down the line. And once you put your cards on the table, you and your partner can come up with a plan for getting out from under. One strategy suggested by Beverly Harzog, author of The Debt Escape Plan, is to start paying off the smallest balances first. The math may say to go after the card with the highest interest, but unless there's a big difference in the two cards' rates, it's often more helpful to get the mental boost from clearing a debt so that you sustain your repayment plan.
Transfer your balance to a cheaper card. If you've squeezed every last penny from the budget and still can't seem to make much headway, one powerful tool is a balance transfer card. Money recommends the no-annual-fee Chase Slate. Not only is there no interest on purchases and balance transfers for 15 months, there's also no balance transfer fee if you move your debt within two months of opening the card.
More from the Love & Money series:
Poll: How Boomer and Millennial Couples Feel About Love and Money
Why Couples Need to Get Financially Naked
The Single Most Important Money Talk for Couples
How Money Can Improve Your Sex Life (It's Not What You Think)