Credit Card Perks for the Rich and Famous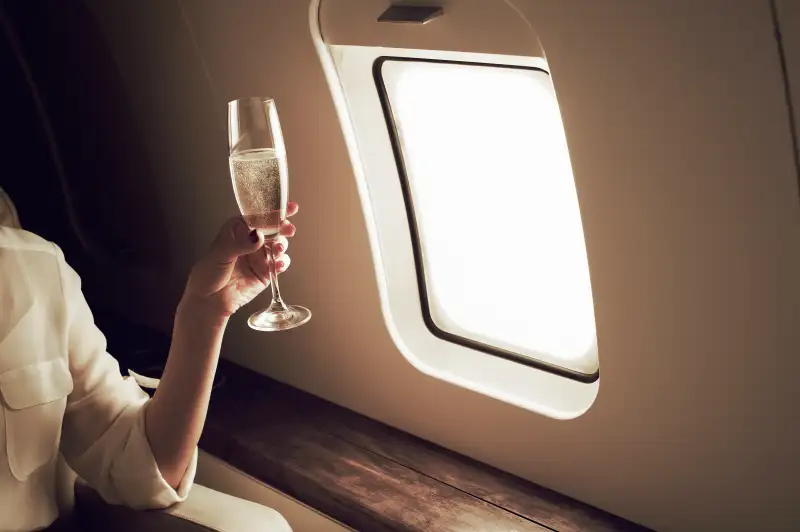 Brand New Images—Getty Images
Do people ogle your credit card when you pull it out to pay for lunch because it's made out of materials that cost more than the meal you just had? When you flash your plastic at a clothing store, do they automatically send over a personal shopper? Or could you call ahead and just shut down the store for a private shopping experience?
Unless you're among the super-rich and famous, probably not.
Credit card issuers have become increasingly interested in getting a slice of the ultra-rich marketplace over the last couple of decades. Most of the elite cards they offer are available by invitation only, and the financial credentials needed to gain those invitations are steep, indeed. Most also come with high annual fees plus major spending requirements and investable asset minimums.
(Remember, while you may need a big bank account to get some invitation-only plastic, a good credit score can still qualify you for competitive credit card offers. You can see where your score stands by viewing your free credit report summary, updated each month, on Credit.com.)
Here we take a look at some of the perks offered through the most elite cards in the world – cards that most mere mortals will never qualify for.
Cards Made of Precious Materials
Can you imagine a card so valuable that the issuer sends you a cheap plastic version just to keep the original card safe? That's the case with the Chase Palladium Card. It's made of gold and etched palladium, a rare metal that is worth more than $600 an ounce.
The American Express Centurion card is another credit card made out of precious metal, this time anodized titanium.
Perhaps the most extreme precious materials card out there, however, is the Dubai First Royale Mastercard, edged in solid gold and with a small diamond inserted in the center of the card. These cards are made to turn heads, but that's far from the only perk they offer the ultra-wealthy.
Read More: The Best Airline Rewards Credit Cards in America
Private Shopping Sprees
Can you imagine calling your card issuer and telling them you're headed over to the Harry Winston store on Park Avenue, you know, just to pick up a little bauble, and you'd like to shut down the store and shop privately? Holders of some of the world's most elite cards can do exactly that through personalized concierge services that can pretty much make anything the card older desires happen.
Read More: American Express Platinum Review: A Premium Card for Jet-Setters
Personal Shoppers
Imagine popping into your nearby Gucci store and flashing your fancy metal card. A personal shopper is quickly ushered over to assist you in your shopping selections, necessary alterations, shipping arrangements, etc. That's the kind of service an elite card can summon. (You can check out some of the best high-end credit cards in America here.)
Private Jet Access
Forget the airline upgrades, access to elite airport lounges and other flight perks most of the best travel credit cards offer. Some also offer access to private jet services.
As the Palladium card's rewards brochure puts it: "Travel almost anywhere, anytime with NetJets utilizing the Marquis Jet Card. With as little as 10 hours' notice, the Marquis Jet Card program will allow you to fly with NetJets to your destination on your time and on your terms – enabling you to arrive rested and feeling your best.
Read More: The Best Cash-Back Credit Cards in America
Unlimited Spending
Some elite cards offer no limit to how much the cardholder can spend, like the Dubai First Royale Mastercard.
"The needs of these clients are different," Amit Marwah, the senior vice president and head of marketing and communications for Dubai First, told The National, a UAE news site, in 2011. "Whatever he or she wants to swipe it on, the transaction must go through. If the client likes a yacht on holiday, he or she should be able to buy it."
So, for those of you qualified for the Royale, feel free to buy that new DeLorean on your special credit. And make it gold plated while you're at it.
Swanky Airport Lounge Access
Elite cardholders don't have to rely solely on a private jet to travel in style. Their invitation-only cards can get them into some super-swanky airport lounges. American Express Centurion and Platinum lounges, for instance, feature private chefs, top-shelf liquor and "a soundproofed, glass walled kids room with Xbox and videos," Forbes reports.
Literally Anything
No really. Anything. Well, anything that's legal.
So you're on a yacht in the Mediterranean and your son needs a Greek tutor? No problem! Want VIP tickets to the Olympics or the Super Bowl? They're on it. The personal concierge services at some elite cards will try to make literally anything the cardholder desires happen. For a price, of course.
Note: It's important to remember that interest rates, fees and terms for creditcards, loans and other financial products frequently change. As a result, rates, fees and terms for credit cards, loans and other financial products cited in these articles may have changed since the date of publication. Please be sure to verify current rates, fees and terms with credit card issuers, banks or other financial institutions directly.