Credit unions: Best revenge for angry cardholders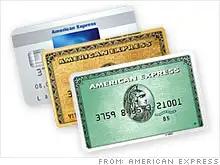 Another week, another credit card policy change. This time around the news is that American Express will dock rewards points for certain co-branded cards when a cardholder doesn't pay on time. To get the points reinstated, cardholders will first need to pay the obligatory late fee and then an additional $29 to recoup docked points. The AmEx cobranded cards hit with this new policy are Delta Air Lines, JetBlue, Hilton Hotels and Starwood Hotels, putting them all in line with the same policy that's been in effect for AmEx's regular Green and Platinum cards for years. But the timing of the latest announcements just adds to the pile of credit card cutbacks and fee hikes that has made 2009 the annus horribilis for cardholders.
Sure, 2010 looks to be marginally better once new credit card regulations kick in, but I'm still betting the bank credit card industry will find new and creative ways to extract revenue from consumer accounts. It's their business model, after all.
But sweet revenge could be just a credit union away. A recent Pew Trust study determined that on average, credit cards issued by credit unions charge much lower fees than their bank-card brethren. For example, the median late fee on a credit union card is $20. For a bank card it's $39. Yes, that's right: Credit unions charge 49% less. Credit unions also offer a better interest rate deal. By law credit unions cannot charge more than 18% interest; the median bank-card penalty rate for late payments, according to Pew, is 29%.
So if you're not exactly feeling the love from your current bank card, maybe it's time to check out credit unions, whose nonprofit status tends to make them more customer-friendly. A good search tool is at findacreditunion.com.
If you take a look-see and decide to move your banking accounts as well, just make sure you opt for a federally-insured credit union. The National Credit Union Administration offers the same deposit insurance coverage limits as the FDIC does for banks.
One interesting quirk to be aware of if you go the credit union route, according to creditcards.com, is that the collateral for any loans you have through a credit union will also serve as collateral for your credit card. Unlike the case with bank credit cards that are chiefly uncollateralized debt, a credit union card balance is tied to any other assets you have secured through the credit union.