Ronaldo or Messi? Here Are the Richest Soccer Players of All Time, Ranked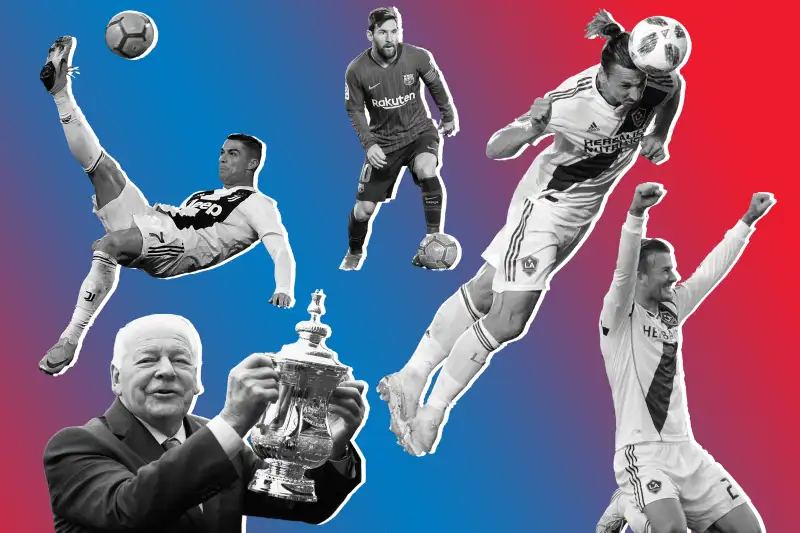 Photo illustration by Sarina Finkelstein for Money; Getty Images (5)
Who is the richest soccer player of all time? Of course, the ongoing Cristiano Ronaldo and Lionel Messi rivalry has come to define professional soccer today — and how much the world's best soccer players make in salaries and endorsements. The two superstars have been the world's highest-paid soccer players for years, and they now boast a combined net worth of $850 million. Who else can even compare?
In addition to Ronaldo and Messi, many of soccer's other icons in the game right now easily make the list of richest soccer players ever. Neymar and Zlatan Ibrahimovic also have undeniable star power, commanding lucrative salaries and endorsement deals, which have boosted their estimated net worths well over $100 million.
While we are including former professional soccer stars in our list, perhaps the greatest soccer player in history didn't make the cut. The net worth of Pele, the iconic all-time great from Brazil, has been estimated at a $100 million — and every entry in our list of the top 10 richest soccer players of all time has a net worth over $100 million.
So who are the 10 richest soccer stars ever? Although Cristiano Ronaldo and Lionel Messi have been the sport's two highest-paid players since 2014, celebrity athlete David Beckham, now retired, topped the list for three years before that. Other retired soccer players have also amassed significant enough wealth to rank in the top 10 as well. Some, like the English former pro footballer and Wigan Athletic owner Dave Whelan, became phenomenally successful businessmen, while others, like Brazilian stars Kaká and Ronaldo (Nazario), still have plenty of earnings from their recent careers.
To find the top 10 richest soccer players in history, Money sourced the net worth of Cristiano Ronaldo, Lionel Messi, David Beckham, and others from CelebrityNetWorth. We then used Forbes and other sources to find out more about how much the richest soccer players make each year in salaries and sponsorships.
Here is the ranking of the richest soccer players – past and present.
1. Cristiano Ronaldo – Net Worth $450 Million
Claudio Villa—Getty Images for Lega Serie A
Without a doubt one of the all-time soccer greats, Cristiano Ronaldo is the most popular athlete in the world on social media, with over 150 million followers on Instagram alone.
When still only 18, Ronaldo joined Manchester United, one of the biggest professional soccer clubs in England, where he quickly rose to international fame. When Ronaldo transferred to global powerhouse Real Madrid in 2009, the $132 million fee made him the most expensive soccer player in history at the time. The Portuguese star spent nine years with Real Madrid, winning a slew of individual awards and leading the team to several trophy seasons. Last summer, Ronaldo shocked the sporting world by moving to Italian club Juventus in a $140 million transfer.
Today, Ronaldo makes $60 million per season in salary and winnings. What's more, Cristiano Ronaldo earns more money from endorsements than any other soccer star, raking in $47 million during the 2017-2018 season. He is the beneficiary of a lifetime contract with Nike, which is reportedly worth more than $1 billion. Ronaldo has an array of other deals, including Herbalife, EA Sports, and American Tourister. The 33-year old Ronaldo has also developed his own CR7 branded line of products, which includes everything from shoes, underwear, and fragrances to hotels, gyms, and restaurants.
2. David Beckham – Net Worth $450 Million
Robyn Beck—AFP/Getty Images
David Beckham, the former English soccer star and well-known celebrity, has been busy since retiring in 2013. Beckham had a decorated 21-year career, playing for teams all across the world, including powerhouses like Manchester United, Real Madrid, AC Milan, and Paris Saint-Germain. He made over 100 appearances for the English national team, and served as its captain during the 2006 World Cup. From 2007 until 2012, Beckham was the highest-paid player in Major League Soccer after he signed a contract to play for the Los Angeles Galaxy, earning $6.5 million a year.
Off the field, Beckham gained the spotlight after his marriage to fashion designer and former Spice Girl Victoria Adams, a.k.a. Posh Spice. He became a popular model and spokesperson, representing the likes of Pepsi, Calvin Klein, Adidas, Gillette, and Vodafone. Combined with lucrative salaries, this made David Beckham the highest-paid soccer player in the world for many years before the Ronaldo–Messi era. More recently, Beckham launched his long-planned Major League Soccer expansion team in Miami, which is set to play its first season in 2020.
3. Lionel Messi – Net Worth $400 Million
Joan Valls/Urbanandsport/NurPhoto—Getty Images
Another superstar who will go down in the history books as one of the best ever, the Argentine magician Lionel Messi was the world's second highest-paid athlete – behind boxer Floyd Mayweather – in 2018. For the first time, Messi narrowly out-earned his rival, Cristiano Ronaldo, bringing home a total of $111 million last season to make him the world's highest-paid soccer player last season.
Messi made a whopping $84 million from annual salary and bonuses during the 2017-2018 season at Barcelona, the Spanish team he has played for his entire career. A large chunk of his $27 million in endorsements last year stems from a lucrative lifetime deal with Adidas. Other Lionel Messi sponsors include Pepsi, Gatorade, Qatar-based telecom company Ooredoo, and Chinese dairy brand Mengniu. Messi even has his own theme park in Nanjing, China: The Messi Experience Park is slated to open in 2020.
4. Dave Whelan – Net Worth $210 Million
The son of a coal miner, and a former English soccer player whose professional career lasted from 1956 to 1966, Dave Whelan became a successful business magnate after his playing days.
He retired from professional soccer to concentrate on opening a string of supermarkets, which he called Whelan's Discount Stores and sold to another supermarket chain, Morrison's, for about $2.8 million in 1978. The year before, Whelan acquired sports and fishing store J. J. Bradburn, which he renamed JJB Sports. The JJB business empire grew throughout the '80s and '90s, eventually becoming the U.K.'s second-biggest retailer.
In 1995, Whelan ventured back into soccer when he purchased the Wigan Athletic Football Club for just over $600,000. When he took over, the team was still playing in the fourth tier of English soccer; by 2005, Whelan achieved his promise to get the team to England's top division, the Premier League. Under his stewardship, Wigan lifted their first major trophy, the F.A. Cup, in 2013. The 82-year-old business magnate ended his 23-year reign as owner late last year, when he sold his family's majority stake in the club for around $28 million.
5. Zlatan Ibrahimovic – Net Worth $190 Million
Well-known as a powerful and prolific goalscorer, the 37-year-old Swedish striker Zlatan Ibrahimovic is one of the most-decorated footballers in the world, with 33 trophies throughout his professional career. Ibrahimovic is the only other active player besides Ronaldo and Messi to score over 500 goals for both club and country.
Over the years Ibrahimovic has starred for European teams like Ajax, Juventus, Inter Milan, Barcelona, AC Milan, Paris Saint-Germain, and Manchester United. Today, Ibrahimovic plays for the Los Angeles Galaxy in the MLS, where he earns an annual salary of $1.5 million. Although he took a 95% pay cut to play in the U.S. – he was making $27 million per year at former club Manchester United – Ibrahimovic has signed a bevy of lucrative endorsement deals with brands like Volvo, Nike, Vitamin Well, Nivea Men, and Microsoft Xbox since moving to Los Angeles in early 2018.
More recently, Ibrahimovic became a brand ambassador for Samsung and was the face of Visa's global marketing campaign during the 2018 World Cup. Ibrahimovic even has his own online multiplayer game which he stars in, called Zlatan Legends.
6. Neymar Jr. – Net Worth $185 Million
Tottenham Hotspur FC—Getty Images
Neymar Jr., 26, has emerged as the most gifted Brazilian player of his generation, and he has been rewarded handsomely for being one of the best soccer players in the world today. Last season, he earned $17 million from endorsements and $73 million from salary and winnings, according to Forbes.
Neymar started playing professionally as a teenager in Brazil, where his rising profile – especially on the national team — led many to dub him "The Next Pelé." In 2013, Barcelona paid $120 million to acquire him from Santos, offering him an annual salary of just over $15 million. After four successful years, Neymar became the most expensive player of all-time when he left Barcelona to play for Paris Saint-Germain. The $263 million transfer fee more than doubled the previous world record; on top of that, Neymar received a five-year contract which pays him a whopping $53 million annual salary.
Off the pitch, the superstar has cashed in on his global fame by becoming the world's "most-branded" soccer player. Neymar has 35 endorsement deals with some of the world's biggest brands, like Red Bull, Gillette, McDonald's, and Nike. The American sportswear giant is his principle sponsor, paying Neymar $1 million per year in an 11-year deal.
7. Wayne Rooney – Net Worth $160 Million
Shaun Brooks—Action Plus via Getty Images
An English soccer legend, Wayne Rooney has been one of the top 10 highest-earning soccer players for 11 years in a row, according to Forbes. Rooney spent 13 years at Manchester United before returning to his first professional club, Everton, in 2017. Although his wages dropped from $14.5 million to $11 million per year, the English striker got a huge payday when he left: Manchester United doled out nearly $15 million in severance pay to their all-time goalscorer.
While he may not have the celebrity star power of David Beckham or Zlatan Ibrahimovic, Rooney has made quite a splash since moving to the MLS last summer. After arriving at a struggling D.C. United, Wayne Rooney led the team from bottom of the league to the playoffs. He currently has one of the top 10 biggest salaries in the MLS, earning just under $2.8 million this season.
In addition to his $22 million in salary and winnings last season, Rooney makes over $5 million per year in endorsement deals with companies such as Nike, Samsung, Harper Collins, and Mayfair Home Furniture.
8. Ronaldo – Net Worth $150 Million
Claudio Villa—Getty Images
Nicknamed "the phenomenon," Ronaldo was the world's best striker in his prime, and was part of Brazil's FIFA World Cup-winning teams in 1994 and 2002. Over his illustrious career, Ronaldo scored over 300 goals for club and country, receiving numerous awards as he starred for teams like Barcelona, Inter Milan, Real Madrid, and A.C. Milan.
Ronaldo had a partnership with Nike for over two decades, including a 10-year deal he signed with the company in 1996 worth more than $180 million. The first of the famous Nike Mercurial soccer cleats were commissioned for Ronaldo in the 1998 World Cup. Forbes estimates he made $200 to $250 million from salary and endorsements over the course of his career.
Since the Brazilian star retired from soccer in 2011, he has pursued a variety of business interests, from owning a sports and entertainment agency to setting up Ronaldo Academy soccer schools around the world. More recently, Ronaldo paid just under $35 million to become the new owner of Spanish La Liga side Real Valladolid.
9. Gareth Bale – Net Worth $125 Million
Francois Nel—Getty Images
After starting his career in relative obscurity, Gareth Bale rose to fame during the 2009-2010 season as an integral part of the Tottenham first team. He won a slew of awards between 2011 and 2013, and his rising stardom attracted worldwide interest: Real Madrid paid a then-world record fee of $132 million to acquire the Welshman. Since then, Bale has helped lead Real Madrid to three consecutive Champions League titles, and he even scored two game-winning goals in the final last year.
Gareth Bale's combined salary and winnings for the 2017-2018 season was just shy of $29 million. He also raked in $6 million in endorsements last season from deals with brands like Foot Locker, Nissan, Sony, Lucozade, and EA Sports. In 2014, Bale signed a six-year contract extension with Adidas worth over $30 million. He also successfully trademarked his famous "heart" celebration back in 2013, which reportedly nets him more than $15 million per year.
10. Kaká – Net Worth $105 Million
Claudio Villa—Getty Images
Another Brazilian player considered one of the best of his generation, Kaká was the world's first athlete to amass 10 million Twitter followers.
After helping Brazil win the World Cup in 2002, Kaká began playing for Italian club AC Milan in 2003, where he led the team to win the UEFA Champions League in 2007. After several years at Real Madrid and a brief return to Milan, Kaká joined the newly-formed Orlando City Soccer Club in 2014. While playing in the U.S., Kaká was one of the biggest earners in the MLS: During his last season before retirement in 2017, he was the highest-paid player in the league, making just over $7 million per year. During his career, he signed lucrative endorsement deals with the likes of Sony, Adidas, Armani, and PepsiCo.