10 Cuban Goods You'll Be Able to Buy (Legally) Soon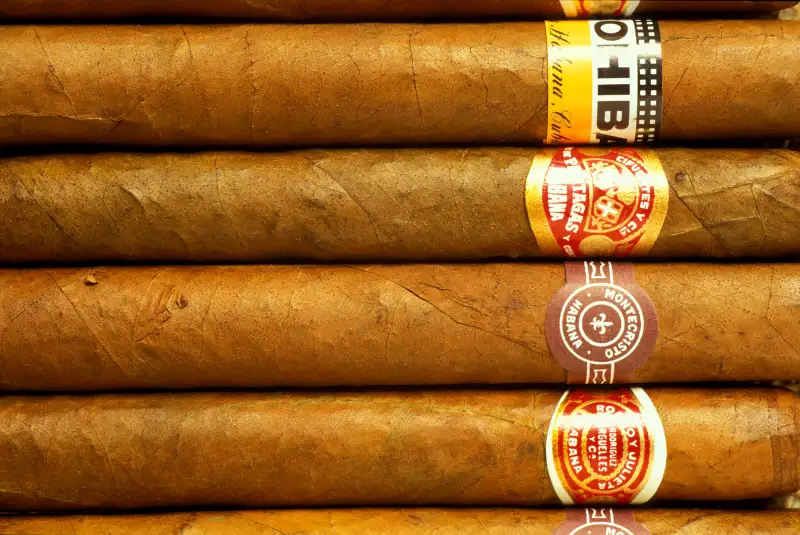 Cuba, a once-forbidden Caribbean island, is gradually becoming more accessible to Americans. This could mean a lot more than Cuban cigars and rum for America's enjoyment.
President Barack Obama announced the restoration of diplomatic relations with Cuba in December 2014 to loosen business and investment restrictions that have long been off-limits. Since then, restraints on U.S. travel and spending have relaxed, as well as business relations.
Most trade with Cuba remains banned under the more than 50-year-old economic embargo, but there's optimism the trade embargo will be lifted. Of course, Congress has the ultimate say.
There might not be a crystal ball to tell us if and when for sure. In the meantime, here are some Cuban goods Americans might like to get their hands on.
1. Cuban Rum
Cuban rum is poised to arrive in the U.S., thanks to French drinks giant Pernod Ricard, which is expected to sell its Cuban-made rum in the United States once the trade embargo is lifted, reported The Guardian. In the meantime, American visitors to Cuba can now take home up to $100 worth of cigars and alcohol, according to U.S. Customs and Border Patrol.
There are about a dozen Cuban-made rums that can be brought back to the U.S., according to the New York Post. One popular choice is Ron Cubay rum, made only from Cuban sugarcane molasses, and costs typically $28 a bottle — a bit pricier than American rum options like Captain Morgan and Bacardi.
2. Cuban Cigars
Cuban cigars have allured American consumers since the embargo's inception. It's likely Cuba's most popular good — and U.S. cigar enthusiasts want a puff.
"The popularity of Cuban cigars is actually a point of fierce contention in the cigar community," according to Anthony Welsch, CEO of the online tobacco shop CigarsCity.com. "Many argue that Cubans simply have a different, somewhat bolder aroma and taste that's derived largely from Cuba's land and soil. Others claim the generations of families in Cuba that have worked rolling cigars bring an unparalleled level of experience to the craft of making handmade cigars and because of it, the Cuban construction is second-to-none."
As for pricing, Welsch says there's a good probability Cuban cigars will be a hot commodity when Cuban imports are once allowed, which will certainly drive up price. If you're traveling to Cuba, Cohiba is a popular Cuban brand, according to Welsch. Prices can range $600 for a box of 25 cigars for one of its top blends, or $85 for a box of 10 in a different blend. But remember, there is currently a $100 maximum for both alcohol and tobacco to be brought back.
3. Cuban Coffee
Cuban coffee is nearly famous. If you haven't tasted it, there's a pretty good chance you've heard of it and want a cup. Much like its neighboring Latin America coffee exporters, Cuba's mix of Caribbean breezes and rich soils and altitude make for quality coffee beans.
Cuban coffee was once a leader in coffee exporting — that is, until the U.S. embargo, which drastically changed the Cuban coffee industry. Of course, that could change again if the embargo is lifted. However, Cuba likely doesn't yet have the infrastructure to meet American demands — and it might take up to a decade to do so, London-based Cuba Mountain Coffee Company told CraftBeverageJobs.com.
Luckily for you, travel restrictions have been loosened, so you can easily sip a cup of Cuban Joe on the Caribbean island. Americans can take home up to $400 worth of Cuban goods.
Read More: Can Americans Travel to Cuba? Yes, and Here's How Much it'll Cost You
4. Cuban Nickel
So maybe you won't directly buy nickel, but a lifting of the trade embargo could mean big business for U.S. products that use the precious metal. Nickel is used in airplane parts, stainless steel appliances, batteries and more. And Cuba has one of the world's largest deposits of nickel, unlike the U.S., which has to export the metal from countries like Russia and Australia.
"Accessing nickel from Cuba would be a godsend and much cheaper," according to Kirby Jones, founder of Alamar Associates, a consulting firm for companies wanting to do business in Cuba. The country's closer proximity would make importing nickel from Cuba a better business venture, and could mean millions of dollars for the U.S., according to Jones.
5. Cuban Vaccines
Cuba produces vaccines currently not available in the United States that could be of high value to Americans. "They got vaccines against diseases for which we have nothing," according to Jones. One of those vaccines is for a strain of meningitis that kills about 200 American kids a year, said Jones. "It's not many. But to those 200 kids and parents, that vaccine is going to be really valuable."
Currently this vaccine and others are widely used in other countries. Although what Americans might expect to pay is unclear, the value in Cuba's biotechnology industry can only be said to be vast.
6. Cuban Fruits and Vegetables
If the trade embargo is lifted, Americans could see vegetables and fruits from Cuba at the grocery stores, according to Jones. "When you go to the supermarket and look at blueberries, raspberries — they come from Argentina, Ecuador, Mexico. Many of those items can come from Cuba and can be grown in Cuba," he said.
Jones says the U.S. agricultural industry could do very well monetarily, due to Cuba being closer and its large amount of land. Potential logistical cost savings could then trickle down to the consumer. The growing season also starts a few weeks earlier than the U.S., according to Jones.
Read More: The Hottest Travel Destinations for 2016
7. Cuban Flowers
Much like fruits and vegetables, flowers could also mean big business for America, according to Jones. Currently, foreign imports dominate the U.S. flower market, with a majority coming from Latin American countries, such as Columbia and Ecuador, according to the International Trade Centre.
Cuba has the same floral possibilities and offerings, but would cost the U.S. less to import, according to Jones. This could mean flowers costing less for you to buy.
8. Cuban Marble
From countertops, flooring, to ashtrays made of marble, Americans love the precious stone — and Cuba has plenty of it. Although Cuba's marble industry is not booming as it once was, potential demand from the U.S. could re-energize the industry.
Cuba has very nice marble, particularly in green and red, according to Jones. In fact, Cuba has over a dozen types of marble. Right now, much of U.S. marble imports come from Turkey, Italy, China and Spain — none of which are as close as Cuba.
9. Cuban Lobster and Shellfish
The Caribbean island could provide the U.S. supermarket and restaurant scene with new and inexpensive source of seafood, according to Jones. "Cuba has an extensive fishing fleet," he said. "Their waters are chock-full of fish because they haven't been over-fished."
Certainly, the U.S. hasn't touched it — yet. The Cuban lobster that's harvested is very different from Maine lobsters, according to Jones, as they don't have claws. They are also quite delicious, he added. With lobster being closer and easier to fish, a lobster dinner might not be just for special occasions or fine dining anymore.
Read More: 20 Things You Can Learn From Your Parents' Retirement
10. Cuban Oil
With relations between the U.S. and Cuba on the mend, the oil and gas industry might want to consider pursuing the oil located off the northwest coast of Cuba. The U.S. Geological Survey estimated there are 5 to 7 billion barrels of oil there, according to a Reuters report.
Although Cuba produces its own oil, it hasn't been terribly successful at extracting from its reserve. The Caribbean island has relied on oil supply from Venezuela, but that deal has reportedly fallen short due to Venezuela's ailing economy.
If the trade embargo is lifted, U.S. companies could bring their expertise to tap into Cuba's offshore oil reserves, benefiting both countries. Although Cuba has expressed a willingness for joint ventures, it also stated that it wants to retain majority ownership, reported energy and oil news site OilPrice.com. So far, no major investor has been rushing in at the possibility of this offer.
This article originally appeared on GoBankingRates.