The 4 Best Projects to Boost Your Home's Value Right Now — and How Much Each Costs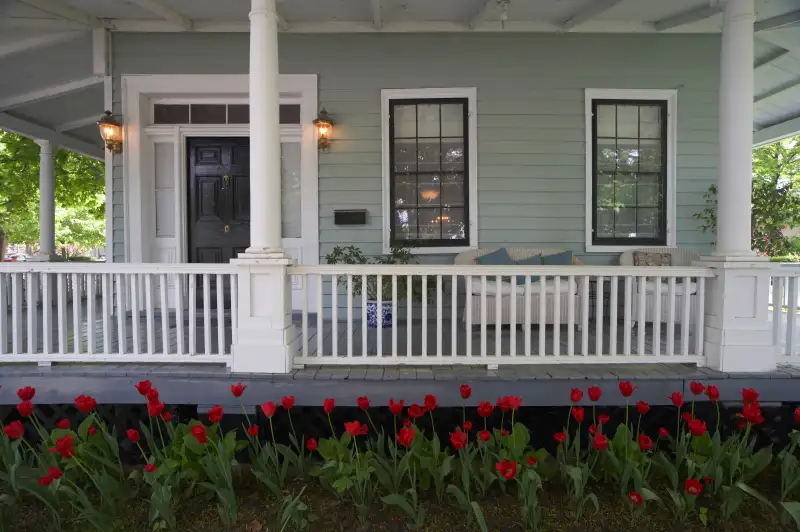 If you're a homeowner, this is the time of year when you start thinking about adding curb appeal to your house with landscaping and other affordable outdoor projects — especially if you're thinking about selling your home.
According to new research digital home-improvement platform Houzz provided exclusively to Money, more than half of the over 26,000 homeowners surveyed undertook an outdoor renovation of some kind last year. Many of these home improvement projects were pretty cheap, with median budgets starting at $400 for new outdoor lighting, and going up to $14,000 and beyond to put in a pool.
The survey is a good snapshot of what Americans value most in their outdoor space and where they're willing to spend on home improvement projects. A little more than half of the outdoor renovators tackled a project in the front of the house. Boosting curb appeal is a key recommendation from realtors to would-be sellers. (Of course, even if you have no plans to move, having the nicest house on the block is its own reward.)
The good news is that the trends show that a number of the most popular ways to upgrade your stoop, porch, garden or front yard can be done very cost-effectively.
Spruce up Your Front Porch or Deck
Houzz found that the top reasons people undertake outdoor renovations are to replace old or outdated styles and finishes. "Fresh paint and new fixtures can go a long way in dramatically updating the style and finish of your home's exterior," says Houzz editor and writer Annie Thornton.
These fixes don't have to be pricey, she adds. "Consider painting your home or front door in a fresh, new hue and replacing outdated house numbers, light fixtures or entry accessories."
The survey also revealed that three in 10 invested in furniture like a dining set or seating, and more than 25% added accent furniture like benches — all of which can make your yard look more inviting from the street.
Get the Best Lawn on the Block
A well-groomed lawn is the literal and figurative front line in adding curb appeal. It's also one of the more affordable upgrades; Houzz found that roughly 60% of American homeowners spent money on lawn and garden supplies. Homeowners spent a median of $1,000 on lawn projects — and you can get away with having great grass for far less if you're willing to put in some elbow grease and tackle mowing, edging and fertilizing yourself.
Don't forget about ways to keep it nice and green even during the hottest stretches of summer. "Investing in an irrigation system ensures that your garden continues to look its best, also saving you time on maintenance and money spent overwatering or replacing dead plants," Thornton says.
DIY Garden Projects: Cheap and Low-Maintenance
"We've seen homeowners on Houzz add plants to enhance a home's curb appeal, both through their beauty and their ability to create a welcoming environment for garden visitors," Thornton says.
The survey found that more than half of homeowners who tackled one or more outdoor projects last year decked out their gardens last year with new beds and borders, and about 40% installed planters or window boxes. The good news is landscaping is also one of the most affordable investments; Houzz found that, at the median, homeowners spent $750 on beds and borders. Thornton also has some suggestions for easy and cheap landscaping projects.
"To save money at the nursery, try buying smaller plants. They can fill in more quickly than larger, more mature and more expensive sizes, and will be easier to transplant. Avoid annual plants, which need to be replaced every year, and plant longer-lasting perennials, shrubs or trees," she advises.
Affordable Outdoor Lighting
New outdoor lighting was added by almost 40% of homeowners, according to the Houzz survey. Lighting was actually the cheapest upgrade among Houzz survey respondents last year, coming in at a median $400.
Thornton says it's an investment well worth making. "Well-designed outdoor lighting creates a more visible and welcoming front entry, and can also extend how much time you get to enjoy your outdoor space," she says. If you illuminate your front walk with solar-powered lights, you save both on the installation (no need to hire an electrician or tear up your lawn) as well as on your future utility bills.
We've included affiliate links into this article. Click here to learn what those are.