This Dad Went To EXTREME Lengths To Get His Son To Text Him Back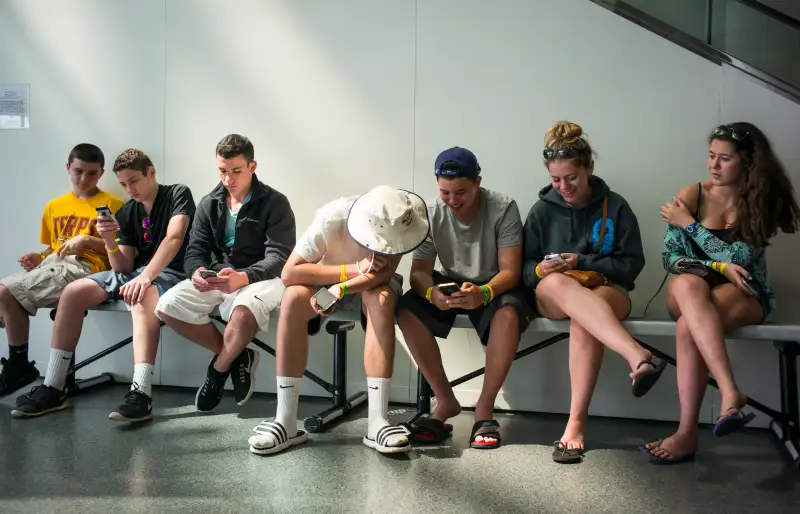 Robert Nickelsberg—Getty Images
"Did you make it to the bus stop on time this morning?"
Silence.
"Are you coming home before dinner or staying at band practice?"
Crickets chirping.
"Hello! This is the 6th time I'm texting you today, are you still alive?"
Smartphones were supposed to make communicating with our kids so much easier—we no longer have to worry when they're out late with friends, driving with a brand-new license, or running late for dinner, because we can just ping them and ask their ETA, right? But when your kid decides to ignore your repeated texts, it can send your frustration level through the roof.
To solve this 21st-century parenting dilemma, a dad named Nick Herbert has developed a new app called ReplyASAP. Install the app, and you can immediately freeze your unresponsive kid's phone until they text you back. That's right, they can't Snapchat their friends or upload that selfie until they confirm that they are indeed alive and breathing and prefer spaghetti rather than burgers for dinner. Even if your child has his phone on silent, your text will buzz and annoy him until he responds and unfreezes his phone.
Right now, the app is only available on Android, though an iPhone version is in the works. And according to online reviews, it's still working out some kinks. But while the iPhone users of the world wait for their chance to annoy the heck out of their kids with this app, resourceful parents have come up with their own tricks for getting their kids to respond to texts:
Buzzing in front of friends: "I just hit the alarm on my son's phone using the Find My iPhone app," says Alyceson, a New York City mom of two. "Even if the phone is on mute, it makes a loud sound and he always responds so I'll stop!"
Reminding them who pays: "If my kids don't respond, I remind them that it is my phone that they just get to use," says Sharon, a mom of two in New Jersey. "I tell them I will cut off their service, and then they won't get to talk to their friends, either. That does the trick!"
Blaming the dog: "When my daughter doesn't respond to my texts, I write her that it's an emergency, the dog is chewing up everything in her room," says Greg, a dad in Buffalo, New York. "It works every time—she never knows if I'm faking or not!"
Tempting the tummy: "Food is my point of entry for communication with my teenage son," says Gail, a mom of three in New Jersey. "Rather than ask where he is, I'll ask what we should we do for dinner, or what snack can I pick up at the store. That always gets his attention!"
Good old mom guilt: "My son didn't text me yesterday when I asked him to, so I wrote, 'Thank goodness I was able to track you, I was so worried that you didn't get to school,'" says Stacy, a mom of three in Florida. "He texted me right after I sent him that. Guilt always seems to work."