Delta Passengers Are Not Pleased With Flight Delays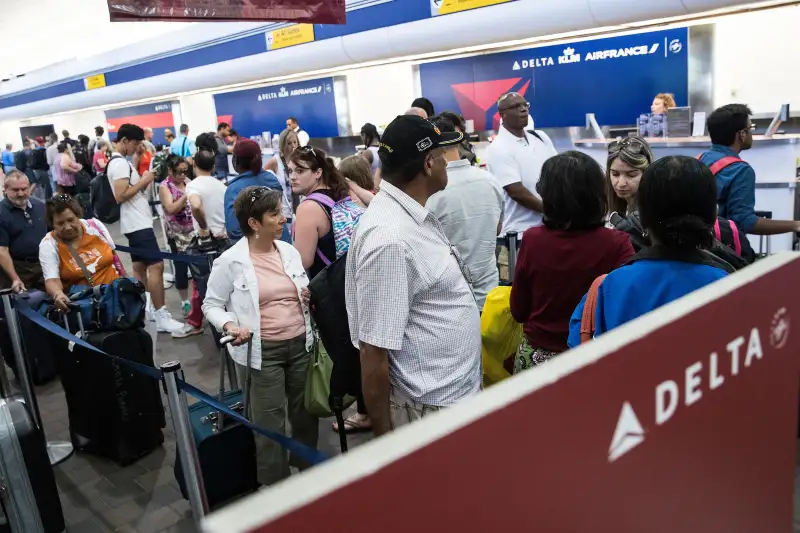 Drew Angerer—Getty Images
Nyasha Arthur was meant to be at work in Atlanta on Monday. Instead, she found herself stuck at New Jersey's Newark's airport with hundreds of other frustrated passengers after Delta's computer systems were hit by a power outage.
"This is ridiculous," said the 39-year-old AT&T employee who had to use a vacation day after being stranded at Newark Liberty International Airport.
"I don't understand what is going on here. It's just a mess," she said as she stood in a long queue at Delta's check-in counter.
The power outage struck Delta's computers around 2:30 a.m. ET, forcing the cancellation of about 365 flights. The airline said flights began taking off again at about 8:40 a.m. ET.
Arthur complained about a lack of agents at the counter, where only three of more than a dozen desks were open. She flies between Atlanta and Newark a few times a year, and said she might have to reconsider her next visit after Monday's delays.
Read More: What to Do If Your Delta Flight Is Cancelled
Many travelers vented their anger on social media, making #Delta a top trending topic.
Gloria Ojo, a buyer for a fashion company, was on her way to Montreal, Canada for business via New York City.
At the airport, she was told flight 3716 from Baltimore-Washington International Airport was delayed for 20 minutes. An hour later she learned it had been canceled. The 28-year-old said she had not heard anything from Delta since then.
"Utter confusion across the board," Ojo wrote in an online message. "I won't be flying with them again unless if I get an amazing voucher that can take me somewhere grand."
Apologies and Snacks
In Minneapolis, Delta employees offered apologies along with snacks to passengers whose flights were grounded.
In Newark, airline workers pushed carts loaded with bags of chips and bottled water along a queue of passengers which snaked through Terminal B.
Near the end of the line, Daniel and Laura Merza and their two children still hoped to make it to Tampa, Florida, for a vacation. They were booked to fly via Detroit, but Laura Merza said she thought she saw her flight switched to Atlanta online before Delta's website stopped working for her.
Both parents said the kids would find it tough if they ended up being stuck in Newark all day.
"They're going to be bored," Daniel Merza said.
"They'll fight," his wife lamented.
Other passengers were surprisingly sanguine about their predicament. Lynn Christensen, 53, and Karen Weber, 54, were returning to Minneapolis after visiting Newark where they saw Weber's son take his vows with the Franciscan friars.
"We're not trying to go to a meeting or anything," Weber said.
Christensen said she had tickets to the Minnesota Twins game against the Houston Astros on Monday evening, but that it was not a big deal if she missed it. Outages, she said, could happen to any airline.
Additional reporting by Gina Cherelus in New York and Arshad Mohammed in Minneapolis