It's Not Just Macy's: Department Stores Are in a Death Spiral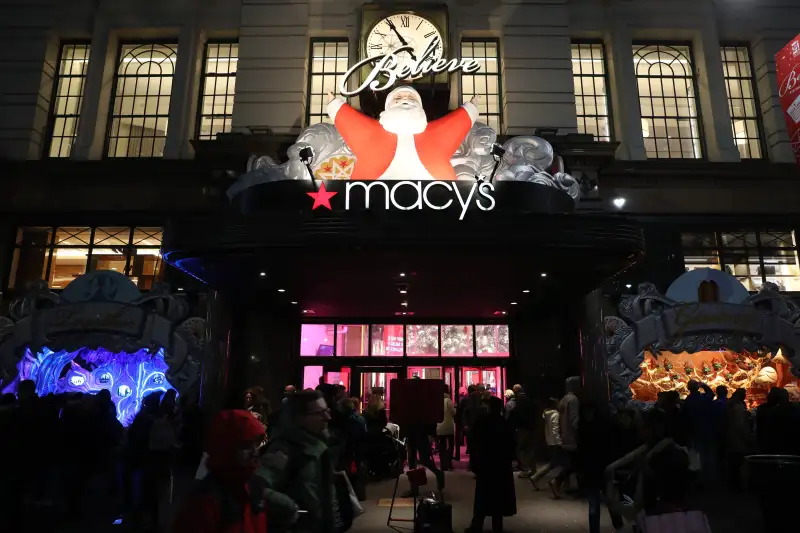 Bloomberg—Bloomberg via Getty Images
By most accounts, it was a strong holiday season for America's retailers. Consumer confidence has surged, thanks to low unemployment and the "Trump Bump" pushing stocks skyward, and analysts projected holiday spending would be up as much as 10% compared to the 2015 season.
But not every part of retail fared well. In fact, it appears to have been a fairly awful season for the one segment that used to dominate holiday shopping: department stores.
This week, Macy's named 68 locations around the country it will close, out of a planned 100 store closures in the immediate future. (Scroll down to see the full list of Macy's store closings.) Some 10,000 employees will be cut as well. Rival Kohl's offered some similarly bleak announcements, telling investors on Wednesday that comparable store sales declined 2.1% in November and December compared to the same period in 2015.
On the same day, Sears announced that 78 more Kmart stores and 26 flagship retail locations would close this spring. The company, understandably strapped for cash, also just agreed to sell the iconic Craftsman brand to Black & Decker for $900 million.
Stock prices for most department stores have cratered. Shares of Macy's and Kohl's plunged roughly 14% and 19%, respectively, in afternoon trading on Thursday, and department store competitors such as Nordstrom and J.C. Penney slid as well, albeit to a lesser extent.
While alarming, the dramatic decline of America's department stores should come as no surprise. The start of 2017 actually looks eerily similar to the start of 2016, when Money was reporting that mall "anchor stores" like J.C. Penney, Sears, and Macy's were closing left and right.
If anything, the struggles of department stores during the 2016 holidays should serve mostly to reinforce the idea that there is no magical formula that traditional retailers can use to reverse trends that have been years in the making. Consumers have grown steadily more comfortable making the bulk of their purchases online, and they've come to expect low prices, deep discounting, and a huge selection of rapidly changing merchandise—all factors that undercut the classic, slow-moving department store model.
It's no secret where shoppers are turning instead of department stores. American consumers spent a record high $91.7 billion online during the holiday season, up 11% over 2015. Amazon, the world's largest e-retailer, dominated the season, accounting for nearly 40% of all online purchases during certain peak periods.
In the past, department stores could rely on last-minute holiday shoppers to boost business as December 25 grew closer. But e-retailers and shipping services have gotten much better at handling last-minute orders, siphoning away even those spenders. According to the National Retail Federation, 52% of shoppers said they'd make their last-minute purchases online, compared to 42% who named department stores and 27% who said they'd focus last-minute efforts at discount stores.
Speaking of discount stores, they too are benefitting as shoppers eschew department stores. The so-called "Amazon Effect" may be causing hundreds of retail locations to close. But discount stores rife with random, rapidly changing deals -- like T.J. Maxx and Marshalls -- appear to be immune to the effect, as do low-priced, fast-fashion apparel stores like H&M, Forever 21, and Zara. They have all thrived, directly at the expense of their higher-priced department store counterparts.
Large, brick-and-mortar-based retailers have been trying to come to terms with the changing shopping landscape for years. But based on how they fared during the 2016 holidays, and how they're starting 2017, department stores in particular are still nowhere near figuring out how to thrive nowadays. As Marshal Cohen, NPD Group's chief industry analyst, explained to Investor's Business Daily regarding 2017, "It's going to be a year of transition and a year of reckoning and a year of awakening for retailers."
Meanwhile: If you're wondering if your local Macy's store is among those closing, here's the full list. (They are listed alphabetically, by state.)
CLOSED AT END OF 2016
• Laurel Plaza, North Hollywood, CA
• Ala Moana Jewel Gallery, Honolulu, HI
• Valley Fair, West Valley City, UT
WILL CLOSE BY SPRING 2017
• Greenwood, Bowling Green, KY
• Carolina Place, Pineville, NC
• Douglaston, Douglaston, NY
• Downtown Portland, Portland, OR
• Lancaster Mall, Salem, OR
• Oakwood Mall, Eau Claire, WI
WILL CLOSE BY END OF 2017
• Mission Valley Apparel, San Diego, CA
• Paseo Nuevo, Santa Barbara, CA
• Lakeland Square, Lakeland, FL
• Oviedo Marketplace, Oviedo, FL
• Sarasota Square, Sarasota, FL
• University Square, Tampa, FL
• CityPlace, West Palm Beach, FL
• Georgia Square, Athens, GA
• Nampa Gateway Center, Nampa, ID
• Alton Square, Alton, IL
• Stratford Square, Bloomingdale, IL
• Eastland, Bloomington, IL
• Jefferson, Louisville, KY
• Esplanade, Kenner, LA
• Bangor, Bangor, ME
• Westgate, Brockton, MA
• Silver City Galleria, Taunton, MA
• Lakeview Square Mall, Battle Creek, MI
• Eastland Center, Harper Woods, MI
• Lansing, Lansing, MI
• Westland, Westland, MI
• Minneapolis Downtown, Minneapolis, MN
• Northgate, Durham, NC
• Columbia, Grand Forks, ND
• Moorestown, Moorestown, NJ
• Voorhees Town Center, Voorhees, NJ
• Preakness, Wayne, NJ
• Cottonwood, Albuquerque, NM
• Las Vegas Boulevard, Las Vegas, NV
• Great Northern, Clay, NY
• Oakdale Mall, Johnson City, NY
• The Marketplace, Rochester, NY
• Eastland, Columbus, OH
• Sandusky, Sandusky, OH
• Fort Steuben, Steubenville, OH
• Promenade, Tulsa, OK
• Neshaminy, Bensalem, PA
• Shenango Valley, Hermitage, PA
• Beaver Valley, Monaca, PA
• Lycoming, Muncy, PA
• Plymouth Meeting, Plymouth Meeting, PA
• Washington Crown Center, Washington, PA
• Parkdale, Beaumont, TX
• Southwest Center, Dallas, TX
• Sunland Park, El Paso, TX
• Greenspoint, Houston, TX
• West Oaks Mall, Houston, TX
• Pasadena Town Square, Pasadena, TX
• Collin Creek, Plano, TX
• Broadway Square, Tyler, TX
• Layton Hills, Layton, UT
• Cottonwood, Salt Lake City, UT
• Landmark, Alexandria, VA
• River Ridge, Lynchburg, VA
• Everett, Everett, WA
• Three Rivers, Kelso, WA
• Valley View, La Crosse, WI