Marketing Jeter's Farewell Season, by the Numbers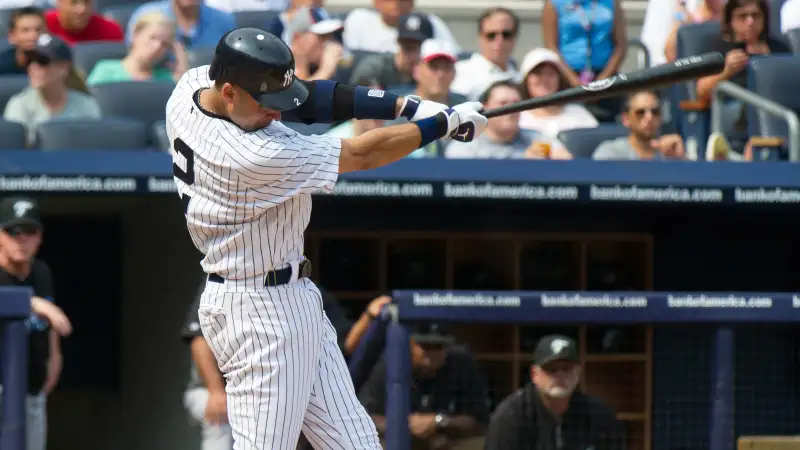 No matter how widely Derek Jeter is beloved in the sports world, many have questioned the relentless marketing of this, his final season, including a few critics even in the New York City media. "It's such bad taste," former New York Jets quarterback and current sports radio personality Boomer Esiason said in early September, referring to the "cheese-ball move" of rolling out new products and endlessly merchandising Jeter's farewell season. "It kind of goes against everything Derek Jeter has been."
Nonetheless, the sales have rolled on throughout the season and have picked up pace as the end nears. Here are some numbers that show how #2 has undeniably been #1 in terms of marketing and merchandising during his final season in pinstripes:
2 Number of epic tribute commercials released by long-time Jeter sponsors (Nike, Gatorade) this season commemorating his goodbye.
29 Number of different styles of Jeter baseball hats listed for sale at the Major League Baseball site.
$8.95, $260 Lowest get-in prices listed of late at StubHub for Orioles-Yankees tickets on, respectively, Wednesday, September 24, and Thursday, September 25. The latter is the last regular season home game, and therefore Jeter's final game at Yankee Stadium. According to the ticket resale aggregation site TiqIQ.com, the average price paid on the secondary market for the game on the 25th has been in the neighborhood of $650 to $750.
$50, $210 Lowest get-in prices listed of late at StubHub for the Yankees-Red Sox tickets on, respectively, Saturday, September 27, and Sunday, September 28. The latter is the final game of the regular season, and therefore Jeter's final game, and it's being played at Fenway Park. The average price on the secondary market for a seat to the final game has been around $550, according to TiqIQ.
50-50 How the vote broke down among fans weighing in at a Yankees blog as to whether it was a good or bad idea for the Yankees to wear a Jeter commemorative patch on their jerseys—an extremely rare way to honor a still-active player.
$149 Starting price for tickets to a Jeter Q&A session on Monday, September 22, at the Millennium Hotel in Manhattan. Steiner Sports, the event host, has advertising a package with a Mezzanine Level seat and a Derek Jeter Commemorative Final Season Bat for $299. VIP packages, which include lunch, a signed baseball, and premium seating, go as high as $2,999.
296 Number of Jeter products available for sale at the sports apparel site fanatics.com. The site reports that Jeter sales lately are up 2,700% compared with the same period a year ago, and that Jeter merchandise has been purchased this season in all 50 states and 30+ countries. Among the top sellers lately is a commemorative Jeter fitted Yankees hat retailing for $36.95.
$410 Asking price for one of Jeter's game socks (used, of course, and highly collectible).
$500 Minimum bid for one of four special pairs of Derek Jeter Jordan cleats being auctioned off to benefit Jeter's Turn 2 Foundation. At last check, bids were well over $2,000, with roughly four weeks to go before the auctions close.
$695 to $795 Range of prices for a Captains Series Celebrating Derek Jeter watch from Movado, which went on sale in recent weeks.
$12,500 Price paid by a collector for a home run ball hit by Jeter in August at a Toronto Blue Jays home game. The Blue Jays put the ball up for sale immediately after the game. "A collector from Tennessee offered $8,000, I said $15,000, we met in between," a Blue Jays staffer explained. It's the highest price ever commanded for a piece of baseball memorabilia sold by the team.
$50,000 Highest price Jeter item listed recently at Steiner Sports. It's a game-used road grey jersey and pants worn by the Captain this past August, in a matchup against the Baltimore Orioles. On the cheap end of the spectrum are unsigned 6" x 10" photos of Jeter from 2009 and wrist bands commemorating his 3,000th hit that can be had for under $4.
$19 Million+ Amount in grants awarded by Derek Jeter's Turn 2 Foundation since the nonprofit was launched in 1996.
$24 Million Estimated earnings by Derek Jeter for 2014, according to Forbes, including roughly $15 million in salary and $9 million in endorsements.