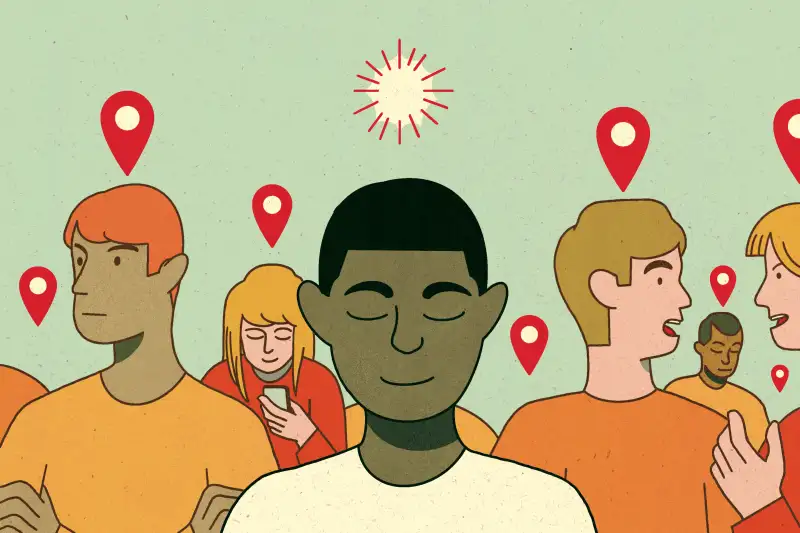 Nowadays, many of us are spending the bulk of our time in front of our computers or smartphones. Sometimes that's at home, accessing the internet via secure, private networks. Other days, it's on a park bench or at a cafe connected to public Wi-Fi. With cybercriminals launching new attacks every day, it's hard to know how safe those open networks are.
Enter the Virtual Private Network (abbreviated VPN). This tool, perhaps best known for letting you stream movies licensed outside the U.S. and find better shopping deals online, can also be used to safeguard your data while scrolling. But it can be tricky to shop for.
Here's why you might want a VPN and how to find the right one.
What is a VPN?
What you do online isn't private. Your internet service provider (ISP) can see what you search for, what you download, where you're located and more. Through encryption, a VPN keeps all this activity private.
Say you want to watch a video on YouTube at a coffee shop. When you type "youtube.com" into your browser, you're beaming out data — like your IP address and your location — to a public server (some of which are fairly easy to hack into) before you even reach the site. A VPN acts as a sort of invisibility cloak during that in-between by encrypting your data, blocking everyone but you from seeing it. This may not seem too important for a site like YouTube, but if you think about all the times you've checked your bank account or other private information on public Wi-Fi, it's easier to imagine how quickly things can go wrong if you're not careful.
Remaining anonymous with a VPN service also prevents websites from collecting your data — which means fewer targeted advertisements from brands that want your business.
Why do people use VPNs?
Originally, VPNs were used by employees of big companies, organizations and governments to ensure remote workers had a secure connection. Today, with so many more people online and connecting remotely, VPNs have become popular among everyday consumers as well.
One of the biggest reasons VPNs are so popular is, of course, to protect sensitive data from hackers when users access public Wi-Fi. But they can also be used to stream international movies, block advertisements, find low prices for hotels and more, according to VPN.com, an online team of VPN experts with decades of experience in the industry.
Keep in mind that while VPNs are legal in the U.S., not all countries have the same stance on them. Russia, for one, has strict VPN laws.
What are VPNs used for?
Whether you're a business traveler sending sensitive data to colleagues or a gamer who needs to access foreign servers, VPNs can be used for a variety of activities. While each VPN use case may have slightly different requirements, one thing is universal: A quality VPN service should provide a secure connection, robust encryption and enhanced online privacy.
Business VPNs
Business VPNs are used by employees who need to securely access their organization's internal networks remotely. By using a business VPN, corporate IT administrators can ensure that their employees' online activities are encrypted and secure, even when using public Wi-Fi networks. Enabling employees to securely access their networks from any location lets business VPNs improve productivity, increase the ability to collaborate and support large remote workforces.
Traditionally, businesses have utilized perimeter-based network security, meaning the organization's data and networks can only be accessed from within a physical corporate firewall. As more and more employees need to access data and networks remotely, however, businesses have increasingly turned to VPN web hosting to allow secure access from any device and any location.
Streaming VPNs
Another common use for VPNs is streaming. With the widespread availability of streaming services like Netflix, Hulu and Max, more people are using VPNs to unblock restrictions — allowing them to watch content from anywhere in the world. In some cases, these restrictions are simply distribution-related, meaning the content can't be accessed if you're in a different region. In other cases, streaming may be blocked due to censorship laws and government restrictions from the country you're in. People may also be able to use VPNs to skirt the recent password-sharing crackdown implemented by some streaming services.
You can also use VPNs to stream sports, as many regional broadcasts are limited to certain countries or regions. By using a VPN, you can unblock these regional restrictions and watch your favorite teams regardless of where you are.
Gaming VPNs
Similar to streaming, utilizing VPNs for gaming will allow you to access any content that's restricted to a certain region. They can also help you to access foreign servers, allowing you to play with friends from around the world. In addition to increased access, some gamers use VPNs to hide their IP address and protect themselves from DDOS attacks (distributed denial-of-service), which can be used by competitors to slow down — or even crash — others' network connections.
Reasons to use a VPN
With the growing prevalence of hackers, surveillance, censorship and government restrictions, VPNs are becoming an increasingly necessary tool in today's digital landscape. Using a VPN ensures the security of your data, eliminates tracking, gives access to geo-restricted content and affords you anonymity while web browsing.
Privacy and anonymity from third parties
A VPN will encrypt your data when you connect to public networks and block malicious actors from accessing your sensitive information. It will also conceal your IP address and location, making it difficult for third parties like your ISP to track your activities or collect data about you.
Access geographically restricted content
VPNs can be used to access content that is blocked or restricted in a certain region. Whether the content is simply not being distributed in your current location or is blocked, a VPN connection can help you access the content you desire. This includes streaming services, online games, websites and more.
Avoid limiting your bandwidth
In some circumstances, you may experience slower speeds due to what's called "bandwidth throttling" by your ISP or network provider. Bandwidth throttling is when your ISP limits the amount of data you can transfer in a given time period. This can be especially frustrating if you're streaming or downloading large files.
But your data is encrypted when using a VPN. This prevents your ISP from being able to see what you're doing, thus eliminating the possibility of throttling.
Keep secure and protected no matter where you are
A final reason to use a VPN is for security. Many public networks are unsecured and vulnerable to bad actors. When using these networks without VPN protection, your data is at risk of being stolen or compromised. The data encryption offered by a VPN will keep your data secure and can prevent hackers from gaining access to it.
Why should I care about VPNs?
If you're not keeping government secrets or doing sensitive business dealings, getting a VPN might not seem necessary. But protecting your virtual data is more important than ever, as hackers develop new, sophisticated ways to steal this information.
There are plenty of other benefits to owning a VPN. Websites often track people coming to their site by monitoring their IP address, which a VPN allows you to conceal. That's a win for your privacy, since information about your online activity can't be sold to marketers, and also allows you to create the appearance of being in a different location than you actually are. If you go on a vacation overseas, you can connect to your bank back home, even if its online banking portal is restricted to U.S. logins.
In countries that block Facebook, or where Google services are restricted, people use VPNs to access those sites as normal. Here in the U.S., online shoppers use VPNs to keep their location private while shopping around, and to access better deals on airlines and hotels internationally.
Some people use VPNs to stream content from sites like Netflix that isn't available in the states. This is a bit of a gray area because — even though you're paying for the service — the terms and conditions may prohibit you from this workaround, so be sure to double-check. And keep in mind using a VPN to download illegal files like movies is still very much, illegal.
Are VPNs safe?
There are tons of VPNs on the market, but they're not all equally secure. A number of free VPNs have been found to contain security flaws or vulnerabilities that could put your data at risk. In many cases, it's worth paying for a VPN rather than going with a free one. Plans tend to cost around $12 a month, with prices as low as $3 or $4 per month if you commit to a year or more.
Do your research. Randomly going to an app store like Google Play and skimming the reviews isn't the best way to find out if a VPN is secure, because some security concerns may not be visible to the average user. Try to find a VPN that employs strong encryption and other security measures, preferably one that offers independent audits of their security processes. In addition, look for one that has a "no logs" policy, meaning it vows not to track user activities.
Buyers should also look at the jurisdiction where the VPN is based and see if there are any country-wide requirements that put user data at risk. In the U.S., the government can legally serve a VPN company with warrants and gag orders, forcing them to start collecting logs without the consumer knowing. You may want to choose a VPN that's based in a location where governments do not require providers to retain your data — like Panama or the British Virgin Islands — so you can be sure the privacy policy the company claims to abide by will actually be followed through by the letter of the law.
That said, not all U.S.-based VPNs are bad. Some American providers provide the same high level of security as their offshore counterparts, but they might not be able to offer as much privacy protection due to U.S. data retention laws. It's important to do your research and find a reliable and secure VPN that meets all of your needs. In general, paid options, such as ExpressVPN and NordVPN, tend to be the most secure and reliable VPNs on the market.
Should you leave your VPN on all the time?
The answer to this question depends on your situation. If you're mainly using your VPN for privacy and security, leaving it on all the time is generally a good idea. This ensures that all of your online activity (including any downloads and uploads) is encrypted and hidden from your ISP and other prying eyes. It also blocks anyone from seeing your IP address or location.
When to turn off your VPN
If you're using your VPN to access a service that is blocked in your country or for streaming content from another location, you may need to turn it off once you're done. This will allow you to access content from the region you're in (and that may not be available when you have a VPN turned on). In cases where a virtual private network significantly slows down your internet speed, you may also want to turn it off when not using it.
Which VPN is the best?
Assuming you're looking for a VPN for everyday consumer use, there are apps for desktops and laptops as well as for the three major mobile operating systems (Android, iOS and Windows).
Reliable VPN providers usually create "ecosystems" that allow multiple devices to be protected with one account. NordVPN, for example, lets users protect up to six devices, including phones, computers, routers, browsers and smart TVs. This way, multiple people can use one VPN — though beware that giving someone access to your VPN, and by proxy, your VPN password, could create privacy issues.
If you're going the recommended, reputable provider route, there are many options for VPNs. NordVPN charges $3.29 per month for a standard two-year plan, or slightly more if you commit to a shorter term. NordVPN's reviews on ProPrivacy say it's the best for unlocking streaming services and for Mac users.
With ExpressVPN, you can choose between servers located in 94 countries. That wide choice of where you can connect to helps make it one of the fastest VPN providers in the world. The company also has lots of guides and customer service options that make it easy to use, according to ProPrivacy.
CyberGhost VPN is another option. With one subscription you can cover up to seven devices, and you can test it out for 45 days with a money-back guarantee. ProPrivacy says this one is a "great value" VPN with reliable servers inside and outside the U.S.
Do I need a VPN? FAQs
Is it recommended for businesses to use VPNs?
Businesses need to protect their data and devices from cyberattacks, and VPNs can be a great way to do this. A good VPN service will provide encryption and secure access to networks and services, allowing businesses to protect their devices from malicious attacks as well as providing a way for employees to access resources while working remotely.
When should I use a VPN on my phone?
To ensure security, it is recommended that you use a VPN on your phone each time you connect to a potentially unsecured network, such as public Wi-Fi. This protects your device and personal information from snooping hackers or malicious individuals on the network. Additionally, it's advisable to use a VPN regularly for accessing blocked content, bypassing geo-restrictions or maintaining anonymity during online activity.
Are VPNs legal?
Using a VPN is legal in most countries, but regulations vary. For instance, the Chinese government prohibits use of any VPN that is not government-approved. However, the pre-approved options are required to provide backdoor access to the government, eliminating anonymity security features and rendering them unable to access most banned international content. . Keep abreast of any changes in legislation that might affect VPN legality as regulations may change over time.
Are VPNs expensive?
There are a variety of VPNs available on the market that offer affordable plans. Additionally, many providers offer free trials or money-back guarantees so you can try out the service without committing to a long-term contract. There are even free VPNs available, although these typically come with limited features, potentially slower speeds and the chance of lowered security standards. In general, the best VPN services cost between $2 and $10 per month.
How can I pay for a VPN?
Most reputable VPN providers will accept a variety of payment methods, including credit cards, debit cards and PayPal. Some VPNs even accept Bitcoin and other cryptocurrencies as payment methods, allowing for enhanced anonymity.