Does Homeowners Insurance Cover Water Damage?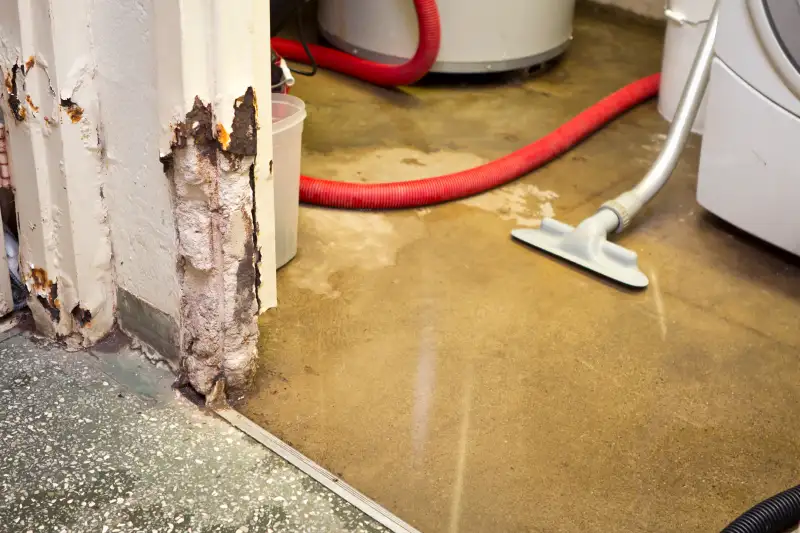 Whether or not you can make an insurance claim based on water damages depends on various factors. This article outlines what home insurance typically does and doesn't cover, as well as how to make sure you're adequately protected.
What is homeowners insurance and why is it important?
According to the Consumer Financial Protection Bureau (CFPB), homeowners insurance, sometimes referred to as hazard insurance, protects your property and other assets in case of an unforeseen disaster. It pays for losses and damage to your property if something unexpected happens, such as a fire or burglary. Furthermore, your lender usually requires proof of homeowners insurance when you have a mortgage.
It is important to note that homeowners insurance isn't the same as mortgage insurance. Though the two terms may appear interchangeable, they have distinct differences. Mortgage insurance protects the lender by covering any losses incurred if you default on your mortgage payments. Homeowners insurance, on the other hand, doesn't cover mortgage payments; instead, it covers losses resulting from events that arise from the physical property, such as fire or theft.
According to the Insurance Information Institute, a standard homeowners insurance policy typically covers the following:
Damage from wind, hail, lightning and fire
Theft of property inside or outside the home
Personal liability (if someone sustains injuries on your property)
Loss of use (if you must stay in a hotel due to damage from an insured event)
Damage from fallen objects, such as a tree
However, a standard policy doesn't typically cover some types of disaster-related damages, such as floods or earthquakes. These types of damages require separate policies, such as flood and earthquake insurance.
As a homeowner, you may think these types of disasters are unlikely. But the truth is that even if a disaster doesn't directly affect your home, it could still cause damage to the property. For example, a severe thunderstorm could knock down trees and debris onto your roof or other parts of your home.
In addition, if someone is injured in your home or on your property, they could hold you liable for their medical bills and other associated expenses. Homeowners insurance can provide peace of mind by protecting you financially in the event of an unexpected disaster. Finally, depending on the policy, homeowners insurance may cover personal property such as furniture, electronics, jewelry and other items in your home. However, it has limits and doesn't cover all types of disasters, so it is essential to speak with an insurance agent and ensure that your policy adequately covers you.
Looking for a great homeowners insurance policy? Check out our reviews of some of the best homeowners insurance companies:
What qualifies as water damage?
Water damage generally refers to any damage caused to your home or property by water. To qualify as water damage, water or moisture must have been the primary cause of the damage. For example, if a pipe bursts and floods your basement, the damage caused by that flooding is water damage. Similarly, if heavy rains cause water to leak through your roof and damage your home's walls, ceilings and personal belongings, a private insurance company would consider this water damage.
Here is a general list of events that could potentially qualify as water damage:
Burst pipes
Flooding from storms or heavy rains
Roof leaks
Sewer main backups
Water heater leaks
Foundation cracks due to water seepage
Plumbing problems
Now that you know the types of water damage your home can experience, you can take steps to protect yourself and your property from potential water damage. These steps include:
Installing sump pumps and backflow valves
Regularly inspecting your roof for leaks, cracks or damage
Inspecting your foundation for signs of water damage
Keeping an eye on your plumbing system and checking for leaks periodically
Regularly cleaning out gutters and downspouts
Having your water heater inspected regularly
When is water damage included in a homeowners insurance policy?
Generally speaking, most standard homeowners insurance policies will cover unexpected and sudden water damage caused by pipe bursts, heavy rains and other disasters. But this all depends on the specific details of the policy.
When you file a claim for water damage, you should be aware that some insurance companies may require proof that a sudden event caused the damage and that it is not due to poor maintenance. For instance, if the cause of the water damage is a plumbing malfunction, your insurer may send an expert to inspect the home and determine if there were signs of neglect or improper maintenance that could have prevented the damage if they had been resolved. In such a case, they will evaluate the following:
The age and condition of the pipes
Whether the area was regularly inspected
If any leakage was previously detected and addressed
If the pipe was properly insulated
Dwelling coverage
One of the types of coverage included in a standard homeowners insurance policy is dwelling coverage. Dwelling coverage protects your home from unexpected events such as fires, storms, theft and vandalism. It typically covers the cost of repairs to the physical structure of your home, as well as any permanent fixtures and appliances.
In case of water damage, dwelling coverage usually covers the cost of repairs to any physical property damaged by water. For example, dwelling coverage should cover the cost of repairs if you had a burst pipe that caused water to seep into the walls, flooring and ceilings. However, it is essential to note that most dwelling coverage policies have a limit on the amount they will pay out in the event of a claim.
Personal property
In addition to dwelling coverage, most homeowners insurance policies also include personal property coverage. This type of coverage protects your possessions from theft and other disasters and typically covers furniture, electronics, clothing and other items in your home. Similar to dwelling coverage, some policies may include water damage in this coverage, depending on the cause and other factors. For instance, if a storm causes water to leak through your roof and damage personal belongings such as furniture, you may be able to make an insurance claim for the damage.
What does not qualify for coverage?
Though homeowners insurance may cover most types of water damage, there are some scenarios where it won't offer protection.
Maintenance neglect
Homeowners insurance doesn't typically cover water damage caused by plumbing or maintenance neglect. For instance, if a pipe bursts due to plumbing issues neglected for years, the insurance company may not cover the cost of repairs. It is vital to regularly inspect the plumbing and pipes in your home and ensure they are in good working order.
Sewers and drains
Another type of water damage typically not covered by homeowners insurance is damage from sewers and drains. If a sewer backup or clogged drain causes flooding and water damage in your home, the insurance policy won't cover the cost of repairs. Sewer backup coverage is an optional add-on to most homeowners insurance policies. Therefore, speaking with an insurance professional to understand whether this coverage is available is crucial.
What actually caused the damage
Homeowners insurance doesn't cover the cost of repairing or replacing the source of the water damage. For instance, if a washing machine malfunctions and causes flooding in your home, the insurance company won't cover repairing or replacing the machine. It may, however, cover the cost of repairing or replacing the floors damaged by the flooding.
Other scenarios include:
Floods: Damage from floods isn't typically covered by homeowners insurance. If you live in a high-risk area, you may need to purchase a separate flood insurance policy to protect yourself from flooding damage.
Earthquakes: Homeowners insurance will not cover earthquake damage in most cases. To be adequately protected, you should purchase a separate earthquake insurance policy.
Sump pump failures: Homeowners insurance won't cover the damage if your sump pump fails and causes water to flood your basement.
Intentional damage: If you intentionally cause water damage to your home or property, your homeowners insurance policy won't cover the costs. For instance, if you purposely flood your basement or use water to damage your walls, the insurance will also not cover these damages.
What to consider when choosing water damage coverage
Since homeowners insurance doesn't always cover water damage, it is essential to speak with an insurance agent and carefully review your policy to understand what types of disasters it includes. Below are some considerations to keep in mind when choosing water damage coverage:
Deductibles
Deductibles are the amount of money you're responsible for paying before your insurance company covers the rest of the claim. Generally speaking, the higher your deductible, the lower your premium will be. When choosing a policy, it is important to consider how much you are willing and able to pay out of pocket in the event of a water damage claim.
Coverage limits
Your policy will have coverage limits, the maximum amount your insurance company will pay out in case of a claim. Ensuring that these limits are sufficient to cover the cost of any potential water damage is crucial. For instance, if you have a $200,000 policy limit and the cost of repairs is $250,000, your insurance company will only cover up to $200,000.
Some other factors you can consider when choosing a policy include:
The insurer's reputation: It is vital to choose an insurance company with a good reputation for handling water damage insurance claims quickly and efficiently. You can check ratings and reviews online to get an idea of the insurer's reliability.
Cost of the policy: When comparing policies, it is essential to compare costs, coverage limits and deductibles. Different policies may have different premiums, but you should ensure that the policy you choose is comprehensive enough to cover any potential water damage.
The level of customer service: Choosing an insurer with excellent customer service is important. You want to be sure that you can contact them easily and that they are available to answer any questions or concerns you may have.
Availability of additional coverage options: Some policies will offer additional coverage options such as sewer backup and flood insurance. Choosing a policy that provides these additional coverages if you need them is crucial.
Ease of filing a claim: It is important to check how easy it is to file insurance claims for water damage with the insurer. You don't want to be stuck in a situation where filing a claim takes days or weeks.
Choose the right coverage for everything you need
Whether homeowners insurance covers water damage depends on various factors such as the cause of the damage, the type of coverage you have and other details. Speaking with an insurance agent to ensure you have the best home insurance and understand what your policy covers is essential. With the right coverage, you can feel secure knowing that your home and possessions are covered in an unexpected disaster.