The Trump Effect on Your Wallet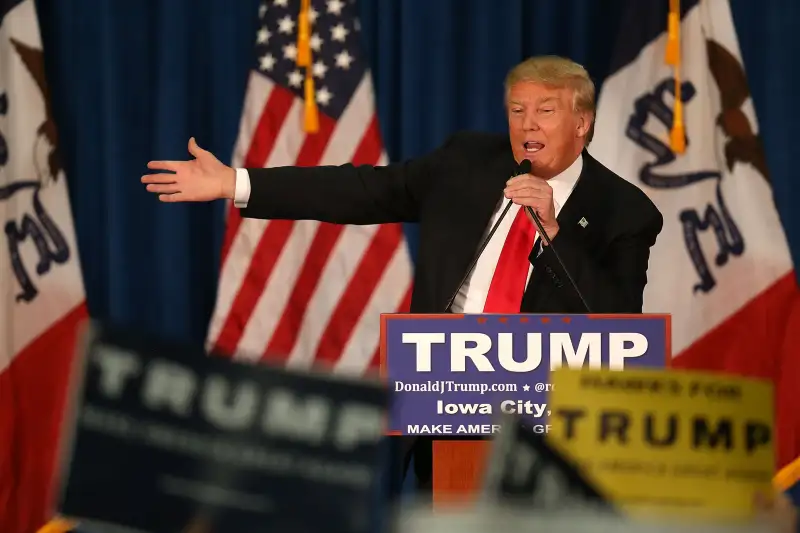 As the 2016 presidential race heats up, there's one candidate who seems to be making more headlines than the rest: Donald Trump. Whether GOP candidate Trump can ride the massive wave of attention he's received all the way to the White House remains to be seen, but if he does, it's very possible his presidency could affect you and your money.
Let's talk specifically about the personal finance impact. As with all political policy proposals, it can be very difficult to pinpoint how unknowns might influence individuals' lives. On top of that, many candidates' ideas (including Trump's) lack the details necessary to estimate potential effects, but one thing is certain: Changes don't happen in an vacuum. There are always the questions, "How are you going to pay for that?" and "What's the trade off?" While all aspects of those arguments haven't been addressed, there are plenty of things voters should consider about how a Trump presidency could affect their finances.
1. Tax Reform
Trump proposes eliminating the estate tax (which he and others call the death tax), limiting business owners' tax liability to 15% of their business income and restructuring tax brackets. Within that change, single people making less than $25,000 annually or married people filing jointly with an annual income less than $50,000 would not have to pay income tax.
Trump says his his tax cuts will be paid for by reducing or eliminating tax loopholes for the very rich and businesses. He also proposes a one-time repatriation of corporate cash held overseas at a 10% tax rate and ending tax deferral on corporate income earned abroad.
Read More: Chase Slate: A Great Bet If You Need Breathing Room From Your Debt
2. Healthcare Reform
Trump has said Obamacare must be repealed and replaced. Trump explained his plan to 60 Minutes, saying "Everybody's going to be taken care of much better than they're taken care of now," and "the government's gonna pay for it." Details of the plan remain unclear, however.
As you probably know very well, your health insurance situation can have a significant impact on your budget. Being "taken care of" could work out pretty well for the consumer, but the cost of getting to that point is a big unanswered question. Trump referenced making "deals," presumably with hospitals and doctors on healthcare pricing.
3. Domestic Manufacturing
Trump often talks about the trade relationship between the U.S. and China, saying it's unbalanced. On this topic, one of Trump's passion projects is to make changes that will discourage U.S. companies from moving operations to China as a money-saving measure. It's a lot more complicated than that, but it's in many ways a play for job creation, which could help the unemployed and underemployed.
Read More: Life After Loan Denial
4. Visa Restrictions
This one's about jobs, too. Job creation is a big Trump position. Part of his proposal in that area is to restrict immigration and make changes to certain work visas so companies have to consider U.S. workers before applicants outside the country.
Read More: How to Get a Personal Loan With Bad Credit
5. Student Loan Profits
Trump hasn't outlined any specific reforms on how he'd reduce student loan debt. However, in an interview with The Hill, he said, "That's probably one of the only things the government shouldn't make money off — I think it's terrible that one of the only profit centers we have is student loans."
Federal student loans without a profit margin could be less costly for borrowers, but Trump really hasn't said much about how he'd propose changing the system. (You can see how your student loan debt may be affecting your credit scores by viewing your free credit report summary, updated each month, on Credit.com.) He seems to sympathize with people in debt, and again sees jobs as the solution.
"I don't want to raise the minimum wage," Trump told The Hill. "I want to create jobs so people can get much more than that, so they can get five times what the minimum wage is."