Do You Know Which 30 Companies Are in the Dow?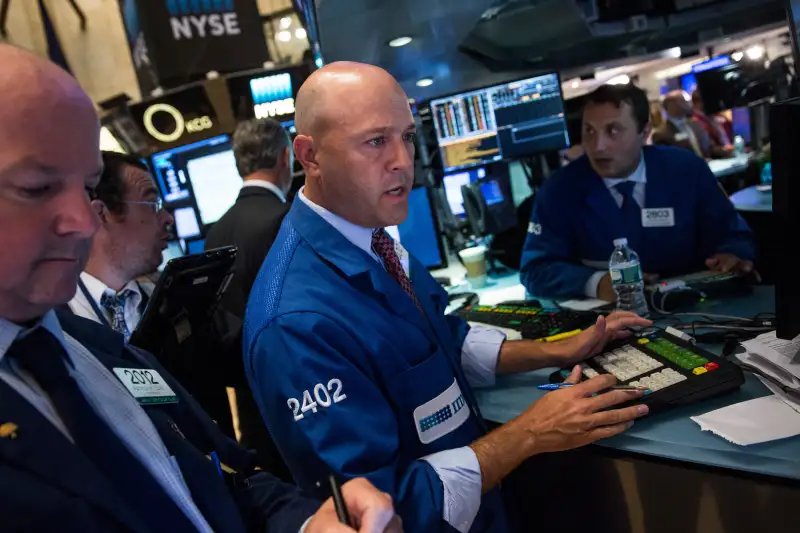 Andrew Burton—Getty Images
The Dow Jones Industrial Average is often referred to as "the market" by news outlets. While it certainly makes up an important part of the market, it is by no means representative of the overall market. The entire index is made up of only 30 companies, all blue chip stocks. They are:
3M – Maker of adhesives and other materials for both consumer and industrial markets, including the ubiquitous Post-It Notes.
American Express – A global payment company serving both the consumer and corporate markets.
Apple – A technology company that designs, develops, and sells consumer electronics, computer software, online services, and personal computers.
Boeing – Boeing is involved in most aspects of flight, from commercial airplanes to space-related systems and defense contracting.
Caterpillar – Maker of heavy industrial machinery and construction equipment.
Chevron – Energy corporation.
Cisco – Technology company that designs, manufactures, and sells networking equipment.
Coca-Cola – The king of soft drinks (sorry, Pepsi drinkers) now has over 400 product lines including teas, coffees, and sports/energy drinks.
DuPont – DuPont manufactures products and chemicals for a wide range of industries including agriculture, medical, electronics, protective apparel, and motor vehicles.
Exxon Mobil – This oil and gas giant operates exploration and production facilities worldwide, and also manufactures specialty petrochemicals.
General Electric – A very diversified group of products including appliances, electrical distribution, aircraft engines, entertainment, and financial services.
Goldman Sachs – Investment banking firm that's been taking care of business since 1869, surviving both the Great Depression and the Great Recession.
Home Depot – Major chain for hardware, appliances, landscaping, and other home improvement projects.
IBM – Long established in the information technology field, IBM also provides consulting and financing services within a variety of market sectors.
Intel [ – A pioneer and industry leader in semiconductor chip manufacturing.
Johnson and Johnson – Far more than baby powder and shampoo, J&J is now involved in multiple health care sectors (Consumer, Pharmaceutical, and Medical Devices and Diagnostics).
JPMorgan Chase – Supplier of banking and investment financial services through several subsidiaries.
McDonalds – The classic golden arches of the fast food giant may be found in over 100 countries.
Merck – A producer of pharmaceutical products for both human and animal health.
Microsoft – Creator of software and operating systems for millions of computers worldwide.
Nike – From Michael Jordan's feet to the top of the heap, this apparel and footwear company known for its "Swoosh" was named for the Greek goddess of victory.
Pfizer – This pharmaceutical titan produces many prescription and brand name medicines, including Advil and Neosporin.
Procter & Gamble – A producer of many well- known consumer products, from Tide detergent and Charmin bathroom tissue to Gillette razors and Braun hair grooming appliances.
Travelers Companies – Insurance company. You've doubtlessly seen their umbrella logo.
United Technologies – A supplier to the building and aerospace segments, including Pratt and Whitney and Otis elevators.
UnitedHealth – A diversified managed health care company.
Verizon Communications – AT&T's main rival for cell phone and telecommunication dominance.
Visa – A financial services and payment technology company and American Express rival.
Wal-Mart – Retail chain covering everything from bulk sales of staples (Sam's Clubs) to general retail (Wal-Mart and Wal-Mart Supercenters) to traditional groceries (Neighborhood Markets).
Walt Disney – An entertainment colossus, with iconic theme parks, movies, and trademarked and beloved characters adorning tons of merchandise.
The Dow is diverse within sectors, but not within size. Unless you hold any of these stocks, or an index fund that tracks the Dow, the Dow's numbers may not reflect what is happening with your portfolio. Keep an eye on the Dow, but remember to check your individual stocks.
More From MoneyTips: