Why Downgrading a Little-Used Credit Card Is Smarter Than Closing It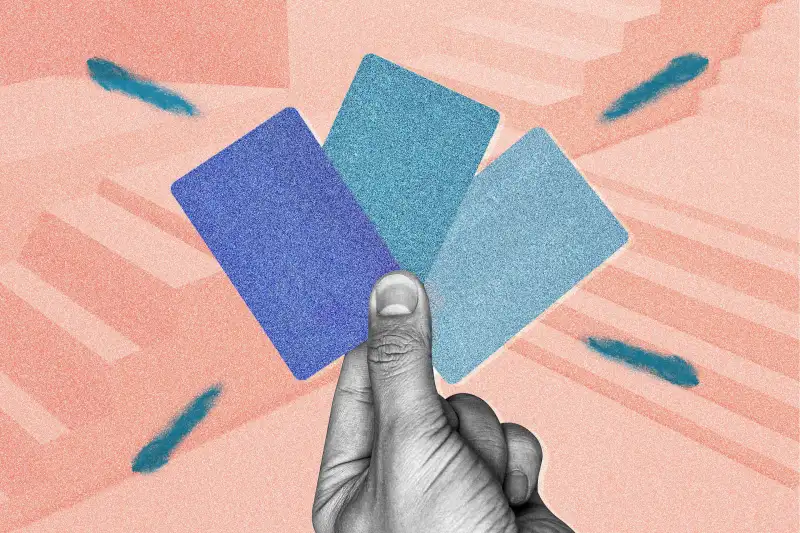 Tired of paying a high annual fee for a credit card? Your first instinct may be to close the account, but there's often a better solution.
Credit cards carrying annual fees have grown in popularity in recent years as higher-income consumers look to reap the benefits of rewards credit cards. The average annual fee is about $100, but they can range up to $700. What many cardholders with annual fees may not realize, though, is that issuers often allow customers to downgrade their credit cards, which means switching from a card with a high annual fee to an option with a lower fee (or none at all).
Say you have the Chase Sapphire Reserve card — one of the most popular premium rewards cards — but you don't think you're getting your money's worth with it, or the $550 annual fee doesn't fit into your budget anymore. You could potentially switch to their $95 annual fee Sapphire Preferred card, one of Money's picks for best travel credit cards, giving up the high-end perks and rewards for $455 of savings.
"If the higher-cost card is no longer serving your needs, then you're smart to save some money and tailor your credit to your current lifestyle," says Delia Fernandez, financial planner and owner of Fernandez Financial Advisory.
Compared to closing the card entirely, downgrading is advantageous on several key elements of credit scoring, including utilization and credit age.
When switching to a lower-fee card, you can often maintain your full line of credit with the card issuer, which is important for the credit utilization ratio that represents 30% of your credit score. (Utilization is the sum of your balances as a fraction of the sum of your credit limits.)
If you close a card, on the other hand, your credit limit will drop and there's a good chance your credit score will decline.
Downgrading is also better in terms of the age of accounts component of your credit score. You're still building credit history on your original account, and you're not adding a brand new line because the downgrade is considered a "product change" rather than a credit line closure. The age of your accounts won't increase, nor will a hard pull show up on your credit report.
How to downgrade a credit card
To downgrade your credit card, you'll usually need to have a conversation with your credit card company.
Each issuer has its own set of rules and protocols for card downgrades, so it's best to get on the phone with a customer service representative to explore your options.
Before you do this, research your issuer's suite of cards, so you know which card you would ideally like to downgrade to if it's an option.
When you get on the phone with customer service, don't be afraid to negotiate.
Eric Croak, financial planner and president at Croak Capital, recommends explaining that you're not getting value from your current card and you're considering walking away, but you want to hear about their best options for you to stay.
Most issuers would rather have you remain a customer, even if it means losing some of that annual fee because they make a percentage of each purchase when you use your card, he says.
"What these credit card companies don't want is to lose business," Croak says. "The more money you're spending on their credit card, the more money that they make in their pockets."
Ideally, the issuer will agree to let you downgrade your card to a lower fee option without losing any of your credit line. Sometimes, they may even dangle a retention offer like slashing the annual fee for you to give the premium card a try for another year.
When should you downgrade your credit card?
Annual fees for credit cards usually show up on your statement 12 months after you open the card (and again every year thereafter).
When you're nearing a renewal, it's a good idea to sit down and calculate whether you are getting enough out of the card — either in reward points, cash back or cardholder freebies — to offset what you're spending on the fee. "If the math doesn't work, then it's time to downgrade," Croak says.
For example, if you have an airline card like the Delta SkyMiles Reserve American Express that costs $550 per year, but you're not flying much on that airline and you're only getting $400 of value from the card, you should probably explore other options.
Much of the value of this credit card comes from perks you get when you fly on Delta, including free checked bags and lounge access. You also get the most points for your spending on their flights. Cardholders should tally up how much they use these benefits and see if it's enough to make the card worth it. If not, consider downgrading.
Keep in mind that card issuers typically don't approve downgrades until you're approaching the one-year mark, though the exact timing of when you can downgrade varies by card issuer. In some cases, you can downgrade even after the annual fee posts and the money will be refunded, but don't procrastinate and risk missing your window to downgrade.
Credit expert John Ulzheimer says the reason to downgrade is to avoid a high annual fee, but he thinks consumers sometimes fret too much about annual fees and make the mistake of getting rid of good credit cards.
"They see an annual fee and some people take it almost as a personal insult: 'Oh my god, $500 a year, are you kidding me?'" Ulzheimer says. "And they don't think about what they're getting in exchange for that annual fee."
You may be getting more value from your credit card than you realize, or you may have unused benefits that you could take advantage of to make your card worth it. "At the very least do some accounting and some math and find out what you're going to be losing," Ulzheimer says.
Can I close a credit card after I signed up for a welcome offer?
If you signed up for a high annual fee credit card to claim an intro offer (usually, a reward of a set number of points), you may be able to downgrade when your card comes up for renewal.
Of course, you'll lose the perks of the premium card, but you could potentially save hundreds of dollars by avoiding the annual fee.
In some cases, you can downgrade from a paid card to a no-annual fee card. For instance, Capital One's Venture X card, a premium travel card with an annual fee of $395 and a 75,000-mile welcome bonus, can be converted to the company's VentureOne card, a no-annual fee travel card.
With other credit cards, that's not possible. If you want to downgrade from the $695 per year American Express Platinum card, your most affordable downgrade option would be the AmEx Green card, which costs $150 annually and comes with travel and dining rewards, but lacks premium perks like airport lounge access, hotel and airline credits and digital entertainment credits that the higher priced card has.
Experts caution against opening high annual fee cards that you can't actually afford on the expectation you'll be able to claim the lucrative welcome offer and then downgrade.
Your credit report and credit score are key to your financial well-being, and credit card "churning" strategies can be risky.
"It's certainly not something that you can maintain as a strategy that you go through life with because then your credit reports are always going to look brand new because you're polluting it with brand new accounts and inquiries," Ulzheimer says.
And you can't be certain that you'll necessarily be eligible for a particular downgrade offer a year in the future.
The last thing to keep in mind about downgrading a credit card after claiming a welcome bonus is that you'll want to ensure you don't lose any of your points.
You can often maintain access to your points with a downgrade, especially if you stay within the same family of credit cards, but double-check with your card issuer before you move forward.
If you stand to lose your points or have restrictions placed on how you can use them, you could simply use them all up before downgrading.
More from Money:
13 Best Credit Cards of October 2023
As Credit Card Debt Hits $1 Trillion, Here Are 5 Ways to Pay off Your Balance
You Don't Need a Credit Card to Have Good Credit