10 Things You Didn't Know About the Fast Food Drive-Thru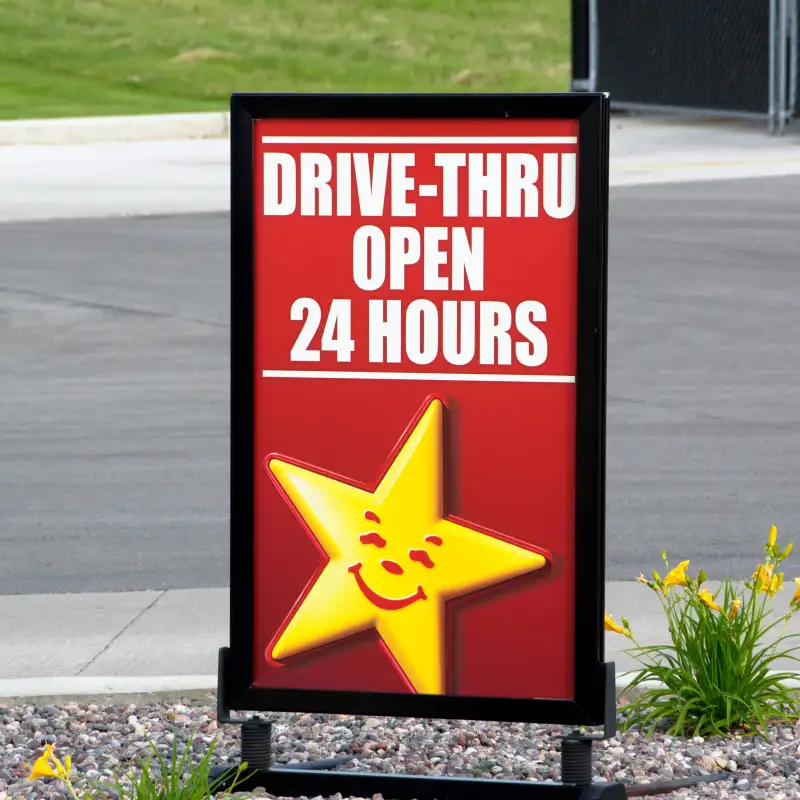 Here are some fascinating factoids that'll make for great conversation the next time you're waiting on line at the drive-thru—and that perhaps will even influence what you order.
The drive-thru is getting slower. OK, so maybe this is one part of the drive-thru experience that doesn't come as a total surprise. But the latest version of an annual study from QSR Magazine (QSR = quick serve restaurant) confirms that wait times at the drive-thru are on the rise. Last year's study indicated that the average drive-thru wait time hit 181 seconds, up from 173 seconds the year before. According to the new study—an expanded version that incorporated 23 quick-serve restaurant brands, up from just seven in 2013—the average wait time reached a record high of 203 seconds. (Perhaps that's why people were so excited about McDonald's one-minute drive-thru guarantee.)
Midafternoon is when drive-thrus are fastest and friendliest. The wait at the drive-thru for breakfast tends to be mercifully brief, with the average clocking in at 175 seconds. This is understandable considering that breakfast orders tend to be small and simple, typically one person ordering coffee and a breakfast sandwich on the way to work. Not only do menus expand during lunch and dinner hours, but orders are more likely being placed for two or more people, and the customizable options multiply (for instance, the choice of sauce with a customer's nuggets or dressing with a salad). As a result, orders are more complicated and time-consuming to get ready, explaining why drive-thru lunch orders average 214 seconds, while dinner takes up the most time of all, 226 seconds. Overall, the optimal time of day to hit the drive-thru is the mid-afternoon "snack" period, when wait times average 173 seconds—and when, per the QSR survey, 33% of customers rate the service as "very friendly," the highest percentage of any order time.
The first drive-thru opened in 1947 (and it wasn't a McDonald's). By the World War II era, carhop service for drive-up restaurants serving burgers and other fast-ish food was common. But it wasn't until 1947 that the first drive-thru opened, reportedly at Red's Giant Hamburg on Route 66 in Springfield, Missouri. Red's closed in 1984, so the award for the longest-running burger drive-thru goes to the original In-N Out Burger. It opened in 1948 in the Los Angeles area, and yes, it was based on the unique concept of a drive-thru hamburger stand using a (then) state-of-the-art two-way speaker box.
The first drive-thru-focused chain opened in 1951 (and it wasn't McDonald's). It was Jack in the Box, another California-born concept created to take advantage of the burgeoning car culture. The original Jack in the Box was in San Diego and was drive-thru-only, offering motorists hamburgers to go for 18¢ apiece. While most Jack in the Boxes now also have indoor dining areas, roughly 85% of the orders at its 2,250 locations are either drive-thru or to-go. Jack in the Box is also credited with creating a rather self-serving fake marketing holiday, National Drive-Thru Day, which is celebrated every July 24.
McDonald's didn't have a drive-thru until 1975. The fast food brand most closely associated with the drive-thru—and fast food in general, for that matter—had no drive-thru until 1975, when the company's first was launched in Sierra Vista, Ariz. By that time, McDonald's already had 3,000 restaurants worldwide and was opening locations in Nicaragua, the Bahamas, and Hong Kong.
Drive-thru design heavily influences what we order. Those appetizing photos of combo meals are prominently featured on drive-thru menu boards for a reason: They are there to upsell customers and make the ordering process simpler—and quicker—according to restaurant experts. Photos distill the components of an order faster than even the briefest of descriptions, and pictures of combo orders are generally placed dead center on well-lit drive-thru menus because that's usually where the customer's eye goes first. Restaurants even find some benefit in making drive-thru customers wait a bit in line, with the so-called "car stack" of three or four vehicles allowing each party ample time to take in what's on the menu and be better prepared for placing orders quickly. The next drive-thru innovation could very well be touchscreen ordering, which allows customers to personalize orders without occupying the time of a restaurant employee; as a bonus to eateries, consumers tend to place higher-priced orders when using touchscreens.
Wendy's has quickest service, Chick-fil-A is most accurate. While the data changes a bit from year to year, the 2012 drive-thru study indicated that the average wait time for a Wendy's order was just 130 seconds, the quickest in the field and more than one minute faster than Burger King. Meanwhile, Chick-fil-A was tops in terms of accuracy, getting 92% of orders correct. Overall order accuracy among all drive-thrus in the 2014 study was measured at 87%; Burger King accuracy was only 82%.
Drive-thrus are increasingly important to Starbucks. Starbucks is known mostly as a spot for enjoying the unrushed (read: slow) café experience, but nowadays 40% of Starbucks locations have drive-thrus for speedy on-the-go "refueling" transactions. What's more, Starbucks CFO Troy Alstead has said that going forward, 60% of new Starbucks opened will have drive-thrus. Having largely exhausted the potential to expand further into downtown locations where drive-thrus would be problematic or impossible, Starbucks is placing an emphasis on "off-highway kinds of locations" and "some of the remote areas around the country," Alstead said, to reach out to new customers. It certainly doesn't hurt that drive-thrus allow Starbucks coffee shops to speed up service, thereby serving more people and hiking per-store profits. "We have fantastic economics through our drive-thrus," said Alstead. "We're providing a great experience to our customers who are on the go, they're moving fast, they want that ability to stay in their car and experience Starbucks at the same time."
Panera studied drive-thrus for 10 years before opening one. The fast-casual restaurant category, which has become a phenomenal success due to its mix of speedy service, customizable orders, and fresher and higher-quality fare, has been fairly reluctant to pull up to the drive-thru, so to speak. Why? One reason is the fear that the drive-thru cheapens the experience figuratively and literally, the latter because orders taken away in the car are prone to getting soggy or are otherwise less appealing than food fresh eaten on the spot. Panera Bread, one of the earliest players in the fast-casual space, reportedly studied drive-thru options for a decade before finally introducing one in 2005. That was only after the company settled on a design that would hide drive-thru operations from the regular counter-serve customers (they didn't want to disturb or distract anyone), and after developing special packaging that ensure "food integrity" in drive-thru orders.
Chipotle is a drive-thru holdout, and may never give in. Experts in the field have said that a drive-thru would destroy the Chipotle experience, in which customers look at employees face-to-face, eyeball all the ingredients in front of them, and customize exactly what they want in their burrito or bowl. The question of if or when it will add a drive-thru comes up again and again, but thus far Chipotle hasn't gone there. And based on how successful Chipotle has been without offering drive-thru service, it hardly seems to need it.