Happy Earth Day! Here Are 3 Easy Ways to Help the Environment — and Save You Money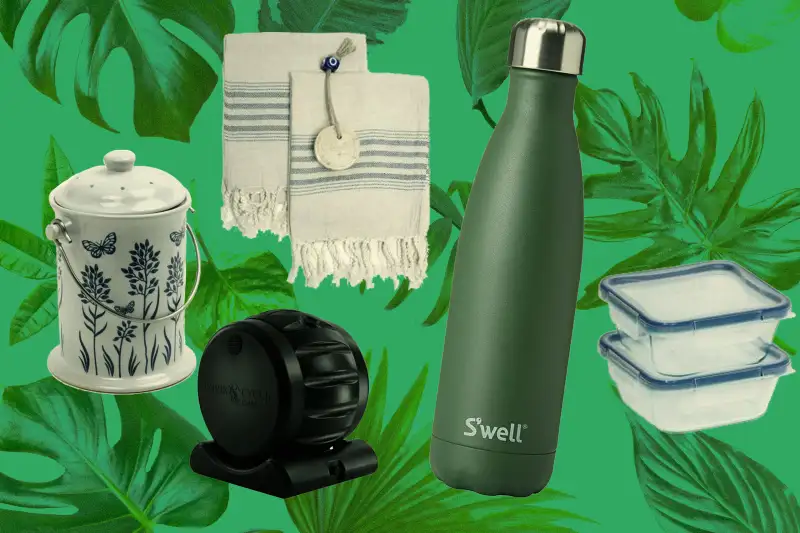 Getty Images; Courtesy of Amazon
Every April, when spring starts making nature vibrant and green again, Earth Day rolls around to remind us that we need to do our part to keep it green.
When Is Earth Day 2019?
It can be easy to overlook Earth Day, which typically falls right around the Easter and Passover holidays, and might overlap with kids' school spring breaks. So when is Earth Day in 2019? Earth Day is always April 22, and this year, it falls on the Monday after Easter Sunday.
What's the Earth Day Theme for 2019?
This year's Earth Day theme is "Protect Our Species," a bid to combat plant and animal habitat destruction that can drive entire species into extinction. The nonprofit Earth Day Network lists a lot of causes contributing to species endangerment: climate change, deforestation and habitat loss, trafficking and poaching, unsustainable agriculture, pollution, and pesticides, among others.
Earth Day Tips
These are pretty big issues — so much so that it might feel overwhelming to try tackling them. But experts say there are some Earth Day tips that you can use to make a difference in the environmental impact you have on the planet. Bonus: These tips often save money, too.
We tapped Kathryn Kellogg, founder of the blog Going Zero Waste, to ask her what changes will give you the most bang for your buck. If you've already done all of Kellogg's suggestions below and are well on your way to cleaning disposable stuff out of your life, check out Kellogg's new book, 101 Ways to Go Zero Waste, which came out earlier this month.
Cut Down on Trash
"Probably the biggest source of waste in a kitchen you're going to find are paper towels, food packaging, and food waste, just based on quantity," Kellogg says.
In addition to scaling back on disposable items and packaging, it's always best to repurpose goods, including the composting of organic matter that would otherwise wind up in the trash. "Definitely, getting your organics out of your trash can" is a hugely effective step you can take, Kellogg says.
"If you're only going to make one switch, get a compost bin — 60% of what an American household throws away is compostable," she says.
Kellogg says there are many different kinds of compost bins you can choose: Ones that can be set up in a backyard, as well as countertop versions (which have lids fitted with filters to keep odors contained in the bin) that work for apartment-dwellers.
If you're reeeally put off by the ick factor, there are even electronic compost bins that will turn your food waste into compost by the time you've run the dinner dishes through the dishwasher — although Kellogg points out that these are considerably pricier than their traditional counterparts.
Ditch Disposables and Save Money
Paper towels are Kellogg's next top target. Not only is it greener to switch to cloth dish towels, but she says, "You'll save so much money."
Although she concedes that paper towels might seem like a kitchen staple, replacing them will help the Earth and your wallet. "It's not difficult — just put reusable dish towels in their place," she says. She says thin linen towels or cotton ones with a large weave are the most efficient at absorbing liquid spills, while these bamboo reusable paper towels get raves from Amazon reviewers, who give them 4.5 out of 5 stars.
Replace to Reuse
"The last one is food packaging, which can be difficult depending on where you live and your current lifestyle," Kellogg says. Switching to package-free snacks like whole fruit is a great move to make. You'll also want to avoid disposable — and often plastic — containers and wrappers.
"Glass Snapware — I love those things. You can do almost anything with a Snapware container. I've had my Snapware for three-and-a-half years and I've never had a lid break or have a problem," Kellogg says. The glass resists odors and stands up to the dishwasher, microwave and freezer better than plastic. (Kellogg does say, though, that she hand-washes her plastic Snapware lids by hand.)
Don't forget about beverages, because plastic water bottles are bad for the environment (and costly too, compared to tap water). "If you don't have a nice double-insulated reusable water bottle that you can carry with you everywhere, that would be a good investment," Kellogg says. Not only will you be doing the planet a favor, but you'll be saving a bundle, to boot.
We've included affiliate links into this article. Click here to learn what those are.