A President Can't Fix Your Finances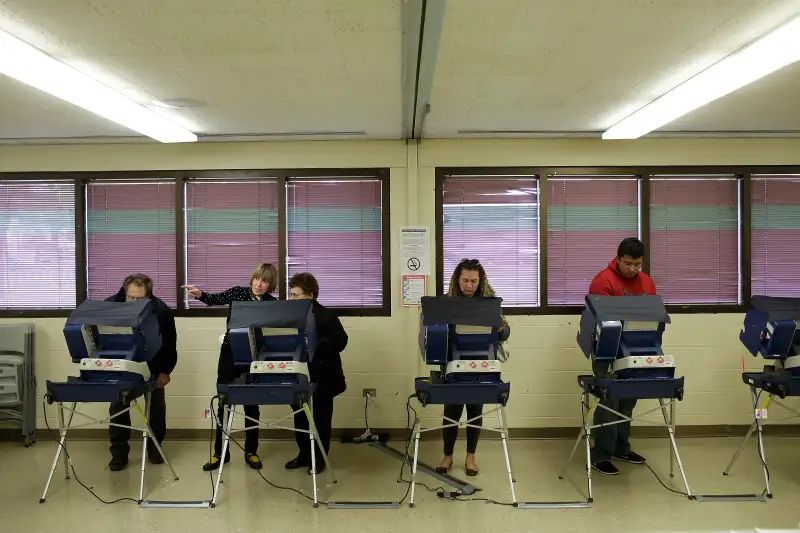 JOSHUA LOTT—AFP/Getty Images
Presidential candidates always promise economic improvements that are beyond their power to deliver. Any measures that actually could create more jobs, raise wages or lower tax burdens require the cooperation of Congress or business cycles or both.
Even if a president could lead us to the promised land of rising incomes and wealth, we wouldn't get there overnight. America's middle class has been wandering the economic desert for decades, and it will take years of better fortunes to restore what's been taken away.
"Our economy is so large that both good and bad impacts are not seen until years or even a decade later," said Michael Kitces, director of wealth management at Pinnacle Advisory Group in Columbia, Maryland.
That doesn't mean you have to wait. It does mean you should do what you can to improve your own personal fortunes rather than wait for some politician to bail you out.
Read More: How to Choose a Bank
No sudden moves, no matter who wins
"Bottom line, no one person has that much power to control your finances," says Carolyn McClanahan, director of financial planning at Life Planning Partners in Jacksonville, Florida. A Democratic sweep could mean higher taxes on the wealthy, she says, but "if you are in the bottom 99%, the election is unlikely to affect you very much."
The limited economic power of presidents also means you shouldn't sabotage your finances by making big financial moves if the "wrong" candidate wins, financial planners say.
Jeff Rose, CEO and founder of Alliance Wealth Management in Carbondale, Illinois, says his clients who are worried about the election tend to be pessimistic in general, constantly looking for reasons why the economy and their portfolios could plunge.
"In the short term, even if their 'wrong candidate' is elected, it's doubtful they'll see any significant impact to their investments barring another terrorist attack or overseas conflict," says Rose, author of the book "Soldier of Finance."
Read More: How to Pick the Right Car
Instead, do what you can to set yourself up to prosper when the economy surges and protect yourself if it stalls. Here's what you might do instead of waiting or panicking:
Get a raise. Median incomes finally increased in 2015, the U.S. Census Bureau says, after eight years of falling or stagnating. The jump of 5.2% was the biggest since the bureau began keeping records in 1967. If your income hasn't increased, it might be time to ask for a raise or look for a better job. With unemployment at 5%, your prospects are likely better than when joblessness peaked at 10% in October 2009.
Contribute to a retirement plan. A comfortable retirement requires investing year in and year out, regardless of who's president. If you don't have a workplace plan, you can make deductible contributions to an individual retirement account. Several providers, including Ameritrade, Betterment, ETrade, Fidelity, Merrill Edge and Vanguard, allow you to open IRAs with no minimum investment.
Read More: 4 Ways to Find Debt Relief
Ditch toxic debt. It's a myth that most Americans carry credit card debt. If you're among the 42.1% of U.S. adults who don't always pay off your balance, it's time to start. If you have good credit scores, you can qualify for low-rate balance transfer offers that can help you pay off your debt faster. Another good option could be a personal loan that offers a fixed rate and fixed payments to pay off your debt in three or four years. If you're struggling, consult both a bankruptcy attorney and a nonprofit credit counseling agency affiliated with the National Foundation for Credit Counseling to understand your options.
Build some equity. More than 3 million homes are still underwater, worth less than their mortgage, and home prices are still below their peak in about 60% of metro areas, according to research by CoreLogic. Another troubling trend is the number of people entering retirement age who still owe money on their homes: 30% in 2013, compared with 22% in 2001, according to a Consumer Financial Protection Bureau analysis of Census Bureau data. A paid-off home not only reduces your expenses in retirement, but also serves as an asset you can tap for income if needed. So once you've paid off toxic debt and are on track for retirement, consider making extra principal payments to get your mortgage paid off faster.
Taking positive action can help you deal with uncertainty by focusing on what you can control, rather than what you can't, says consumer expert and radio host Clark Howard.
"You are excusing or minimizing your own role in your financial picture if your focus is mostly on the person elected to office," Howard says.