Finally, a Roboadviser Designed Specifically for Women
Money is not a client of any investment adviser featured on this page. The information provided on this page is for educational purposes only and is not intended as investment advice. Money does not offer advisory services.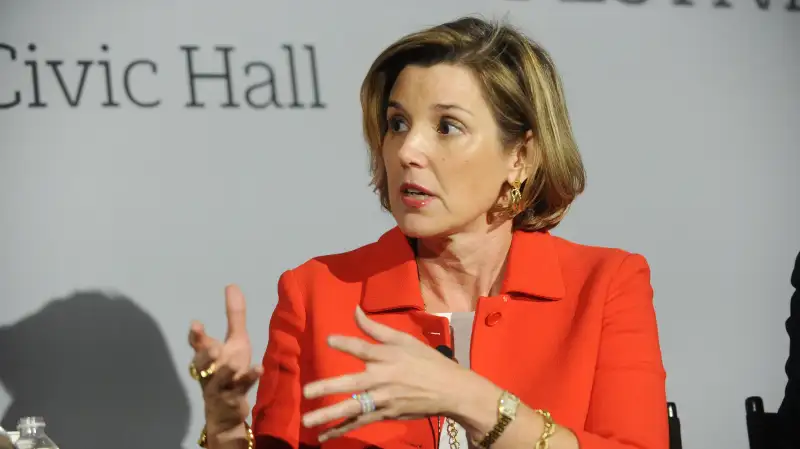 Brad Barket—Getty Images for Fast Company
Women don't invest their money as frequently as men do—a phenomenon often referred to as the "investment gap."
And it's not because women don't have money (they do), or because they're worse at investing (they're better). It's because most investment tools—as well as most investment professionals—cater to men.
"[Wall Street is] full of sports and war analogies. Beating the market. Outperforming. Picking a winner," says Krawcheck. "No woman looks at [investing] and is like, 'Wow, that really speaks to me.'"
Recognizing the need for something a bit less testosterone-driven, Wall Street veteran Sallie Krawcheck set out to create an investment platform with women's needs in mind. Enter Ellevest, the first digital investment platform designed around women. The platform, which launched to the public on Wednesday morning, is a robo-advisor that works much like more-established players such as Betterment and Wealthfront.
Like its competitors, Ellevest creates financial portfolios comprised of exchange-traded funds that it rebalances based on a user's timeline and risk tolerance. It also offers the same main investment products (e.g. Roth IRAs, traditional IRAs, and investment accounts) and makes money the same way (by charging users a fee as a percentage of assets managed). With a 0.5% fee, Ellevest is more expensive than its digital competitors, whose fees range from 0.15% to 0.35%, but less expensive than traditional wealth managers, which charge around 1% per year.
But according to Ellevest, that's where the similarities end.
"We do things very differently, and we don't do them differently just to be different," says the company's chief investment officer Sylvia Kwan. For example, using a model in which salary earnings increase by 1% every year until retirement—an industry standard—would paint an inaccurate financial picture for a female professional, whose salary will likely peak around age 40 (unlike a man's salary, which peaks around age 60, says Kwan).
Kwan also tries to take female professionals' unique needs into account when creating financial plans for Ellevest's users. For example, she factors in women's superior longevity—women live about live about five years longer than men—and the fact that they tend to earn less than men do over the course of their careers.
From a user's perspective, Ellevest looks and feels very different from other digital investment platforms. Visually, it's more like a trendy sunglasses retailer than a personal finance service. Functionally, it's goal-based, rather than centered on the performance of a particular product or portfolio.
To that end, Ellevest asks users to input their financial goals into its system. Goals can be long-term (retirement) or short-term (vacation). Armed with a user's age, salary, and geographic location, the platform creates a targeted portfolio with a recommended timeline and monthly contributions. Users are free to tweak the timeline, as well as how much they plan to contribute, and the system recalculates the outcome based on this input.
These investment plans aim to help users reach their goals in 70% of market scenarios, while most competitors show projections that are achievable in 50% of market scenarios, says Krawcheck, making the platform relatively conservative. It's not that women are risk-averse ("They're risk-aware," says Krawcheck), but given the opportunity, most women will minimize risk as much as possible and stick closer to 100%.
While Krawcheck realizes that some women may disagree with her approach, the former Citigroup and Bank of America exec points out that it is Ellevest's responsibility as a fiduciary to act in investors' best interests, which for Krawcheck means an appropriate level of risk in order to achieve desired returns in most market scenarios.
It plans to achieve this through a combination of rigorous financial analytics, courtesy of investment research and management firm Morningstar (the firm also led Ellevest's $10 million Series A round), and Kwan's two decades of experience as a portfolio manager.
While Ellevest's goal is to help individual women make smart investments, the company's larger mission is to help close the investment gender gap, which can cost women thousands or even millions of dollars over the course of their lives.
"Women are not equal with men until they're financially equal with men," Krawcheck says. "This is my Gloria Steinem moment."
This story has been updated for clarity and compliance purposes. A previous version of the story stated that Ellevest locks users into a certain level of risk (between 60% and 80%). Users are not locked into a certain probability number, but rather a level of portfolio risk that is close to the Ellevest's recommended portfolio. The previous version also stated that Ellevest aims to achieve "sizable returns." Returns will depend on a user's stated goals and timeline.
This article originally appeared on Fortune.