Why You'll Never Leave Facebook for Ello
Money is not a client of any investment adviser featured on this page. The information provided on this page is for educational purposes only and is not intended as investment advice. Money does not offer advisory services.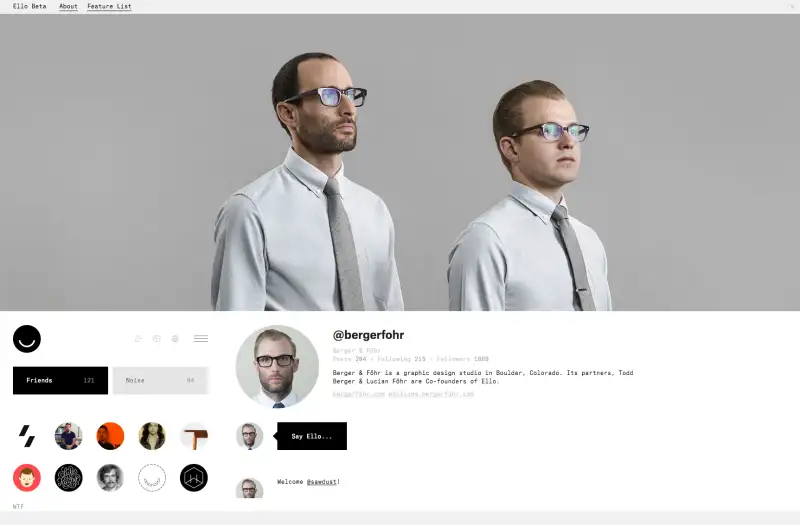 By no means was Facebook the first major social network, nor will it be the last. MySpace and Friendster predated Facebook, and Twitter came after it. There's a new social network in town now positioning itself as the "anti-Facebook," and its primary pitch is the notable absence of any ads. Should Facebook be afraid?
Say hello to Ello.
Why now?
Over the past few days, Ello's popularity has soared, even though the service launched in private beta in March. One reason why some users are now flocking to Ello is that Facebook has recently begun to crack down more on enforcing its longtime "real name" policy. That's created tension within specific communities, such as the LGBT community, that prefer not to use their real names for personal privacy and protection.
The service is currently invite-only, but requests for invites have skyrocketed in recent days, particularly as media attention escalates. The site was created by artists and designers, and offers a minimalist interface. The company's "manifesto" outlines Ello's philosophy quite clearly:
Interestingly enough, the language is very similar to Apple CEO Tim Cook's recent letter on privacy, which was a clear shot at Google: "A few years ago, users of Internet services began to realize that when an online service is free, you're not the customer. You're the product."
An ad-free social network sounds differentiated and idealistic, but should Mark Zuckerberg be losing sleep over Ello's entry? Nope.
Ello's monetization strategy is questionable
Fact: every company needs a viable monetization strategy. Most social networks and free Internet services to date have all relied on ad-based revenue. If Ello hopes to expand its service and grow its user base, the required funding will have to come from somewhere. Data centers and software engineers aren't cheap.
Ello has raised $435,000 in venture capital funding from Vermont-based FreshTracks Capital. Ello's founders still own over 80% of the company, so FreshTracks can't quite call the shots yet. FreshTracks isn't looking to make a quick buck, and has bought in to the value proposition that Ello is pitching to users. Namely, that Ello will not sell user data or insert ads.
Inevitably, Ello will need to make money somehow, in part to satisfy the return requirements of its venture capitalists, even if FreshTracks has a long time horizon and is willing to wait it out. It turns out that Ello hopes to use a strategy that's been taking over mobile gaming: freemium.
Ello's strategy will be to offer higher-value services and features that users will have to pay for. The basic service will be free, but the company will try to upsell and generate its revenue directly from users. This strategy is questionable at best, but it can theoretically succeed with a niche audience. Mainstream users are likely not willing to open up their wallets to use a social network.
Seemingly every year, speculation arises that Facebook is preparing to charge monthly fees, and every year these hoaxes get shot down. Facebook then added, "It's free and always will be." to its homepage back in 2011 just to put the matter to rest.
There's even one that originated from The National Report circulating right now, claiming that Facebook is preparing to implement a $3 per month fee. The National Report may not have the same brand cachet of The Onion, but it's similarly a satirical news site. The report quotes a likely fictional Facebook spokesman as saying, "There's so many pictures of cats, and all of those costs add up, we just can't foot the bill any longer." That sounds legitimate.
It's also worth noting that Facebook itself effectively has a freemium business in the form of its payments segment. This segment is mostly comprised of Facebook's cut when developers sell digital goods, but also includes revenue from user paid services such as promoting personal posts, among others. Guess which business is doing better.
While Ello is unlikely to begin selling virtual tractors, it's debatable whether or not it can build a large-scale social network using a freemium monetization strategy. It could work on a niche scale though.
Hating ads is not enough
Having a philosophical disdain for ads is misplaced and perhaps naive. Hating ads assumes that users derive absolutely no value from them, which couldn't be farther from the truth. A small percentage of people do end up clicking relevant ads that appeal to them, and they end up purchasing something that they value. For the rest of us, the ads are a more viable way to fund the underlying free service.
Facebook expects to spend $2 billion to $2.5 billion on capital expenditures this year to build network infrastructure, construct data centers, and purchase servers. Without the backend infrastructure, the service would suffer terribly. If Ello's user base begins to explode, and it lacks the funds to beef up its infrastructure, the service will suffer and users will return to the familiar Facebook.
Then there's the basic tenet that social networks derive all of their value from network effects. Let's say you loathe Facebook's ads, which can admittedly be obnoxious at times, and are looking for an alternative place to post about what you ate for lunch.
If you choose a network where none of your friends or family have joined, no one will ever know what you ate for lunch. Your contacts have to hate ads just as much as you do, and that's a tall order to fill in this day and age where netizens have developed a practiced apathy for ads in exchange for free services.
Facebook has nothing to worry about.
Evan Niu, CFA owns shares of Apple and Facebook. Evan Niu, CFA has the following options: short January 2015 $60 puts on Facebook and long January 2015 $35 puts on Facebook. The Motley Fool recommends Apple, Facebook, Google (A shares), and Google (C shares). The Motley Fool owns shares of Apple, Facebook, Google (A shares), and Google (C shares). Try any of our Foolish newsletter services free for 30 days. We Fools may not all hold the same opinions, but we all believe that considering a diverse range of insights makes us better investors. The Motley Fool has a disclosure policy.
More from the Motley Fool: