8 Mistakes That Are Costing You When Traveling to Europe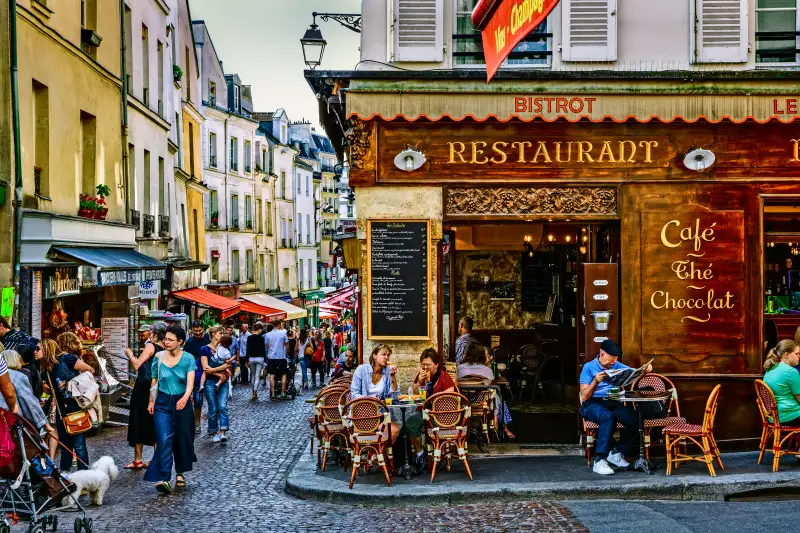 Bruno De Hogues—Getty Images
A European vacation can do wonders for the soul. Paris, London, Madrid and a thousand more historic cities with an endless mix of cultures, food and sights make visiting Europe unpredictably fresh.
But those attributes also make it difficult to visit Europe without making costly mistakes. Choosing the wrong money exchanger, using the wrong credit card or just drinking a cup of coffee in the wrong place can hit your wallet harder than a souvenir shop at Disneyland. And that's just the start of the list.
So before you say au revoir to your money, make sure you check out these common mistakes travelers make on a European vacation.
1. Trying to See Too Many Cities or Countries
Many first-time travelers to Europe will try to see as many cities as possible. This is a big mistake, said Barry Choi, a personal finance and budget travel expert at Money We Have, a budget travel advice website.
"This could potentially cost you more in travel costs, but more importantly, you'll be spending more time on trains or planes trying to get to your next destination," he said.
Instead, he recommended taking your time in each destination — maybe staying at least a week in each, even if that means visiting fewer places. That way, you're more relaxed, save money on transportation and really get a feel for what the city has to offer.
If you do have multiple destinations, you might be thinking about traveling by train. After all, in Europe it's a tradition and a romantic, fun, convenient one, no doubt. However, you might want to check out European discount airlines instead, said Choi. He said it could save you time, as well as money — which are often the same thing on vacation.
"It's always worth checking how much a flight will be compared to a train, and how much time you'll save," he said. "My preferred search engine is Skyscanner.com, since it checks all the major airlines and discount carriers to help you find the lowest price."
2. Paying High Exchange and Transaction Fees
If you think you should exchange a lot of money at your bank before you leave, you might want to think again, said Choi.
"Local ATMs will almost always be the cheapest way to get local currency," he said. Yes, your bank will most likely charge a foreign transaction fee, about 2.5 percent, and the local ATM machine might charge a one-time fee. "But it'll probably still be cheaper than if you exchanged your money at home," said Choi.
To minimize costs, he suggested withdrawing the maximum allowed each day. "Another added benefit with this strategy is that you'll only be getting money as you need it," he said.
However, travelers should also consider the foreign transaction fee associated with using their credit card abroad, said Jared Blank, CMO of DealNews, a site that lists deals for consumers on items from electronics to apparel.
"Travelers should call their credit card issuers to understand the fees associated with using their cards in Europe," he said. "There are many travel credit cards and issuers that don't have a fee associated with them." Do your research, and find a credit card without this fee and with a rewards program. That way, you turn a negative into a positive.
3. Carrying Your Passport Everywhere
You don't need your passport for everything you do in Europe, so carrying it with you is risky, said Steffen Ploeger, a former passport and visa officer with the German Embassy.
Most people he helped needed a new passport because they lost it or had it stolen while sightseeing, he said. That is a minimum of $110, according to the U.S. Department of State. Plotter suggested leaving it in the hotel room safe or the hotel's safe, which are often free of charge.
4. Paying High Cellphone Roaming Charges
When planning a European vacation, there are 1,001 things to do, so it's understandable that researching the best rates for SIM cards to avoid roaming charges is last on the list. But that can cost a lot of money, said several experts. Fortunately, just like everything else in life, there's an app for that: Local SIM.
Just type in the country you are in or are traveling to, and the app directs you to the local cellular carrier that best fits your needs, said David Lashkhi, a representative with the company. Available for iPhone and iPad, the app covers 33 countries and 60 carriers.
Read More: How to Save Thousands on Travel Each Year
Lashkhi added that Local SIM is now testing "virtual SIM technology," which will allow you to connect to providers through the app without changing your SIM card or visiting stores.
5. Choosing More Expensive Dining Options
In America, a cup of Joe usually costs the same whether it's in a paper or china cup. But that's tot so in certain countries of Europe, such as Italy, said Matt Kiefer from Hostelgeeks.com, which helps travelers find five-star hostels.
"When ordering a coffee in Italy, you can order it for take-away (the cheapest option), drink it at the bar (medium-priced) or sit down (most expensive)," he said.
And the price can be dramatic. In some establishments, a coffee to-go might be 1 euro, while the same coffee at a table is 4 euros, said Ploeger.
As for dining options, resist the temptation to choose restaurants near tourist attractions.
"Generally speaking, eating next to tourist attractions is not a good idea wherever in the world you may be," said Kiefer. "The Las Ramblas in Barcelona, the Champs-Élysées in Paris or the Colosseum in Rome. The quality is usually lower, and the prices higher. Not a great guarantee for a culinary highlight."
6. Not Considering a Hostel or Homestay
Sure, everyone wants to stay in five-star hotels when on vacation. But those can cost hundreds of dollars a night. A hostel, on the other hand, can be a fraction of the cost, said Choi. And, he added, they're not just for backpackers any more.
Many European hostels now offer private rooms with private bathrooms and are a good value, Choi said. "At hostels, WiFi is almost always included, and you get a lot of other amenities, such as laundry and a kitchen, which may be more expensive or not available at hotels," he said.
Read More: Best Travel Rewards Credit Card Offers of 2016
Another alternative to pricey hotels is a Homestay, in which you stay with a local as a paying guest, said Lauren Kaufman, senior vice president of travel and leisure communications company Spring, O'Brien & Co.
"With a homestay, guests get a home away from home, a personal concierge for travel tips from a hyper local perspective, a taste of authentic fare from a host delighted to cook a feast, and much more," said Kaufman.
Homestay.com has 50,000 listings in 150 countries across all budgets, starting at just $7 per night, including breakfast, she added.
7. Letting the Taxi Wait
In many European countries, taxi meters start the moment they arrive to pick you up, said Russell Hannon of Break the Travel Barrier and author of "Stop Dreaming…Start Traveling." It's a common mistake that even seasoned travelers — like himself — make that can cost some serious cash, he said.
"During a visit to Milan, I took my time finishing my glass of wine as the cab waited," he said. "When I finally embarked, the meter was at 26 euros. As I disputed this, the meter mounted to 30 euros, and we had yet to move a foot."
8. Driving in the Wrong Lane
Driving in foreign countries can be stressful. Unfortunately, in some countries, like Italy, it can be costly as well, said Meghan Donovan, with Auto Europe, a European car rental agency. She said many tourists fall victim to driving in limited traffic zones found in larger cities, called Zona Traffico Limitato in Italian. These are set up to help with congestion, but usually only locals can attain permits.
Read More: Ultimate Spending Guide to Europe
Drive in them without a permit, and you could face fines from both the government and your car rental agency. The cost can be as much as 90 euros, according to Auto Europe.
This article originally appeared on GoBankingRates.