Here's Everything You Can Get for Free While Stuck at the Airport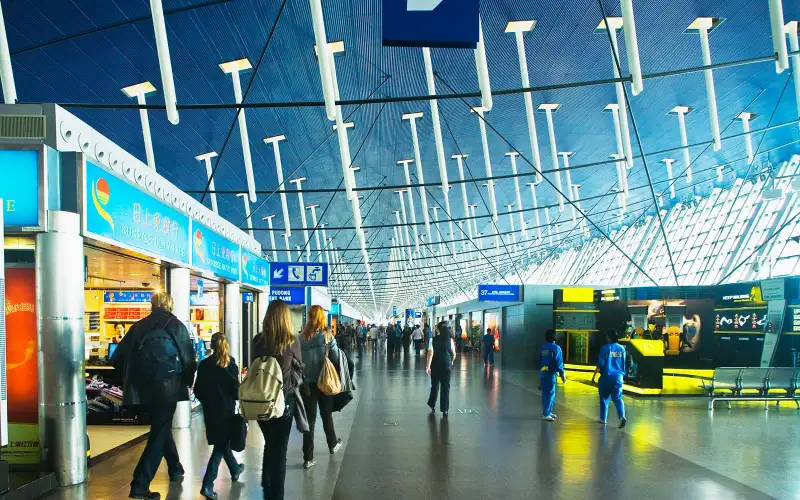 Getty Images—Getty Images
Killing time at the airport doesn't have to be expensive.
As Stuck at the Airport details, if you ever find yourself trapped during a long layover or stuck in a terminal due to plane delays, there are plenty of things to do in the airport that are completely free.
Yes, this means you don't have to spend money at the duty-free or at the airport bar for hours on end.
Depending on where or when you fly, you can take advantage of some of these airport freebies:
If you're saving your cell phone battery, you can make free calls at Denver International Airport, Washington Dulles International Airport, and Ronald Reagan Washington National Airport.
Just look for a marked courtesy phone. At Dulles and Ronald Reagan, local and long distance calls are free to anywhere within the contiguous United States, as long as they're shorter than five minutes.
If you need time to relax and stretch, do some yoga at San Francisco International Airport, Chicago's O'Hare and Midway Airports, Miami International Airport, and Dallas–Fort Worth International Airport.
These airports also have complimentary mats for guests to borrow.
For those on especially long layovers, grab a free movie at Portland International Airport in Oregon, San Francisco International Airport in California, or Minneapolis-St. Paul International Airport.
Travelers who need a wardrobe change can get a free personal shopper at London's Heathrow Airport.
These fashion experts don't work on commission and there's no minimum price on what you want to spend. Personal shoppers can be found in the private lounge. Plus, there's free champagne.
If you need some cultural entertainment, some airports have free museums and live events.
San Francisco, Miami, Albany, Minneapolis, Portland, and St. Louis have free art and history exhibits all year long right in the airport. Austin and Seattle have many free music performances each week.
If you have ample time, explore a new city.
Free city tours are available at airports in Singapore, Seoul, Tokyo, Istanbul, and many more.
Passengers who want to pick up a new skill can also learn CPR while waiting for their flight.
There are CPR training kiosks that administer 30-second tests at several airports, including Chicago O'Hare International Airport, Indianapolis International Airport, Hartsfield-Jackson Atlanta International Airport, Dallas/Fort Worth International Airport, and many more.
Travelers can also ease their stress by petting a therapy animal.
Many airports have therapy dogs on duty in the terminal to help anxious passengers (especially kids). There are also some surprising animals who walk around, including a pig at San Francisco International Airport, a cat at Denver International Airport, and miniature horses at Cincinnati's airport.
And to find out what's available the next time you're at the airport, remember: Just ask. Stop by an information booth and get the inside scoop.