Investors, who can't seem to get enough of Facebook, have sent the shares up more than 40% so far this year. Earlier this week, the company's value hit $200 billion for the first time. While, as TIME points out, Facebook is still only worth about one-third of rival Apple, its upward trajectory has been pretty remarkable, even by the dizzying standards of tech companies.
Facebook's initial public offering — the first time it sold shares to the public — took place in May 2012. That means Facebook has raced to $200 billion in a little over two years. And that's despite some well-publicized problems that sent the company's value tumbling below $40 billion at one point. Just how remarkable has Facebook's sprint been? Check how long it took some of its biggest rivals to reach the same market value.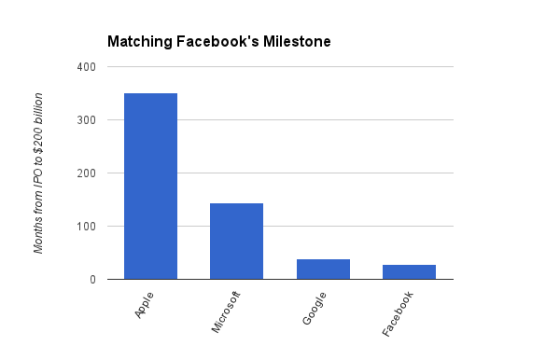 There is one caveat. Facebook, founded in 2004, was already something of a juggernaut by 2012. The stock market initially pegged the company at roughly $100 billion, which the Wall Street Journal called "the biggest-ever valuation by an American company at the time of its offering." By contrast Microsoft, founded in 1975, went public with a value well below $1 billion in 1986. So it also makes some sense to handicap the results. Here's how long it took each of those stocks to double from their IPO value. By that measure Facebook's performance is not quite as remarkable, if still pretty impressive.