How to Keep Fantasy Football from Fouling Up Your Finances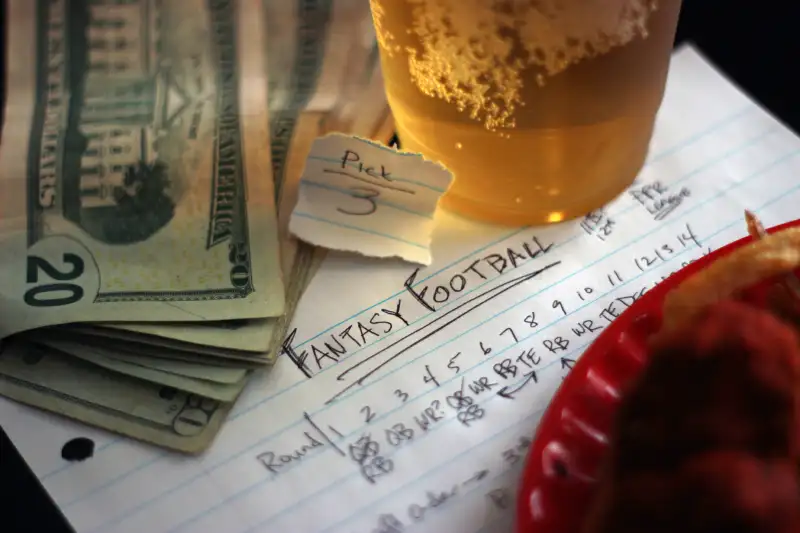 Allison Lodish used to be a huge football fan.
Her affection for the game evaporated when her husband got fixated on fantasy football, a leisure pursuit where participants draft their own dream teams and compete against each other, based on how those players fare.
Before she knew it, he was in three leagues of fantasy football. Then, it became 10. "It was crazy," says the 41-year-old personal stylist from California's Marin County.
Crazy not just in terms of time expended, but money. Since many fantasy leagues charge fees for entering, trading players, or picking up free agents, the sums involved can be substantial.
At the height of her husband's involvement, the hobby was costing north of $1,000 a year, Lodish estimates.
Indeed, the fantasy game has plenty of fans, with more than 41 million players in North America, according to the Fantasy Sports Trade Association. That's up from 27 million in 2009, with the typical player dropping $111 a year on the hobby, and others, far more.
In an era of stagnant incomes and rising prices, it's no wonder some spouses are alarmed by the amounts involved. The average player spends more than eight hours a week perfecting his or her team, the trade group says.
So, is there a fix for the obsession?
Experts say the first steps toward resolving familial conflicts around a fantasy sport involve turning off the TV for a few minutes and not obsessively checking statistics. Then, start working through marital differences that can easily spiral out of control.
"You have to figure out the crux of the problem," says Sharon Epperson, CNBC's personal finance correspondent and author of a financial advice book for couples, The Big Payoff. "It may be about the money, or it may have nothing to do with that. It may be the amount of time being spent away from the spouse or the children that is really annoying the other person."
If a partner feels neglected, or the cash involved is being drawn from other family pots, that is a problem, says Matthew Berry, ESPN's senior fantasy analyst and author of Fantasy Life, which chronicles the exploding interest in the field.
"Everything in moderation," he says. "I don't think fantasy football is different from any other couples issue. It's about communication, and understanding what's important to the other person."
Here are some tips that may safeguard the family budget, or your marriage, from an unchecked fantasy-football fetish:
Family needs come first
"I don't think spending money on fantasy sports is a bad thing—as long as you can afford it," says Epperson, herself a devoted Pittsburgh Steelers fan who grew up watching greats like Franco Harris and Lynn Swann.
But if that cash is being siphoned from other critical needs, it's a guaranteed recipe for marital discord. So before you sign up for multiple fantasy leagues, get your other bases covered.
Epperson's advice: Stay current on all monthly bills, save 20% of your income in long-term vehicles like 401(k)s, and another 10% in short-terms savings like a household emergency fund. Then you can set aside 10% of income for "fun money"—and that's where your fantasy-sports budget needs to come from.
Avoid secrets
Everyone likes to spend a little time and money on personal passions, whether it's fantasy sports or designer shoes. And that's okay - unless that information is being hidden from your significant other.
"It's only a big deal if you are not telling your spouse," says Epperson. "That's like loading up a credit-card that your spouse doesn't know about. That's financial infidelity, and that's a big problem in marriages."
Involve your partner
If your spouse pushes back against your fantasy-football interest, take it as a compliment: They want to spend more time with you. So here's an elegant solution: Get them involved, if you can.
"My advice is always, 'Try it, you'll love it,'" says ESPN's Berry. "My wife now plays in my fantasy league. That way, Sunday becomes a day you can spend together, instead of apart."
Hand over the winnings
If your spouse has zero interest in fantasy sports, here's a novel approach: Pledge that any cash you win will go directly into their bank account.
"That's what I did with my wife originally," says Berry. "Whatever I won, she got to spend. So when I won my league, she got a brand new purse. It worked out great. Nowadays, if I'm falling behind in third place or something, she tells me to get it together and start studying up."
Still, the outcome may not always be so collegial.
Allison Lodish eventually set up a website for fellow fantasy-sports "widows" and ended up splitting with her husband.
"It should be a fun game that brings people together," she says. "But if it's driving people apart, that is where you need to take a hard look at it."