Use This Trick to Beat Your Friends at Fantasy Football
Money is not a client of any investment adviser featured on this page. The information provided on this page is for educational purposes only and is not intended as investment advice. Money does not offer advisory services.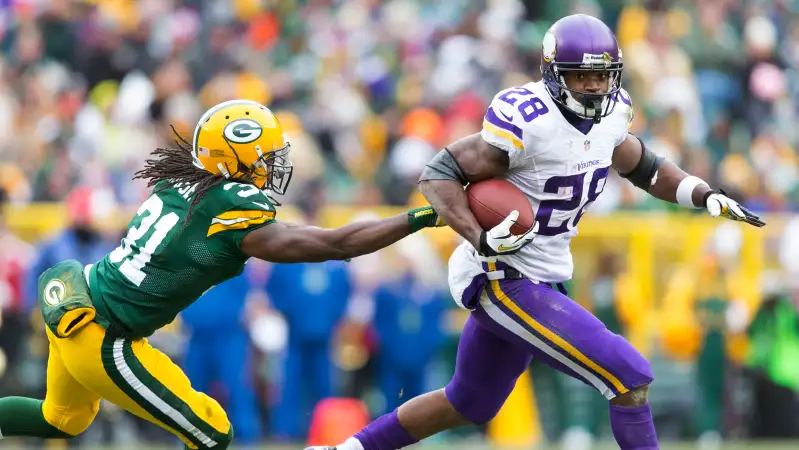 Jeff Hanisch/USA Today Sports—Reuters
Last November, one National Football League running back had a particularly good day.
Strong, agile, and quick, this player absolutely tore apart the Atlanta Falcons defense on Nov. 17 to the tune of 163 rushing yards and three touchdowns. Fantasy football owners fortunate to have him on their rosters were awarded almost 35 points from his performance alone—more than a third of the total usually needed to win a whole game.
So who was this guy? Future Hall of Famer Adrian Peterson? The Philadelphia Eagles buoyant halfback LeSean McCoy? Jim Brown? No, no, and of course not. He was an undrafted second-year player out of Western Kentucky named Bobby Rainey. Who, you ask? Exactly. On that same day Peterson himself, perhaps the greatest running back since Jim Brown, ran for 100 fewer yards than Rainey and never touched the end zone en route to a pedestrian 8.5 fantasy points.
It's hard not to look for a lesson in this episode. And for someone like me, immersed in the investing world, the inclination is to draw a parallel to value investing, the discipline made famous by Warren Buffett. Value investing involves looking for companies that the market does not fully appreciate in hopes that, over time, they will outperform expectations and send the stocks soaring.
But as the fantasy football season gets under way, with millions of fans around the country drafting players over the next few weeks, I'm here to tell you that a Buffett-like approach to fantasy football probably won't lead to glory.
Why not? Well, to start, value-focused buy-and-hold investing is all about ignoring short-term market fluctuations and sticking with your investment philosophy over the long-haul. Coca-Cola has a bad quarter? Johnson & Johnson delivered poor earnings-per-share growth? No matter. Value investors often see these rough patches as buying opportunities. And one of the foundational principles of value investing is that no investor can consistently predict exactly when to buy this stock or trade that one. When investors do engage in this perilous behavior, they generally end up losing money.
That ethos, however, falls flat when it comes to fantasy football. For one thing, there is no long-term in fantasy football. The season only lasts 17 weeks, which means you have only 17 chances to maximize your total scoring output. While one or two days of poor returns won't hurt your portfolio, one or two weeks of fantasy football failure could ruin your season. Most leagues have around 10 teams, and, in order to make the playoffs, you'll usually need seven wins. So if one of your players isn't performing well, or hasn't reached his full potential, you don't have the time to wait.
In other words, don't be scared to grab onto a hot player until he cools off. For instance, take another look at Peterson and Rainey. Going into the 2013 season, ESPN ranked Peterson the top fantasy football player to draft. Bobby Rainey is not Adrian Peterson. For his career, Rainey only has 566 rushing yards. Peterson has 10,115.
Nevertheless, Rainey was the superior running back over the last seven weeks of the 2013 NFL season. Using the NFL.com scoring system, Rainey earned 79.3 points from week 11 to 17, while Peterson (due in part to injury) only scored 54.8. Even if you take out Rainey's career day against the Falcons, the two running backs scored pretty much the same number of points.
This isn't an isolated example, either. Two weeks earlier, Nick Foles, who began the season as the Philadelphia Eagles second-string quarterback, threw for seven touchdowns and garnered 45.2 points for his fantasy owners. Foles would go on to accumulate a total of almost 260 points for the season (more than superstars Tom Brady, Ben Rothlisberger, and Matt Ryan) despite starting in only 11 of 16 games.
In fact, last season, 15 different players scored the most points in a given week (Peyton Manning and Drew Brees each did it twice). Of those 15 players, not one was listed in the top five on ESPN's pre-season best fantasy football players list. Brady never scored the most points in any one week, for example, but Bears back-up quarterback Josh McCown did, in week 14.
In short, buying the football equivalent of Coca-Cola shares (one of Buffett's most beloved and long-held stocks) and hanging on through thick and thin can be a losing game.
I learned this lesson the hard way, having drafted Buffalo Bill running back C.J. Spiller with my first pick last season. Ranked the 7th best player by ESPN going into last season, Spiller scored 3.5, 11.7, 3, and 7.7 over the first four weeks. Unwilling to give up on such a high pick, however, I kept him in my starting lineup for most of the season. I ended up in the bottom of my league and learned a valuable lesson in sunk cost theory.
Of course finding seven weeks of Rainey, or spotting the next Foles off the waiver wire, is difficult. Some up-and-comers are just flashes in the pan and will deliver worse returns than your first-round pick. But when this season's Foles takes off, don't be surprised. If you play fantasy football you must learn to embrace the shooting star—and if that star burns out, find another.