Fast Food Is Going to War Over These Three Menu Items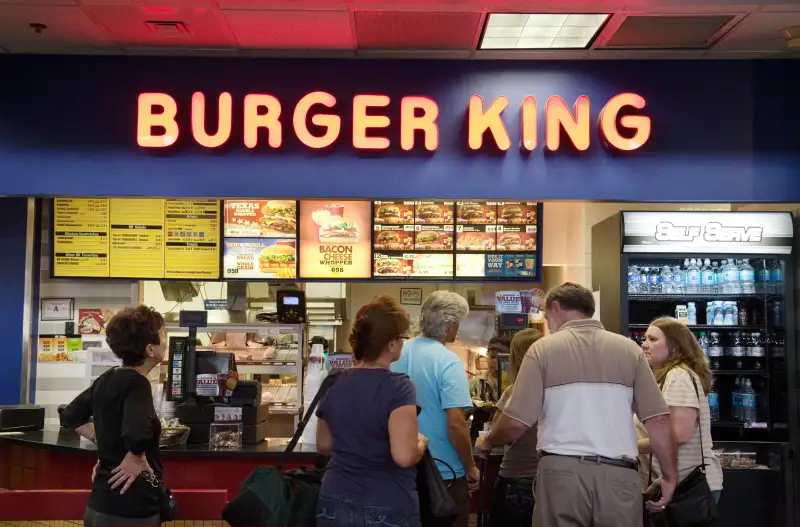 Fast food's biggest players will always compete over burgers, low-price value menu deals, and limited-time-only items that pop up seasonally. (Speaking of which, it's getting close to Shamrock Shake time at McDonald's.) Lately, though, the competition has gotten particularly focused, and particularly tough, concerning these three menu categories.
Chicken Nuggets
This week, Burger King kicked off a fierce nugget competition, offering a 10-piece chicken nugget order for just $1.49, roughly half the usual menu price. Or rather, it reintroduced the deal, which it also launched onto the scene for a limited period last fall. At the time, Burger King described the 15¢ nugget promotion "an aggressive deal rivaling anything our competition has ever done."
That competition notably includes McDonald's, which periodically offers a promotional deal at most locations of 20 nuggets for $4.99 and 50 for $9.99. The latter breaks down to a cost of 20¢ per nugget.
(NOTE: 20-piece and 50-piece nugget orders are intended to be shared, not consumed by a single customer in one sitting. One 40-year-old Daily Beast writer can attest to this after voluntarily taking on the highly inadvisable, 2,375-calorie challenge of eating 50 McDonald's nuggets by himself. Inevitably, the task involved a run for the bathroom mid-challenge, perhaps because "digestive enzymes may be making me hallucinate, or maybe the salt and fat overload is draining my endorphins dry.")
Coffee
Most fast-food promotional offers are created with the purpose of driving traffic into restaurants early and often. So it especially makes sense for quick-serve restaurants to pump up promotions on items that customers crave at all hours of the day. In today's world, there's no better item than coffee, which people will drink morning, afternoon, and night, and which comes with the added bonus of being pretty darn cheap to brew. Hence, the ongoing free coffee promotions at McDonald's and Dunkin' Donuts dueling for customers in certain parts of the country.
Coffee deals are hot right now at convenience stores for largely the same reasons: They draw in customers, which is a much tougher sell in the winter because it's cold and folks tend to want to stay home or at least not get out of their cars. Cumberland Farms, for instance, is heavily promoting its coffee, which sells for 99¢ in any size, while 7-Eleven has a changing roster of deals including two donuts and a coffee for $2 and buy six coffees and the seventh is free for customers using its app.
Breakfast Sandwiches
The battle for fast food breakfast customers got heated in early 2014 with the introduction of Taco Bell's Waffle Taco, and it hasn't really cooled off. A big reason why fast food giants are duking it out over breakfast with particular ferocity is that for years breakfast has been the only meal time that has experienced regular growth at quick-serve restaurants, which offer convenient, on-the-go foods to help on-the-go Americans start their day.
This is why Taco Bell jumped into the breakfast scene nationally last year, and why other players such as Chick-fil-A, Taco John's, and White Castle expanded or began exploring breakfast menus too. In almost all cases, breakfast items focus on the sandwich because it is hand-held and can be eaten easily behind the wheel—a feature that's especially important during breakfast hours, when the typical customer is trying to get somewhere while fueling up for the day. The latest entrant into the breakfast sandwich wars is the French Toaster, an egg-cheese-and-meat mix bookended by two pieces of French toast from Sonic. A MarketWatch story declared that "the new battleground in the world of fast food is the breakfast sandwich," and that the portability of the French Toaster and other breakfast sandwiches is essential for their success.