Interest Rates Stay Put -- For Now
Money is not a client of any investment adviser featured on this page. The information provided on this page is for educational purposes only and is not intended as investment advice. Money does not offer advisory services.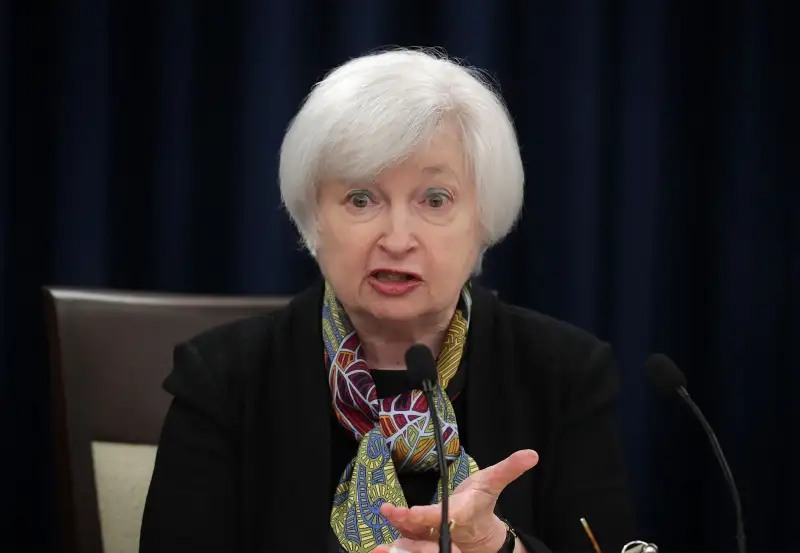 The Federal Reserve held interest rates steady on Wednesday and cut the expected pace of future monetary policy tightening as a weak global economy continued to weigh on policymakers despite ongoing U.S. growth and a healthy labor market.
A moderate economic expansion and "strong job gains" would make it appropriate to hike rates over the year, the U.S. central bank said in a policy statement. Fresh projections showed a majority of its policymakers were comfortable with two quarter-point rate hikes by year's end, half the number seen in December.
But Fed Chair Janet Yellen later stressed the uncertainty surrounding that outlook, noting that even recent signs of strengthening inflation needed to be proven to be more than a passing trend.
"I am wary and have not yet concluded that we have seen a significant uptick that will be lasting," Yellen said in a press conference following the conclusion of a two-day policy meeting.
Overall, "you have seen a shift in most participants' path of policy. That largely reflects a somewhat slower projected path for global growth," Yellen said. "The U.S. economy has been very resilient in the face of shocks ... That is important."
Interest rates will move higher if the Fed's baseline forecast proves accurate, she added, "but proceeding cautiously will allow us to verify" that the economic recovery remains on track.
In its policy statement, the Fed noted the risks still emanating from overseas, which Yellen said included renewed signs of weakness in Japan and Europe, and the ongoing slowdown in China.
After months of volatility on global markets coupled with continued steady domestic economic growth, the Fed's statement struck a half-empty half-full tone that reflected the broad difference within its ranks.
Kansas City Federal Reserve Bank President Esther George dissented in favor of raising rates at this week's meeting. Others have argued that the global situation remains too fragile to push ahead with monetary tightening.
"Our first take on this is that it probably leans slightly more dovish, relative to expectations," said Tom Porcelli, chief U.S. economist at RBC Capital Markets in New York.
The dollar fell sharply against a basket of currencies after the statement. Yields on U.S. Treasuries dropped across the board, while stock markets rallied. The S&P 500 closed at its highest level since Dec. 31.
Cautious Approach
The Fed, which kept its target overnight lending rate in a range of 0.25% to 0.50%, said it saw some signs of rising inflation in addition to an even firmer tone in an already hot labor market.
"A range of recent indicators, including strong job gains, points to additional strengthening of the labor market. Inflation picked up in recent months," it said. That outlook was clouded by its assessment that "global economic and financial developments continue to pose risks."
In fresh individual forecasts, policymakers projected weaker economic growth and lower inflation this year and lowered their estimate of where the targeted lending rate would be in the long run to 3.30% from 3.50% - a signal that the economic recovery would remain tepid.
The interest rate outlook also was a shift from the four quarter-point hikes expected when the Fed raised rates in December for the first time in nearly a decade. But global market volatility early this year clouded that plan.
The Fed had adopted a cautious approach at its last policy meeting in January, amid a selloff on financial markets, weaker oil prices and falling inflation expectations. As in its January policy statement, the Fed on Wednesday did not say directly how it regards the balance of risks to the U.S. economy.
Policymakers also expect continued improvement in the job market, with the unemployment rate expected to decline to 4.7% by the end of the year and fall further in 2017 and 2018.
They also marked down their forecast for inflation this year to 1.2% from 1.6%, but see it recovering to close to the central bank's 2% medium-term target next year.