The New Ferrari 488 Makes You Feel Even More Awesome Than You Actually Are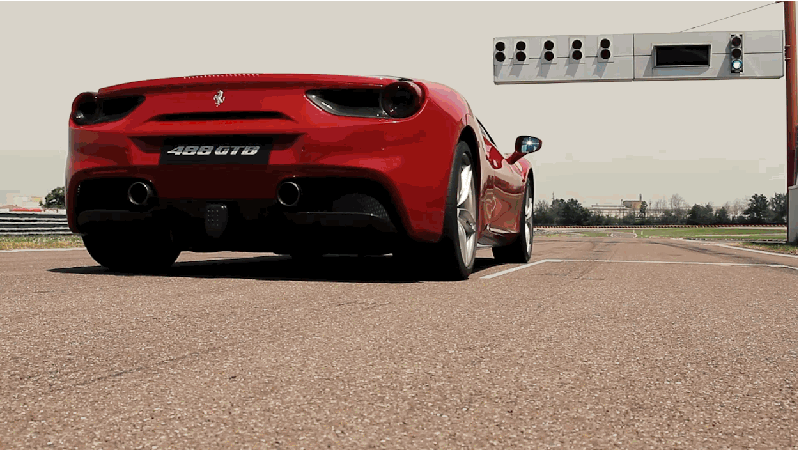 As a car reviewer, I have been on a lifelong hunt for the most exhilarating and memorable new-car ride of my career. But when it finally came along, I wasn't prepared for just how blissful and euphoric the experience would be—not to mention documented, scientifically.
Okay, let me back up: A few journalists including myself recently visited Ferrari's headquarters in Maranello, Italy, to drive the new mid-engine 488 GTB, the V8 successor to the current 458 Italia. At the factory, five key engineers and the design boss gave us an elaborate two-hour plus presentation, complete with charts and an eye-popping algorithm or two, all projected on a horizontal "big-screen" table.
You might think a bunch of seasoned auto journalists would be bored. I wasn't. I was intrigued. To start, the car has a new twin-turbo-charged engine. Armed with 670 horsepower, 560 pound-feet of torque, and nary a whiff of lag, the thing speed-blurs from zero to 60 miles per hour in just under three seconds. Turbocharging is near heresy for fanatics who opine about the operatic high notes of a normally aspirated Ferrari V8. Because of the boost system, the 488's sound is deeper and not quite as memorable, but it allowed engineers to create a smaller, lighter, and more powerful engine.
Equally impressive: The 488 achieves a mind-warping 50% more downforce than its predecessor but still slips through the air with less drag than any other Ferrari road car ever built.
As impressive as all those stats are, it wasn't until I got behind the wheel that I fully understood Ferrari's achievement. The next morning, we headed to Fiorano, the company's private test track, in the middle of which sits founder Enzo Ferrari's red-shuttered house (his first-floor office remains untouched since his last day behind the desk).
Ferrari had invited biometric specialists to measure our emotions—yes, our emotions!—while testing the 488. (How Italian!) I complied, and after blood pressure, heart rate and EKG readings were taken and fed into a database, I strapped on a sensor band much like a heart rate monitor that also measured physical exertion, and climbed inside the car—a cave of carbon, aluminum, leather and F1-derived instrumentation.
The 488's V8 snarled to life and off I went—out onto one of the most pristine ribbons of track I've had the pleasure to know. I could immediately feel the car's blinding power, but when I went deep into the first horseshoe corner, I felt something unique. The 488's response times were the fastest I have ever felt.
Even better, when I squeezed the throttle halfway through the curve, Ferrari's new Side Slip Control 2 system actually augmented my own speed through the corner. Basically, the system doesn't retard your performance in order to control it, like most competitive systems do. Instead it slingshots you by electronically boosting your acceleration out of corners.
That might sound scary, but the SSC2 controls its application of power very intelligently. It actually allows novice drivers to perform well above their ability, and in such an ingratiating, seamless way that they don't realize it's the car, not them. If you have all the money and desire to drive like a pro, how could you resist such a winning proposition?
Not me. I pushed the 488 harder and harder, feeling with each lap the car's capabilities match and better my pedal demands. I couldn't stop grinning.
When I reluctantly pulled back into the pits, I felt like I had won an important race—pumped, triumphant, and eager for more.
Ferrari's doctors confirmed my glee: Apparently, I had clocked the highest "happy" score of any journalist testing the car to date. What does that mean? They showed me a computer-generated graph of my drive in real time. For a three-minute segment of my time on the track, I maintained a reading of 126; the biometric experts told me that a score of 100 even just briefly was extremely high and about as happy as most people get.
Is driving this Ferrari better than sex? No, apparently it was sex. The company describes what the 488 delivers as "extreme power for unique driving emotions." What an understatement.
After several more diabolically fast and fun laps, I headed away from Fiorano and up into the rolling green hills that wrap around Maranello. The 488 never lagged or hesitated, but boosted my confidence as well as my speeds through twisting country roads full of hairpins and sweepers.
After many hours of driving and hundreds of kilometers, I handed back the key, feeling fresh and ready for more—which apparently comes in September, when Ferrari unleashes the 488's topless version at the Frankfurt auto show.
You Might Also Like:
For About $78,000, You Can Buy an 'Entry Level' Maserati
The Hot New Luxury Car Isn't a Car at All