This Is the Best Credit Card to Use If You're Saving for College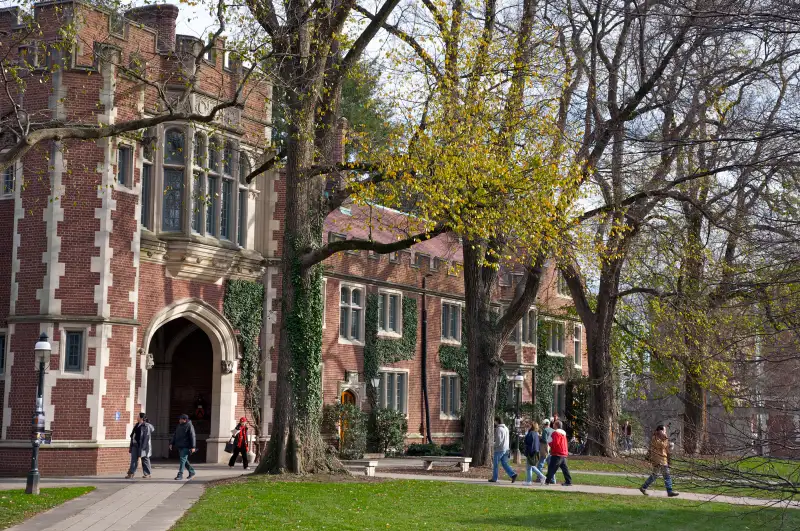 Barry Winiker—Getty Images
As the cost of higher education keeps climbing — tuition, fees, room and board at a private four-year college is now nearly $47,000 on average — parents who don't want to see their kids saddled with student loans are turning in greater numbers to 529s or other tax-advantaged savings vehicles.
According to the College Savings Plans Network, Americans have opened about 12 million 529 accounts, which allow people to save and invest for college costs (and now even K-12 tuition) tax-sheltered.
529s can be funded through a lump-sum, small monthly contributions, or even automated payroll deductions in some cases. But a relatively painless way to supplement these accounts is through a rewards credit card.
If you go this route, it's best to use a rewards card like Fidelity Rewards Visa Signature whose issuer offers a way to make the contribution process seamless, eliminating hurdles to sustained savings.
Of course, it (almost!) goes without saying that using credit cards rewards to bolster a college fund is a good idea only for people with a good handle on their personal finances, who know how to manage their money and won't revolve a balance. Any interest you have to pay to service a revolving debt would quickly cancel out the value of the rewards earned.
This no-annual-fee rewards credit card offers a simple earnings design and generous rewards. You can earn unlimited 2% cash back with no restrictions on spending categories, no caps, and no expiration on rewards points.
While you may be able to find others rewards cards that offer higher cash back for specific categories of spending — for instance on travel — 2% cash back across the board on a no-annual-fee rewards card is a good deal.
Even better for savers: Fidelity Rewards Visa Signature allows cardholders to deposit their rewards into a variety of different types of accounts, including a Fidelity-run 529 college savings plan, a retirement account, a brokerage, and a charitable giving account.
(An older version of this card, issued by American Express, tied for Money's best rewards card in an earlier ranking for its simplicity, ease of use, and two-points-per-dollar reward earnings structure.)
For parents or others who want to start or supplement a nest egg for educational expenses, the big advantage the Fidelity Rewards Visa Signature card has over typical cash back or other rewards credit cards is the ability to have those rewards automatically funneled into a Fidelity 529 college savings account.
Money put into a 529 account — also known as a "qualified tuition program" — is invested in mutual funds or similar vehicles and investment gains are tax sheltered at the Federal level. (Some states also let earnings grow tax-free.) And if the money is withdrawn for qualified educational expenses, it comes out tax free.
While 529 plans are offered by states, you aren't required to invest in your home state's 529 (though sometimes, you can earn a state tax break for doing so).
Fidelity operates four different 529s: The UNIQUE College Investment Plan in New Hampshire; the U.Fund College Investing Plan in Massachusetts; the Delaware College Investment Plan; and the Fidelity Arizona College Savings Plan.
All four plans were listed by Morningstar as among the "best in class" 529 plans, earning bronze ratings from the investment- rating firm. For more information about 529 plans, and whether or not they can help your family pay for college, check out Money's primer here.
The Key Stats:
Annual fee: $0
APR: 15.49%
Rewards:
* 2% cash back on purchases.
* Rewards points don't expire, and earnings aren't capped.