Do Fidget Spinners Really Help With ADHD? Nope, Experts Say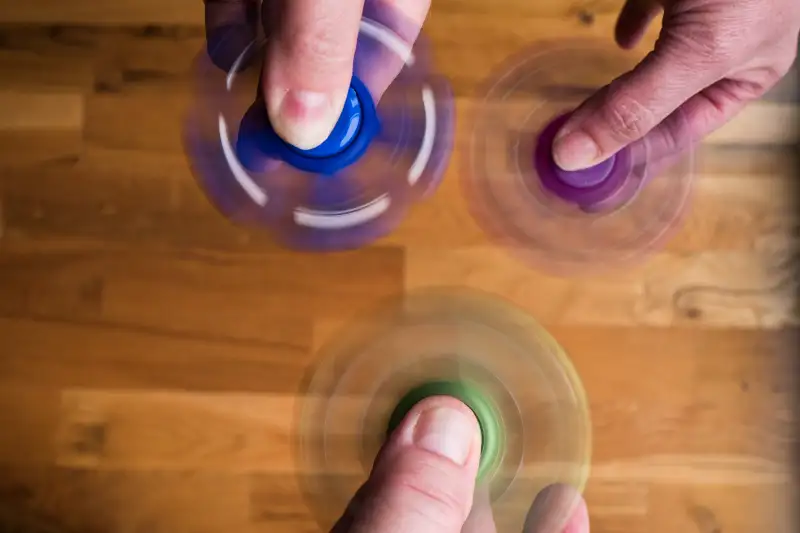 Drew Angerer, Getty Images
They're touted as handheld, bring-anywhere gadgets that can eliminate anxiety and even help focus kids and adults with ADHD. But it turns out fidget spinners, the new toy so popular stores are selling out of them and teachers are banning them from their classrooms, may not be as effective at aiding mental focus as people claim.
Psychologists and experts told Money that while fidget spinners may help some people, there are no peer-reviewed studies nor scientific evidence to support the idea that they have therapeutic qualities.

"Mental illness is difficult to treat, and it's not something for which there are simple solutions," says Dr. David Anderson, a clinical psychologist and senior director of the ADHD and Behavioral Disorders Center at the New York-based nonprofit Child Mind Institute, which advocates for child mental health patients. "The most frequent thing we say to parents with an unfortunately disheartened tone is that if something appears like it's an easy fix for mental health difficulties, it's probably too good to be true."
About 6.4 million children are diagnosed with ADHD in the United States, according to recent data from the Centers for Disease Control and Prevention (CDC), and methods of managing the condition vary. For young children, methods like behavioral interventions with parents, medication or creating friendly environments at school can help. Still, there's no proven, scientific evidence that fidget spinners help children with ADHD —only anecdotal examples from consumers. Relying on those stories to start using spinners to treat ADHD "would almost be like saying Yelp reviews are scientific," says Anderson. "If you think your fidget spinner is the answer, you're probably wrong," he adds.
Some experts do believe that so-called "fidgets" — silent, unimposing toys like squeezey balls or textured items like puddy — can provide some children with an outlet for brain stimulation to counteract hyperactivity in the classroom. But, says Anderson, "the distinction between those interventions and [fidget spinners] is that those interventions allow the child to move, but this particular intervention isn't necessarily letting the child get their wiggles out, but rather play with a toy."
READ MORE: Here's Everything You Need To Know About Fidget Spinners
"Fidget spinners are giving fidgets a bad name," says Elaine Taylor-Klaus, co-founder of ImpactADHD, a coaching service that helps parents with children who have ADHD.
Dr. Mark Stein, director of ADHD and related disorders at the Seattle Children's Hospital and professor at the University of Washington, says fidget spinners should not overtake proven methods of treating the condition. "My worry is that they're very much a distraction, not only to the child, but it distracts people from doing something that we know works," Stein says.
"It is worrisome that business is entering this area," Stein adds. "Families with children with neurodevelopmental disorders are vulnerable and want to do everything they can do to help."