Where Can I Buy Fidget Spinners? An Essential Shopping Guide for the In-Demand Toy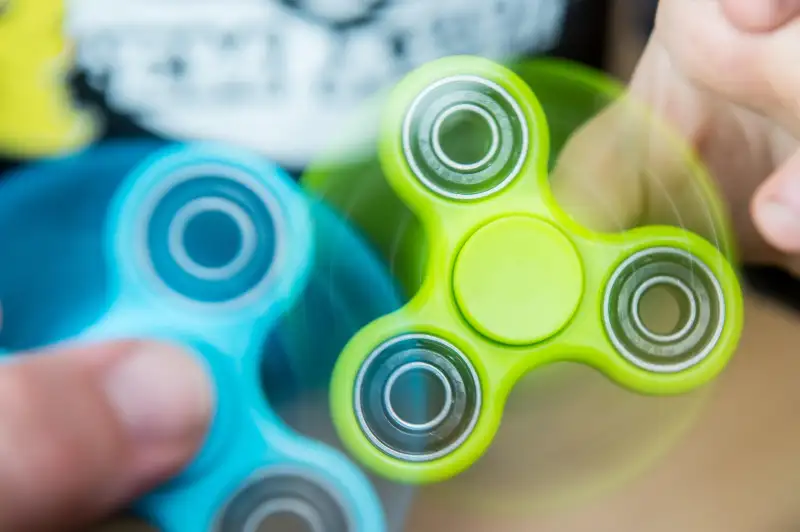 The latest toy craze sweeping the nation is a small mechanical gadget with a brilliantly low-tech design. But man, figuring out how, where, and what to buy when shopping for these simple toys can be complicated.
We speak of the fidget spinner, the new toy craze that's captured the attention of America's kids (and has been banned in many schools as a result). Originally created as a toy to help children focus, fidget spinners are simple hand-held playthings that feature a bearing in the center that allows it to spin—and spin and spin—in a soothing, hypnotically delightful way.
Fidget spinners were first designed decades ago, but only became a genuine phenomenon in early 2017, not long after the product's patents expired. (Amazingly, the woman who invented the fidget spinner isn't making any money on the craze, and perhaps even more amazingly, she isn't bitter about this.) As with any national freakout over a hot new toy, sellers are clamoring to reap profits, and customers are confused, frustrated, and overwhelmed.
Shoppers hunting for fidget spinners often cannot turn to the usual toy retailers because the stores have either sold out their limited supply or their slow-moving operations haven't yet been able to put spinners on shelves at all. Online, confusion proliferates because there is a dizzying number of spinner models and price points, and it's often unclear at first glance when, exactly, your order might be shipped. Because demand is so high and many of these products are manufactured overseas, in some cases you can buy a spinner and not actually receive it for a month or more.
We're here to help with this handy fidget spinner buying guide. After researching the options online and in stores, here are some helpful tips on where to purchase a fidget spinner and how to make the smartest decisions possible.
Lowest Priced Fidget Spinners
There are spinners available for 1¢ on Amazon, and some sellers even list fidget spinners for free, but, unsurprisingly, they're not really that cheap. The catch is that these offers don't come with free shipping. By the time you factor in shipping costs—generally $5 to $6 for these kinds of promotions, but sometimes upwards of $10 or more—you could be better off paying a higher price for the spinner itself so long as it comes with free shipping. Many of the best-sellers at Amazon cost $5 or less and are shipped for free, including this Spintech model selling for only $2.10.
Some spinners sold at eBay have super cheap prices ($1-$2) and free shipping as well. But there's a catch for all of these low-price, free-shipping offers: Delivery is typically very slow. The estimated arrival time for the Spintech spinner above with standard free shipping was four to six weeks after purchase. With expedited shipping, which costs $12 or more, the item would arrive in two to seven days.
Fastest Shipping Fidget Spinners
Nobody wants to wait a month or more to get a fidget spinner. Heck, by the time the thing finally arrives, the whole fad may be old news and kids could have already moved onto the next craze.
As with most online purchases nowadays, the quickest and most cost-effective way to get a fidget spinner delivered is via Amazon Prime. Members, who pay $99 per year or $10.99 per month after a free 30-day trial, get two-day shipping on most purchases at Amazon. Unfortunately, subscribers only get fast free shipping for items listed on the site with the "Prime" checkmark, and the cheapest fidget spinners do not qualify.
Most fidget spinners that have good ratings and are eligible for Prime shipping cost around $13, though we found a few models priced for $6.99 and $7.99 that are also good for Prime's two-day delivery. If you need one-day shipping, be ready to pay $10 or more extra.
But before going with an Amazon Prime order, be aware of a few things. First, you might be paying more than you need to: We saw the same fidget spinners for $13 with Amazon Prime available from some third-party sellers for $6 to $10, with shipping included—the only difference being that delivery would be a week or so later. Second, be sure items are listed as "in stock." We found that many spinners eligible for Prime delivery wouldn't actually be in stock for a few days, so that would obviously delay when they would arrive. Third, in some cases, the most expedient and cost-effective method is to go with the Amazon Locker option, in which Amazon will ship your purchase for free to one of its Locker pickup locations—perhaps at a college or 7-Eleven near your home or office.
Walmart-owned Jet.com is another good option for fast shipping on fidget spinners, which come in a variety of colors and materials starting at $8.98 for one, or $26.98 for three. Bear in mind, however, that two-day shipping is free on Jet.com orders only if you reach the minimum-purchase threshold of $35.
Stores Where You Can Buy Fidget Spinners
If the pleading for spinners in your house has reached the point that you need one now—or yesterday—then it's time to find a physical store that actually has them in stock. For the most part, fidget spinners are not yet regularly on the shelves at stores where you might normally buy toys, like Walmart, Target, or Toys R Us.
The Learning Express chain of toy stores, however, is calling itself "Your Fidget HQ" and boasts an ample supply of spinners. The selection includes metallic, glow-in-the-dark, and standard fidget spinners, and prices are generally $19.99 apiece. Sales have been brisk, so it's wise to call your local Learning Express store to check on what they have in stock or order one in advance for pickup.
The Five Below discount retail chain says that its stores have spinners for only $5, but supplies are limited and vary by location. Also, where spinners are in stock, Five Below may limit customers to buying only one per visit. Many other independent toy stores have spinners too, so stop in or give them a call to see what they have on hand. Finally, while it's hit or miss, fidget spinners have been popping up at many drugstores and convenience stores around the country. So it's worth looking at your local Walgreens, 7-Eleven, or CVS, where spinner prices are generally around $10.
Where to Find Different Kinds of Fidget Spinners
If you want to go off the deep end and explore every unusual and obscure variety of spinner under the sun, have fun browsing at Etsy, Amazon, and eBay, which return over 5,000, 30,000, and 50,000 results, respectively, for "fidget spinner" searches.
To list but a few of the more atypical options, Amazon has brass hexagon spinners, multi-color heptagon spinners, star-shaped quinary spinners, and Chinese porcelain spinners. Over at Etsy, you'll find spinners made of gorgeous hardwood or designed with ninja themes, and more. The sellers at eBay are offering spinners that might be built with pennies, look like Batman weapons, or feature design etchings ranging from "Crusader" to something resembling a wolf with eyes that glow.
Nobody said that this toy craze, or any phenomenon like this, is supposed to make sense.
We've included affiliate links into this article. Click here to learn what those are.