20 Ways to Score a Cheap Hotel Room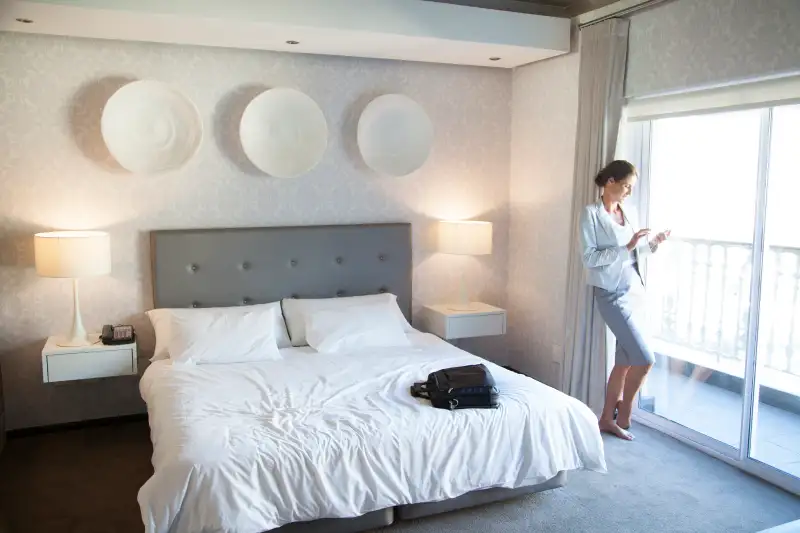 Alistair Berg—Getty Images
If you're looking for a cheap hotel room, it's only gotten more difficult over the years. In fact, the average daily rate for U.S. hotel rooms has increased in the past seven years, to $121.37 in 2015, according to statistics resource Statista.
That doesn't mean you can't find deals to save money on a hotel room. There are many hotel savings tricks that you can use to tame the wildest of hotel bills. Find out how the experts get hotel rooms on the cheap with these 20 tips.
1. Buy Someone Else's Reservations
RoomerTravel.com allows you to purchase other travelers' unwanted hotel room reservations at a cut rate, said consumer and money-saving expert Andrea Woroch. "The site connects you with travelers who are stuck with a reservation they can't cancel, but are willing to sell and transfer the reservation at a discount." The site offers discounts of up to 74 percent.
2. Search for Coupon Codes
Hotels don't regularly offer coupons, said Woroch. But if you search, sometimes you can find coupon codes for third-party booking sites that will score you a cheaper room. "For instance, Coupon Sherpa offers 40 percent off select hotels at Hotels.com, and $20 off $150 booking at HotelWiz," said Woroch.
3. Ask for a Price Match
Price matches aren't just for Target shoppers. Although they might not advertise it, many hotels will match a competitor's lower price if you ask, Woroch said. That goes for third-party sites, as well.
"Hotels.com offers to price match any competitor or hotel's price — just book, then submit the cheaper-priced link," said Woroch. "I do this because I earn a free night through their site after 10 stays, so it's a win-win."
4. Negotiate a Home Away From Home
Sometimes, the best leverage you'll have is not with hotels, but with individuals who are renting out their vacation home, said Woroch. "If you find last-minute availability through VRBO or HomeAway, haggle with the homeowner for a cheaper price," she said. "He or she will be motivated to negotiate in fear of missing out on the last-minute booking."
5. Check Your Warehouse Club
Costco and Sam's Club sometimes have offers for hotel discounts, and more, for members, said Woroch. "If you're a member to a warehouse club, check their travel site for deals on hotels and vacation package values," she said.
6. Stay Midweek
If you can avoid staying in hotels Friday and Saturday, you could save some cash. "Most hotels offer a significant discount on rates starting on Sunday through Thursday," said Woroch. As an added bonus, the pool, restaurants and spas will be less busy and sometimes offer deals, she said.
7. Look for Inclusive Deals
It can be incredibly frustrating to find a seemingly great hotel rate, only to see it get jacked up with daily parking fees, internet fees and even "resort fees." "Free breakfast, Wi-Fi and parking are big perks that should be considered when comparing hotel rates, as those daily fees can add up quickly depending on the length of your stay," said Woroch. A family of four can save nearly $40 a day by opting for a hotel with free breakfast, she added.
Read More: 40 Hotel Secrets Only Insiders Know
8. Maximize Your Credit Card
No, no, we're not saying go hog wild with your Visa. But often, credit card holders get exclusive deals that are pretty attractive, said Woroch. "For instance, MasterCard card members can get an extra 10 percent off select hotel bookings through Hotels.com, via a deal posted on Coupon Sherpa," she said. The deal is good through the end of 2016.
9. Use Memberships to Save
Warehouse members and credit card users aren't the only ones who get deals from memberships. If you're an AAA, military or AARP member, there's a good chance that can help you score a cheaper room, too, said Woroch. "For example, Hilton Garden Inn offers 10 percent off for senior citizens ages 65 and older, and 15 percent off for military," she said.
10. Buy Discount Gift Cards
Gift cards are good for much more than Starbucks or California Pizza Kitchen. And on sites like GiftCardGranny.com, you can find discounted gift cards that will effectively make your hotel room cheaper. For example, Woroch found BedandBreakfast.com gift cards discounted more than 16 percent at the GiftCardGranny site.
11. Download an App
If you've never used the HotelTonight app, Woroch thinks you should. "The app aggregates unsold rooms at high-end hotels and provides cut-rate prices to users," she said.
She has seen last-minute luxury accommodations up to 70 percent off. That might make the breakfast buffet affordable again.
12. Use Your Mileage
Many consumers don't realize they can use their credit card airline miles for savings on hotels, too, said Woroch. You can also often redeem credit card rewards for gift cards to use toward a hotel room, she added.
So when asked, "What's in your wallet?" The answer could be, "A free hotel stay."
13. Choose a Business Hotel
Business hotels might not offer all the flashy and splashy amenities a resort does, but they could help you save enough to bolster your vacation with more fun in the sun. Parasailing or scuba diving can make up for a smaller pool in no time.
"During the summer months and on weekends, [business] hotels are typically slower," said Coupons.com savings expert Jeanette Pavini. "You're more likely to get a good deal at these hotels if you book a room during those off-peak times."
14. Travel a la Carte
It might be assumed that any hotel will have minimum features, such as a queen- or king-sized bed, towels, private bathroom and more. But that's not always the case in Europe, and it could work to your advantage.
"Many hotels allow you to pay less for a "single" room, which often means a twin bed or a shared bathroom," said Pavini. "There are even budget hotels where you pay a low base price and a la carte for add-ons, like daily housekeeping, towels or an in-room TV. If you're open to bare minimum accommodations, then you stand to save a bundle."
Read More: How to Book a Hotel for Less Money
15. Check in Late
Waiting until late in the day to check in could get you a better room for the same price, said Pavini. "Once your hotel has checked in the majority of its guests for the night, they can better evaluate their vacancies and may be more inclined to upgrade your room for free," she said.
16. Stay at an Apart-Hotel
Apart-hotels are serviced apartments, routinely found in Europe, that come with a small kitchen, which can save you money on eating out. These might cost a little more upfront, but the amenities can help you save in the long run, said Pavini. Plus, they are listed on many travel sites that offer coupon codes.
"For example, three nights in a highly rated apart-hotel in Kensington, London, cost $896 — including taxes, for a family of four," she said. "We had a coupon code for 15 percent off on Orbitz, bringing the cost down to $784. Plus, you earn $23.53 in Orbucks rewards dollars, which you can immediately use to book the hotel on the next leg of your trip." That's a lot of saving.
17. Avoid Foreign Transaction Fees
When booking hotel stays in foreign countries on your credit card, foreign transaction fees can start before you even leave the states, said Pavini. That's why it's important to know which credit card offers the lowest, or no, foreign transaction fee — and book travel on that card.
"You could avoid foreign transaction fees by booking on a third-party travel site where your money does not need to be converted," she said. "Those sites like Orbitz and Hotels.com also typically have high-value coupon codes at Coupons.com."
Read More: 10 Loopholes to Build a Tiny Home Legally
18. Join a Hotel Loyalty Program
Like most businesses, hotels love loyal customers and are willing to offer them perks, said Woroch. "For instance, Best Western Rewards members can save 10 percent or more, and earn points for free nights," she said.
Loyalty rewards can apply to third-party sites, as well. "At the coupon codes pages on Coupons.com, we found that Hotels.com will give you one night free when you stay 10 nights through their loyalty program," said Pavini.
19. Look for Reciprocal Deals
Many hotels and airlines have point partnerships, but often the chance to earn points doesn't stop there, said Pavini. "For instance, right now Starwood Preferred Guests can earn one Starpoint per dollar spent with Uber, and two Starpoints per dollar spent with Uber during Starwood Preferred Guest stays," she said.
20. Sign Up for the Hotel's Credit Card
Sure, a hotel credit card might not have the best interest rate, but if you pay it off each month, you can still cash in on some rewards. "You'll often receive an automatic upgrade to a mid-tier loyalty status, which comes with perks," said Lee Huffman, travel expert and founder of the travel and financial advice site BaldThoughts.com.
"And you'll rack up points much quicker when using the hotel's card to pay for your room," he said. "Some cards even give you free nights when you pay the annual fee or spend a certain amount on the card."
This article originally appeared on GoBankingRates.