Meet the Woman Behind Fingerlings, the Toy Every Kid Wants Right Now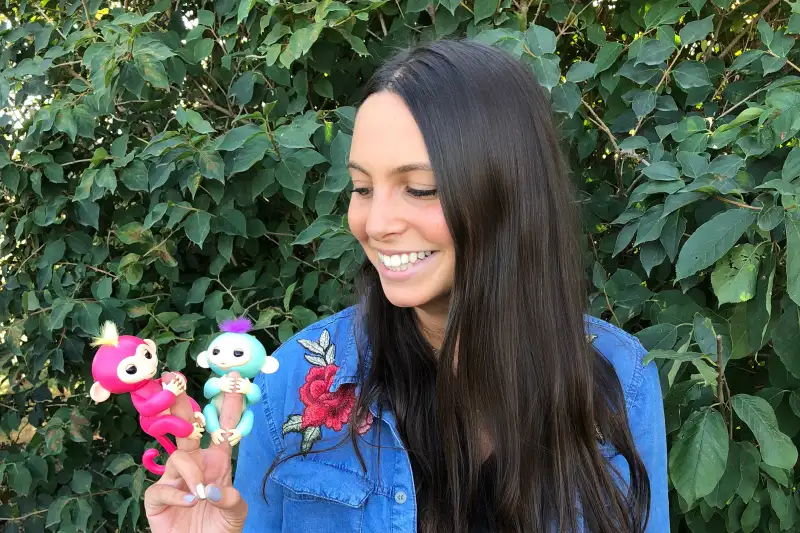 When Sydney Wiseman was a kid, she was obsessed with pygmy marmoset monkeys.
While she could never have one of the finger-sized animals as a pet, there was another way to own one: as a toy. Years later as a brand manager at WowWee, a family-run consumer technology company, Wiseman pitched the idea of robotic finger monkeys, and worked with the WowWee team to create what later became Fingerlings. A step away from the company's typical products like drones and robotic cars, Fingerlings quickly became a major hit, selling out at stores across the country since it debuted in August.
"We haven't given it to one child who didn't want to play with it," Wiseman told Money.
"I don't think we could've anticipated what's going on right now," she added of the toy's success. "It's just phenomenal."
The Canada-based and family-run company has already sold more than 1 million Fingerlings worldwide, and expects demand will only increase as the holiday season approaches. The robotic toys, which cling onto your finger and respond to your touch and voice, can blink their eyes and make noises, similar to the real animal.
But monkeys aren't the only Fingerlings. In fact, WowWee went with the less specific name for the product, which originally was going to be called simply Finger Monkeys, to allow for a diverse selection of animals, Wiseman said. Currently, Fingerlings come as monkeys, unicorns and sloths. (And, true to their natural form, the sloths are programed to move slower than the monkeys and unicorns.)
Right now, the toys are only available at Toys R Us, Amazon, Target[/f500link and [f500link]Walmart, but will soon come to Kohl's and Barnes & Noble. Having a limited number of stores selling Fingerlings, which sell for $14.99, allows WowWee to have better control over the product, Wiseman said. "We made sure to limit our partners," she added.
Beyond its popularity, Fingerlings present a chance for the company to expand its product line, Wiseman said. The company produces high-priced gadgets geared for robotics lovers, but by taking that technology and placing it in an accessible product, they created a new customer base. "The response to this price point is great," Wiseman said. "I really think this is going to shape our future development."
Creating Fingerlings wasn't just a personal project for Wiseman — it was a family affair. At WowWee, Wiseman works alongside her uncles, Richard and Peter Yanofsky, who are its founders; her mother, Gale, and several of her cousins. With the help of her family, Wiseman closely collaborated with WowWee's research and development team to make Fingerlings a reality.
"It's so cool to think about what you would have wanted to play with while you were young," Wiseman said of her job. "You can come up with such different, crazy ideas."
And for the pygmy marmoset monkeys that in part inspired the colorful gadgets, they're benefiting from its popularity as well. In its first week of sales in August, WowWee donated $1 from every sale to WildAid, an animal conservation nonprofit.