Floyd Mayweather and Conor McGregor Both Set to Be Highest-Paid Athletes for 2017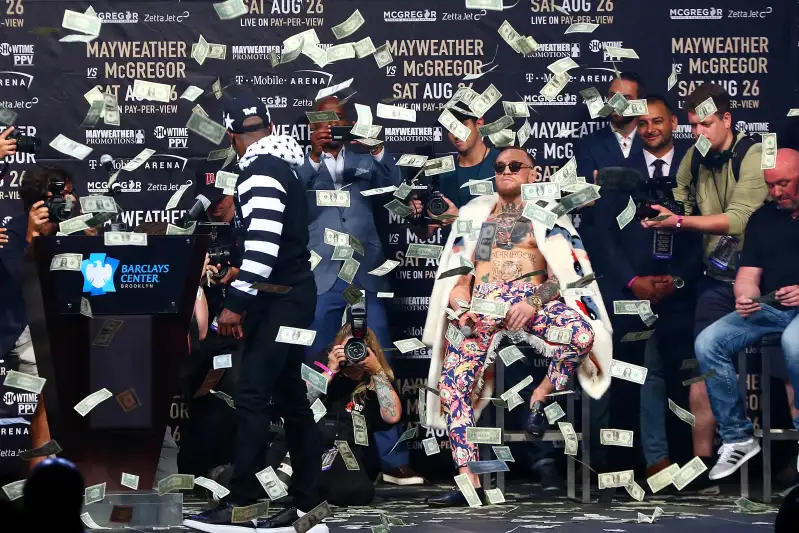 Floyd Mayweather Jr. and Conor McGregor are meeting up in the ring in a historic boxing match on Saturday night—and the two combatants will almost certainly become the year's highest-earning athletes based just on their haul from the big fight.
The exact amount of money that the two fighters will make is unknown at this point. Their earnings will be based on several factors, including ticket sales, pay-per-view purchases, and how the purse will be split between the fighters—the terms of which are kept confidential.
Yet Sports Illustrated reported that undefeated boxing champ Mayweather is expected to earn at least $100 million from the fight on Saturday, August 26—and that's just a baseline. The Associated Press estimated that as many as 50 million people could watch the fight in the U.S. alone, and that Mayweather would pull in roughly $200 million. Another estimate, from the (U.K.) Telegraph, has it that if the forecasted revenues and prize splits are accurate, a $230 million take for Mayweather "is not out of the question."
Even if Mayweather's earnings wind up on the low side of the estimates, he will instantaneously become the highest-paid athlete of 2017. The list of the world's highest-paid athletes from Forbes is currently led by soccer sensation Cristiano Ronaldo, whose combined salary and endorsements total $93 million. Bear in mind that Mayweather's estimated fight earnings of $100 million to $200 million will come on top of money that he makes from endorsements and sponsorship deals, which bring in well over $10 million annually.
Mayweather's opponent on Saturday night, the brash Irish mixed martial arts fighter Conor McGregor, also should leapfrog Ronaldo to become the second-highest earning athlete of 2017. Analysts say that McGregor should walk away from the fight with $70 million to $100 million. (That's assuming he can walk away. A group of doctors has expressed strong concerns that McGregor, who has tons of experience as an MMA fighter but has never boxed professionally, is at serious risk of being hurt on Saturday, the New York Times reported.)
McGregor has already earned $34 million over the past 12 months, according to Forbes, including roughly $7 million from endorsements. So once McGregor's Saturday night take is added to his earnings total, he should become 2017's second-highest-earning athlete, behind only Mayweather.
This won't be the first time that Mayweather and one of his opponents are the year's top two highest-earning athletes. In 2015, the year's highest-paid athlete, according to Forbes, was Floyd Mayweather—and coming in second was fellow boxing great Manny Pacquiao. The two met in the ring that year in a historic fight that wound up being the highest-grossing pay-per-view event of all time, with more than $400 million in sales just in the U.S.
Forbes estimated that, largely as a result of this single match, Mayweather earned $300 million in 2015, and Pacquiao took home $160 million. That easily put them in the top two spots on the list.
This Saturday's fight is expected to trounce the record for pay-per-view sales, with revenue perhaps hitting as high as $700 million.
While the incredible haul from the fight will obviously have an impact on both fighters, it is McGregor who is more likely to have his life upended by the huge influx of cash. Floyd Mayweather is 40 years old. He won his first boxing title in 1998, he is 49-0 in the ring as a pro, and he has been earning tens of millions of dollars annually for years.
McGregor, on the other hand, is only 29, and before going pro as an MMA fighter, he worked as a plumber, according to Esquire. Last year marked the first time that McGregor cracked the list of the top 100 highest-paid athletes, earning an estimated $18 million.
It goes without saying that there's a huge gulf in the net worth of the two opponents in Saturday's fight. Not long ago, CBS reported that Mayweather's net worth was an estimated $650 million, compared to "only" $22 million for McGregor. In other words, depending on McGregor's take just from Saturday's fight, he might be increasing his net worth (on paper, before taxes are factored in) by a factor of five.