3 Food Budget Busters You're Probably Falling For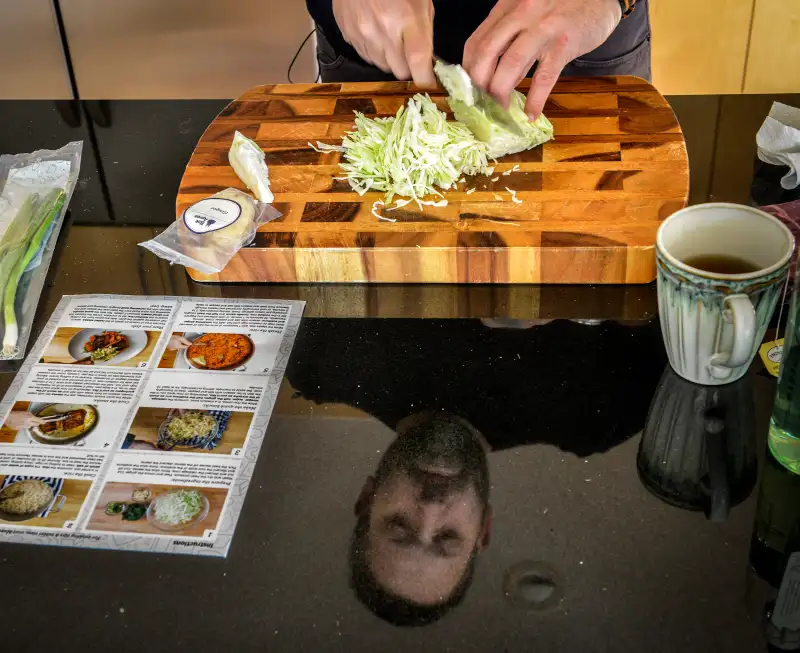 The Washington Post—The Washington Post/Getty Images
It's 6 p.m., the kids are running wild and your plan to burn the midnight oil to meet a work deadline after dinner is over. Speaking of dinner, you have enough in the fridge to whip something together, but ordering take-out (for the third time this week) just seems so much easier—doesn't it?
This is just one of the countless ways that food can consume a frighteningly larger part of your wallet than you realize. Between that and the groceries, daily coffees and 3 p.m. vending machine snack runs, it probably feels like what you eat is one of your most significant annual costs—and you wouldn't be alone in that sentiment: 90% of respondents to the 2016 LearnVest/Barclaycard Financial Literacy Research survey cite food as a key budget category within their total household spending.
So how can you stop the budget cost creep? Becoming aware of all the ways you're not saving money when it comes to your food shopping and eating habits is a great place to start. Read on to familiarize yourself with three of the biggest food-related budget busters—as well as some pro tips on how to keep them under control.
Read More: Grocery Shopping on a Budget: 10 Ways to Keep Rising Food Costs in Check
1. "Savings" Deals That Don't Really Help You Save
It's no secret that grocery stores are designed to get you to spend, spend, spend. And one of the most common types of promotions you might see are the ones that scream, "Three for $9!" The result? You end up stockpiling and spending on more food than you need, just to nab the deal. "This bulk deal is often no deal at all, especially if you fail to consume your haul before it expires," says consumer savings pro Andrea Woroch.
How to Keep It in Check: Take all that signage with a grain of salt. "In most cases shoppers don't have to buy the quantity specified to get the per-unit deal," Woroch says. In other words, even though the promo reads three for $9, you may actually be able to purchase one for $3.
Woroch says it also helps to take inventory of your pantry before you head to the grocery store. That way you aren't doubling or tripling up on ingredients you already have. And make sure to "shop with your list so you don't get distracted. If possible, use a handbasket to avoid overfilling it with groceries you don't need," she adds.
Read More: 8 Sneaky Overspending Triggers That Can Sabotage Your Budget
2. Paying for Prepackaged Prep
Convenience is one of the biggest temptations when it comes to your food purchases, but you may think twice about buying chopped watermelon if you knew how much more it costs than buying the whole one.
Woroch estimates that prechopped fruits and vegetables are marked up more than 40%, while prebaked goods like cakes, cookies and muffins cost about 300% more than baking these items at home. "Picking up a bag of baby carrots as a snack is one thing, but consistently buying convenience foods is a waste of money, plain and simple," Woroch says.
How to Keep It in Check: Take time to calculate the trade-off you're making so you know if the convenience is really worth it, suggests Patty Cathey, investment advisor and founder of Denver-based Smart Retirement, LLC.
"Take, for example, precut celery sticks. If you bought a bunch of celery and cut it up at home, it would probably take you less than five minutes. But it might save you around $3 or $4," she says. So if you buy celery almost every week, that could save you somewhere between $150 to $200 in a year. "Five minutes a week doesn't seem like that much if it adds up to that kind of savings," she adds.
On the flip side, if those convenience foods are helping to offset some other higher costs, then they may be worth it. Here's a prime example: "It may be worth buying a frozen meal for $2.50 if it keeps you from going out to lunch, which could easily add up to $10," Cathey says.
Read More: 12 Drinking and Dining Hacks From Restaurant Insiders
3. Giving in to Take-Out Temptation
Speaking of "convenience" foods, we've already established that a hectic schedule can make it hard to resist delivery or that pricey salad bar when you're simply too tired to cook dinner or pack your lunch. And it's not just harried parents who succumb. "Many working singletons would rather order out than prepare a huge meal for one," Woroch says.
How to Keep It in Check: There's little way around it: Meal planning is key to resisting the siren song of your favorite take-out joint.
Maybe it's taking the time on Sunday to decide what you'll pack for lunch that week; cooking extra servings at dinner so you always have leftovers to brown-bag; or creating a two-week dinner menu with the whole family to help ensure your palate doesn't get bored. Whatever your plan, just "don't go cold turkey on eating out," suggests Cathey. Otherwise you may start to feel like you're depriving yourself too much. "A [homemade] PB&J sandwich will be easier to digest on Tuesday if you can look forward to eating a take-out burger on Wednesday," she adds.
Woroch also suggests making it just a little harder to let technology enable your ordering-out habit. Try, for instance, deleting the stored payment information in your delivery apps. "Entering your credit card details may give you time to realize you can prepare something at home for less," she says.
Instead, consider using tech in a different way: by tracking what you spend on eating out. You could do this through a dedicated budgeting app, or even just by checking out the ordering history in your delivery apps. "When you can visualize how much you spend on a certain category, like eating out or taking out, you'll make better spending decisions," Woroch says.