Mortgage Rates Slide For Third Straight Week: Freddie Mac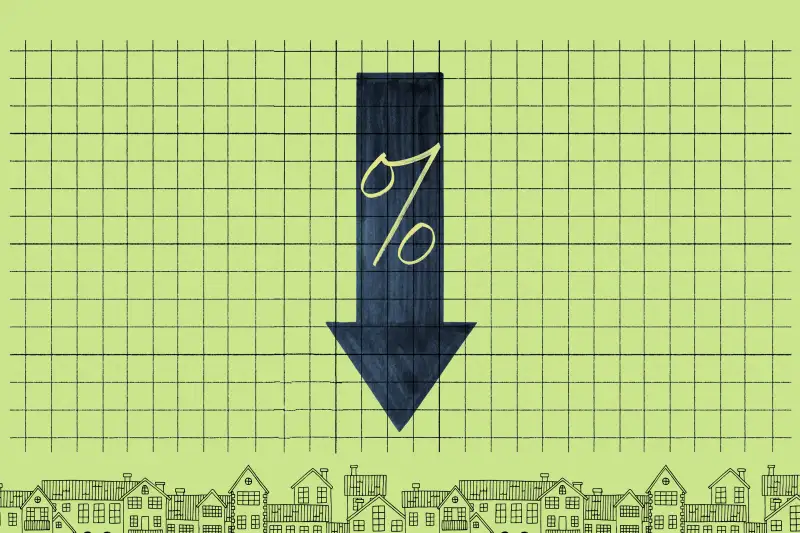 The good news continues for homebuyers. Mortgage rates have decreased for the third week in a row, giving those shopping for a home more buying power just in time for the spring buying season.
The drop was modest, but every bit helps. The interest rate on a 30-year fixed-rate mortgage, the most common loan type among American homebuyers, decreased to 6.32%, according to Freddie Mac. That's a change of 0.10 percentage points over the past week. The 30-year rate is now 1.65 percentage points higher than the same week last year — down from a gap, year over year, of almost 3 points in just three weeks.
The rate on a 15-year fixed-rate loan also moved lower, averaging 5.56%, a decrease of 0.12 percentage points.
So far this year, the rate on the 30-year loan has hovered between 6% and 7%, and most experts believe it's likely to remain in that range over the next few months before moving lower after summer. However, borrowers shouldn't count on significantly lower rates in 2023, analysts add, as there is still too much uncertainty over the economy, including worries over the potential for a recession.
The recent run of declining rates has been a bonus for homebuyers, despite a housing market that remains challenging to them in other ways.
"Declining rates have brought buyers back to the market," said Freddie Mac chief economist Sam Khater, in a press release. However, the lack of a robust supply of homes "remains a key challenge for prospective buyers," Khater added.
Still, more homebuyers are at least preparing to enter the market by applying for a loan. The overall number of mortgage applications rose for the fourth consecutive week, increasing by nearly 3% for the week ending March 24, according to the Mortgage Bankers Association.
Purchase applications were up by 2% while refinancing applications increased by 5%. The uptick in activity is being sparked not only by relatively low mortgage rates compared to last year's peak of 7.08%, but by lower home prices.
"Home price growth has slowed markedly in many parts of the country, which has helped to improve buyers' purchasing power," said MBA vice president and deputy chief economist Joel Kan in a press release.
Mortgage rates slide as banking fears recede
Markets settled down this week after a couple of weeks of uncertainty over the strength of the U.S. banking system and how the Federal Reserve would react to bank closures. But that relative calm has also created a further challenge to homeowners seeking approval for their mortgages.
The initial fears — spurred by the collapse of both Silicon Valley and Signature Banks, and of a spate of bank 'runs' — led investors to shy away from riskier investments like stocks, and towards the relative safety of treasury notes. This resulted in a drop in the 10-year Treasury yield as well as a smaller than originally expected increase in the federal funds rate.
Since then, fears of further disruptions to the banking system have waned. But a legacy of that banking scare could be tighter lending standards that make it more difficult, and expensive, to borrow money.
That tightening could be good for the economy but bad for individual homebuyers, one expert says. On the one hand, "more expensive, stricter lending helps to usher in long-term [economic] health" by dampening the economy, and thus helping to lower inflation, said Hannah Jones, economic data analyst at Realtor.com, in a prepared statement.
But on the other hand, Jones adds, borrowing money for large ticket items, including homes, "may be relatively more challenging in the short term."
With inflation still well above the Federal Reserve's 2% goal, there's also concern over the possibility the central bank will keep interest rates comparatively high for a longer period of time. That, in turn, could increase the likelihood of an economic downturn.
Analysts are now looking ahead to the Personal Consumption Expenditures price index, which is set to be updated on Friday, for insights on core inflation and how it may affect future rate hike decisions by the Fed.
More from Money:
How to Get the Lowest Mortgage Rate: A Step-by-Step Guide