How to Get a Free Fidget Spinner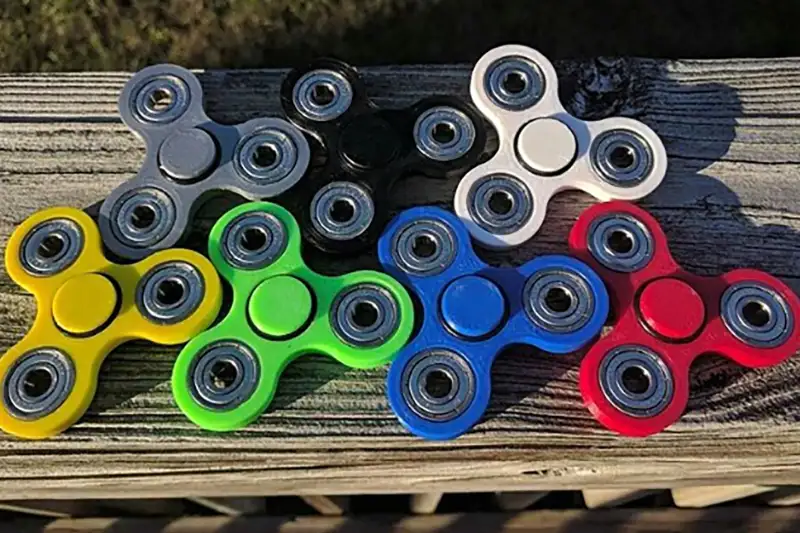 If you don't know what fidget spinners are, don't worry: Your kids will surely clue you in soon enough. Or perhaps you'll see your work colleagues flicking them relentlessly in the office, and it would be awkward to not ask what the heck they're doing.
A fidget spinner, as we explained in a primer last week, is a hot new breed of plaything with a bearing in the middle that allows it to spin, entrancingly, in your hand. They come in endless varieties—some look like throwing stars or the Batman symbol, made of materials such as plastic, bamboo, or titanium—and they're all sold under the premise that they help the user to focus and rein in one's fidgeting.
They are sold in a wide variety of price points as well. A "fidget spinner" search at Amazon now yields over 17,000 results, with prices ranging from about $2 all the way up to $460.
A much smaller specialty retailer, GoSpinner, went into business last December with just a single fidget spinner model but sales have been so hot lately it has been adding a few different new styles each week. Some of GoSpinner's success can be attributed to its best-selling spinner, which is listed for sale at $0.00.
"The free spinners are a promotion we started a few months back to spread the word and decided for the time being to extend that probably well into the summer," GoSpinner tells Money.
Is the free spinner actually free? Well, no. The catch is that you have to pay for shipping and handling—which goes for $5.99 per spinner. The site also limits sales to a maximum purchase of eight "free" spinners per household.
Still, that's quite a good deal compared to the typical fidget spinner, which sells in the $12-$20 range. There are much cheaper fidget spinners out there, mind you. Some are listed at eBay at the crazy cheap rate of two for $1, with free shipping included. Just be aware that the quality of such spinners may be lacking. The gadgets won't spin fast, and are prone to breaking if they're equipped with super cheap bearings. Also, take careful not of when potential orders would be shipped. For the two-for-$1 deal mentioned above, the estimated arrival time for orders (being sent from China) is listed as anytime between May 4 and May 24.
Another interesting option is to go the DIY route. The Make: 'zine published a roundup of videos demonstrating how to make various fidget spinner models from scratch, including some made with wood and aluminum. They typically feature a skateboard bearing at the center. Here's a neat video of DIY fidget spinners that are made almost entirely of skateboard bearings, which you might already have in the house:
We've included affiliate links into this article. Click here to learn what those are.